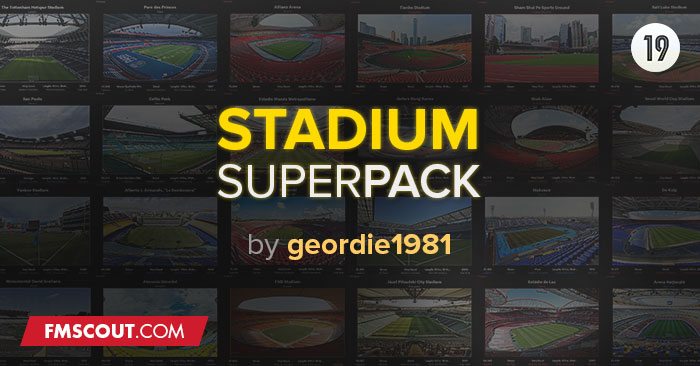 I started making this pack in May after noticing the pics in my old pack and other packs I'd downloaded were looking stretched and blurred due to the skinners increasing the size of the stadium panels.
The pictures will show up on the team info screen, on the news screen, in the processing bar, on a match-day and in the stadium profile page.
The pack contains 3529 images of which the majority are 800x480px. Every playable club with a stadium assigned to them in the editor has a pic apart from one Romanian 3rd division side which will be made a priority to find for the first update.
Update 1
:
Mediafire
Mega.nz
353 images takes the number of pictures in the pack up to 3875.
Update 2
:
Mediafire
Mega.nz
200 images taking the number of pics in the pack up to 4072.
Update 3
:
Mediafire
50 images takes the number of images in the pack to 4118.
Thanks go to Dazs8 and Asket for contributing images to the update packs.
Stadiums Preview
Installation instructions
Step 1
Extract downloaded file to a temporary folder.
In order to extract you will need either 7-Zip for Windows or The Unarchiver for Mac.
Step 2
Move the folder to:
Documents\Sports Interactive\Football Manager 2019\graphics\
Create the folder "graphics" if it doesn't exist.
Step 3
Run Football Manager 2019 and go to: Preferences > Interface
Hit the "Clear Cache" button at the top, and then hit the "Reload Skin" button at the bottom.