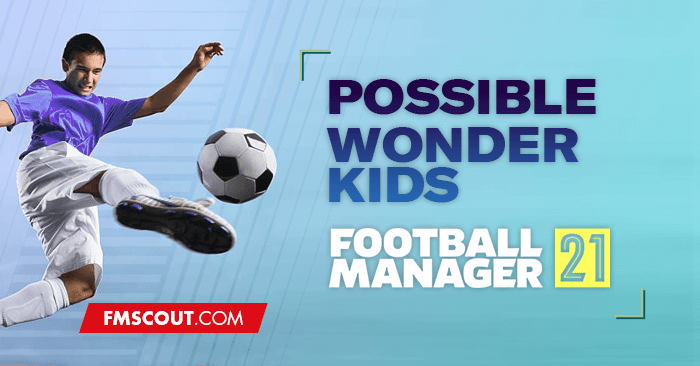 This is a list of 90+ young players you might haven't heard of before who could be wonderkids or
potential wonderkids on Football Manager 2021
, based on various real football scouting reports.
You won't find players who appeared on our world renowned list of
FM20 wonderkids
in an effort to uncover fresh starlets who are still relatively unknown. The
young talents
listed below don't exist in the official FM20 database at all.
We've tried to include players mostly between 15 and 18 years old.
To sum up the criteria of this list:
Most players on this list shouldn't exist in the official FM20 database.

The age limit is to be up to 20 years old by 30 June 2020.

The order is totally random.

This list will be expanded frequently, so make sure you check back often.
Thanks to
JG
for putting together this list and providing commentary as well. Check out the recommended addons at the end of this article for a way to add these players in your FM20.
Published
: 8 June
Updated: 7 September
Potential New FM21 Wonderkids
Goalkeepers

Vladislav Torop
– 07-11-2003 (16) – CSKA Moscow
Recently started consistently training with the CSKA first team, Torop has been named the successor to Igor Akinfeev. A physically strong goalkeeper, let's just hope he lives up to his potential a tad more than Akinfeev, and takes Europe by storm.

Alejandro Iturbe
– 02-09-2003 (16) – Atlético Madrid
A fairly short keeper, in the mould of Casillas perhaps, Iturbe and his cat-like reflexes have been making waves in this side of Madrid for a little while now. While Oblak has the first team spot nailed down for years to come, perhaps they have a potential successor already?

Mio Backhaus
– 16-04-2004 (16) – Werder Bremen
The German U16 national team keeper, it is widely expected he'll make his debut for the U18 or higher teams once things return to normal. A physically imposing keeper, so don't go whipping in the high crosses, because Mio will catch them!

Adrien Moncet
– 22-02-2004 (16) – Le Harve
Coming from the esteemed Le Harve academy, Moncet is a young goalkeeper who made his debut in the net for the French U16's at just 14 years old! He has yet to make the step up from there, but I imagine it's just a matter of time.

Kjell Peersman
– 21-05-2004 (16) – PSV Eindhoven
A Belgian keeper playing for PSV in The Netherlands, Peersman is an immensely talented keeper who's made the keeper spot his own in various youth teams. Coming up through the PSV academy, you'll be hearing more about him in years to come, I guarantee it.

Marcel Mendes-Dudzinski
– 14-05-2005 (15) – Pogon Szczecin
Gonna be honest, I mostly included this guy because of his name, since he's too young to feature next year. A Polish/Brazilian goalkeeper, that's 2 national teams who'll be fighting for his name in 5 or so years, I guarantee it.

Joe Whitworth
– 29-02-2004 (16) – Crystal Palace
One of surprisingly many talented Crystal Palace youngsters, Whitworth has always been around the youth teams, but has yet to feature. Everyone seems to rate him highly though, so surely this young goalkeeper must get a spot soon!

Charlie Setford
– 11-05-2004 (16) – Ajax
A Dutch-born English goalkeeper, featuring for both nation's youth teams, Setford has been slowly rising through the youth ranks at Ajax. He was recently promoted to the U18's just after his 16th birthday.

Mikki van Sas
– 29-02-2004 (16) – Manchester City
Perhaps the brightest young goalkeeper in world football currently, van Sas recently secured a transfer from hometown club Utrecht to global powerhouse Manchester City.

Nikolaos Botis
– 31-03-2004 (16) – Inter Milan
Going to Inter from Greek side PAOK this summer, Botis is regarded as a top talent in goalkeeping. Future replacement for Handanovic?
Defenders

Álvaro Carrillo
– 06-04-2002 (18) – Real Madrid
Another player that really should have featured this year, but didn't. Referred to by some as Sergio Ramos 2.0 because of his playing style, Carrillo recently signed a professional deal with Real Madrid, keeping him at the club until 2024. Along with Moukoko, this guy would be my personal best bet for which of these players truly make it on the big stage.

Juan Larios
– 12-01-2004 (16) – FC Barcelona
A lot of people thought the young left back had already signed for Manchester City, but nothing's official yet. It looks almost certain to be done though, as one of the brightest La Masia talents heads for the blue side of Manchester.

Marc Jurado
– 13-04-2004 (16) – FC Barcelona
In a similar story to Juan Larios, Marc Jurado is on the cusp of moving to Manchester, except it's the red side this time. A more tactical, rather than physical, full back, Jurado is expected to join up with the Red Devils as soon as the new academy season starts in a £1.5 million transfer.

Nnamdi Collins
– 10-01-2004 (16) – Borussia Dortmund
One of Dortmund's endless youth talents, this central defender is being chased by a lot of top clubs, with Chelsea and Manchester City supposedly leading the line. A very fast and physical player, a lot of strikers should be concerned if this kid reaches his potential. Let's see where he makes his breakthrough, Germany or England.

El Chadaille Bitshiabu
– 01-03-2005 (15) – Paris Saint German
Grabbing headlines a year or two ago, being 1.95 tall at 12 years old (!!!), this absolute unit of a central defender has been slowly moving up the youth ranks at PSG. Probably still too young to feature fully next year, but worth keeping an eye on regardless.

Luca Denk
– 02-03-2003 (17) – Bayern Munich
A defensive midfielder who plays just as naturally as an out-and-out defender, Luca Denk has been making training appearances with the Bayern first team for a while now. Yet to make his full debut though, and with Bayern's always-stacked midfield, it might be a while yet. A loan move perhaps?

Mario Camero
– 18-02-2004 (16) – Real Madrid
A similar player to elsewhere-mentioned Álvaro Carrillo, just… Less good, to be honest. A tactically aware, but not particularly physically strong defender, Camero can play all across the backline, but is most at home in the center of defence.

Leon King
– 14-01-2004 (16) – Rangers FC
One of the first notable products of Rangers academy after the reformation, King recently signed his first professional deal. A physically strong central defender, we can expect to see him in and around the first team soon enough, and almost certainly in FM21.

Timo Zaal
– 09-02-2004 (16) – SC Heerenveen
A centre-back who's very confident on the ball, Zaal started featuring for Heerenveen's U19 team at just 15! Also a regular in the Dutch national youth teams, Timo Zaal could very well be the next big thing, a competent defender with an eye for the pass.

Hjalte Andersen
– 24-02-2004 (16) – Brøndby IF
Young Danish defender playing for Brøndby… Is a move to Liverpool on the horizon? Comparison to Daniel Agger aside, Andersen is a key player for the Danish youth side, and should feature in the game next year.

Erik Lanfer
– 13-03-2004 (16) – Schalke 04
Schalke's youth academy have a knack for producing goalkeepers, just look at Manuel Neuer or Alexander Nübel. This one however, is a defender. A rangy central defender, Lanfer has the same spider-tackling ability of Wan-Bissaka, and we should be seeing his name often soon enough.

Dmitri Ignashevich
– 08-02-2002 (18) – CSKA Moscow
A surname like this bears weight when you're a young Russian defender. Able to play a variety of defensive positions, Ignashevich is one of CSKA's brightest young talents. At 18, he shouldn't be far away from featuring in the first team, so watch him!

August Frobenius
– 29-09-2003 (16) – Sporting CP
The famous Sporting CP academy snatched this guy from Norwegian outfit Stabæk last summer, so clearly, they see something in him! A right-sided defender, Frobenius has also made a single appearance for the Norwegian U17 team.

Faroukou Cisse
– 09-03-2004 (16) – Borussia Dortmund
A defender who can play almost all across the back line, Cisse is one of many young players coming from Dortmunds youth teams.

Vinícius Tobías
– 23-02-2004 (16) – Internacional
A youngster that seems almost a carbon copy of Dani Alves, Vinícius Tobías is an offensive wingback who can also play as an out-and-out winger, with buckets of pace.

Martin Vitik
– 21-01-2003 (17) – Sparta Prague
A classic out-and-out defender, Vitik has a lot of defensive talent, but is still on the weak side physically. If he can improve that, Sparta Prague have a LOT of potential on their hands.
Midfielders

Samuele Vignato
– 24-02-2004 (16) – Chievo Verona
You probably recognize the surname from one of this years big wonderkids – his older brother, Emanuel Vignato. Rumors are, Samuele is just as, if not more talented! I don't think SI will give him the coveted 150-180 though, given his age, but perhaps just below. Look out for this talented attacking midfielder.

Torben Rhein
– 12-01-2003 (17) – Bayern Munich
A player who could have featured this year, but interestingly, didn't. Central midfielder Rhein plays for Bayern Munich, but has been heavily linked with Chelsea over the past year. Will a move materialse? Perhaps, perhaps not, but either way, a very talented youngster.

Marc Casadó
– 14-09-2003 (16) – FC Barcelona
Barcelona haven't been producing a ton of homegrown talent since that generation, this guy just might change it though. A fantastic deep-lying playmaker, Casadó didn't follow fellow creative midfielder Xavi Simons to PSG, and has kept working his way up the Barcelona ladder.

Emre Demir
– 15-01-2004 (16) – Kayserispor
Making his first team debut as a 15-year old in November 2019, breaking a ton of records, Emre Demir has been making consistent appearances in the midfield before COVID-19 shut everything down. Expect to see him move on from Turkey before all too long.

Shola Shoretire
– 02-02-2004 (16) – Manchester United
One of the brightest stars to come from United's academy in a long time, this talented winger is regarded as one of the best English talents. United have broken their contract structure for youth players to get this guy to pre-sign a professional deal, and with good reason. Watch this space.

Dennis Lütke-Frie
– 04-04-2003 (17) – Borussia Dortmund
The versatile midfielder from Dortmund has made a ton of appearances for the youth team of both Borussia Dortmund and Germany, but has yet to make the major breakthrough. He's supposedly still highly rated in the youth setup though, so keep an eye out!

Jorge Alastuey
– 14-05-2003 (17) – FC Barcelona
If Casadó is the future Xavi, Alastuey is the future Iniesta. Long-term youth team captain Jorge Alastuey is an offensive playmaker, and is expected to be making waves soon, and definitely has long-term captain potential in the first team as well.

Giacomo Faticanti
– 31-07-2004 (15) – AS Roma
Daniele De Rossi recently retired. However, this guy might be his spiritual successor. A hard-tackling defensive midfielder with leadership potential, he'll only turn 16 in July, so he might not actually be in next years game. However, there's an outside chance, and I think he'll be one I'll be keeping an eye on.

Benjamin Chrisene
– 12-01-2004 (16) – Aston Villa
There's always a lower league hidden gem. Last year it was Luke Matheson, this year it was Bellingham, next year it might be Ben Chrisene. Making his senior debut at age 15 in August 2019, he's been making his league debut as well, so this might well be the next young English talent to watch.

Kacper Urbanski
– 07-09-2004 (15) – Lechia Gdansk
A creative attacking midfielder, making his debut in the Polish top flight earlier this year at only 15. Made 2 appearences before leagues got shut down, but looks to move in as a permanent fixture already.

Omari Forson
– 20-07-2004 (15) – Manchester United
Widely considered the brightest English prospect these days, Omari was nabbed from West Ham by United a few years ago, and has been chased by every major English club ever since. A well-rounded midfielder, who can also play right-wing (Insert Man Utd joke here), I'm personally really excited for him.

Bruno Davidson
– 21-04-2004 (16) – Celtic
From the grass of famous Scottish youth academy Hutchinson Vale, recently signed by giants Celtic, this tricky winger has the potential to be all that, and then a little more. I'm not 100% sure he's officially signed for Celtic yet, but I believe it's a foregone conclusion at this point.

Jeppe Kjær
– 01-03-2004 (16) – AC Horsens
As a Dane myself, I have to include a fellow countryman somewhere on this list. Jeppe Kjær is as good as any. Debuted on his 16-year birthday, setting a record that will likely never be beaten, as you have to be 16 to play in the Danish Superliga, this diminutive winger with an eye for goal could be the next big thing.

Gabriele Alesi
– 28-01-2004 (16) – A.C. Milan
A creative attacking midfielder, Alesi is Milano born and bred. His rise through the youth ranks stifled a little recently, only making one appearance this season in U17 team, but it's worth remembering that he only turned 16 in January.

Edwin Andersson
– 07-11-2003 (16) – Chelsea
Recently transferred from IFK Göteborg in his native Sweden to giants Chelsea, that should say something about his talent. A goal-scoring left winger, don't let him cut onto his right foot, because boy, he will absolutely punish you for it.

Edgar Sevikyan
– 08-08-2001 (18) – Levante
A player that really ought to have featured this year, at least based on age alone, Sevikyan is a right winger with a flair for the skillful. Has yet to make his La Liga debut for the first team, but it can't be far off at this point, with him making appearances and scoring goals for every Russian youth team from U15 to U20, where he is now.

Burak Ince
– 20-01-2004 (16) – Altinordu
It's almost a shame that Emre Demir debuted in the top flight around the same time as Burak Ince did in the second flight. Altinordu are no slouch though, he's only got that spot through showing his talent. It'll be interesting to see both him and Demir, both offensive midfiedlers, battle it out over the coming years.

Milan Govaers
– 23-03-2004 (16) – PSV Eindhoven
Making the switch from Anderlecht to PSV at just 12 years old, Govaers is a talented all-round midfielder, thought with a preference for more offensive roles. Not quite as standout as fellow countryman Peersman, but a talented youngster nonetheless.

Pierre Dwomoh
– 21-06-2004 (16) – KRC Genk
Widely regarding as one of the biggest talents in Belgium, Dwomoh is a versatile central midfielder who also occasionally plays offensive midfield or even striker! Genk has already tied him down until 2024, and with good reason!

David Vilán
– 01-01-2003 (17) – Celta Vigo
A creative offensive midfielder who has been a consistent fixture in the Spanish U16 and U17 teams, David Vilán should really be featuring next year. Maybe not expecting a debut for Celta in La Liga just yet, but then again, if they end up getting relegated… Anything could happen!

Bruno Iglesias
– 01-05-2003 (17) – Real Madrid
A player often competing with aforementioned David Vilán in the Spanish National youth teams, Bruno Iglesias is another talent coming from Real Madrid's academy. An attacking midfielder with an eye for goal, let us hope he can eventually break into Madrid's star-studded team!

Darko Gyabi
– 17-02-2004 (16) – Manchester City
The captain of Englands U16 team, Gyabi is the latest player with bags of potential to come from the blue side of Manchester. A deep lying playmaker with a lot of physical strength, let's hope he eventually has more success in getting gametime than someone like Phil Foden has had.

Taylor Booth
– 31-05-2001 (19) – Bayern Munich
You read right, he's actually 19. Having joined Bayern almost 2 years ago, it's a wonder he hasn't featured in the game yet, but surely, he must do so next year? A versatile midfielder, who's most at home in something akin to a box-to-box role, we'll be hearing more of this kid soon.

Mohamed el Arouch
– 06-04-2004 (16) – Lyon
Rayan Cherki, who's in the game this year, consistently outshines poor Mohamed here. But make no mistake, el Arouch is also a huge talent coming out of the Lyon talent factory. A playermaker who prefers to play further up the field, this Moroccan-born Frenchman is one to keep an eye on.

Jun Nishikawa
– 21-02-2002 (18) – Cerezo Osaka
Another slightly older player, Nishikawa has been making waves in his native Japan. Touted the next Takefusa Kubo (remember him?), despite being less than a year younger, is he the next Japanese talent we will see making the move to Europe to attempt to dominate the midfield?

Denis Alijagic
– 10-04-2003 (17) – Slavia Prague
A goalscoring winger, comfortable on either side, Elijagic has already made his senior debut in the league for Slavia, so they clearly see something in him. Scoring 5 in 7 for the Bosnian U17's at just 15, he's already made an impact. Can he keep going?

Kristian Hlynsson
– 23-01-2004 (16) – Ajax
Iceland and Denmark have a fight on their hands. Getting this talented playmaker to declare nationality to either side! Born in Denmark to Icelandic parents, Kristian was snapped up by the famous Ajax academy this year, so surely he's talented, right?

Danny Schmidt
– 30-01-2003 (17) – Mainz 05
A regular in Mainz's U17-team, along with making appearances in the German U17-team, Schmidt is an offensive midfielder who can also play up front. 10 goals in 20 games so far from offensive midfield certainly shows his talents!

Diogo Prioste
– 26-03-2004 (16) – SL Benfica
Signing his first professional deal along with previously mentioned Iuri Moreira, Diogo Prioste is the captain of the Portuguese U16 team. A deep-lying playmaker with immense passing range, could he join the already abundant Portuguese collection of talented midfielders?

Idrus Abdulahi
– 22-09-2003 (16) – Melbourne City
Making headlines earlier this year for being the youngest debutant in A-League history, Abdulahi is a defensive midfielder with a bright future. He unfortunately hasn't made further appearances since his debut, but one must assume that's only a matter of time.

Moses Nyeman
– 05-11-2003 (16) – DC United
A similar player in many ways to above-mentioned Abdulahi, Nyeman is a defensive midfielder who recently made his senior debut at age just 16. Along with being a consistent player for the American youth teams, he's very highly rated in the MLS youth academies.

Charlie Patino
– 17-10-2003 (16) – Arsenal
An English/Spanish dual-nationality midfielder, this deep-lying playmaker is one of Arsenal's brightest talents. Expect to see lots more of him soon enough.

Luka Romero
– 18-11-2004 (15) – RCD Mallorca
Technically too young to feature next year, this wonderkid has already made his La Liga debut as the youngest ever! A similar playstyle to Messi, will he reach the same heights?

James Balagizi
– 20-09-2003 (16) – Liverpool
Recently promoted from the academy teams to the U18's, this classic attacking midfielder is one of Liverpools bright young prospects. Has already made several appearances for the English youth sides.

Pablo Páez Gavira
– 05-08-2005 (16) – FC Barcelona
Known colloquially as "Gavi", this young starlet is one of La Masia's brightest stars right now. Playing as both an offensive and defensive playmaker, this kid has bags of talent.

Jordan Gomes
– 12-08-2004 (16) – AS Monaco
A versatile midfielder who's been with Monaco his entire career, Jordan Gomes is considered one of their brightest academy talents.

Iwo Kaczmarski
– 16-04-2004 (16) – Korona Kielce
A talented box-to-box midfielder who's already made his senior debut, Kaczmarski is regarded as one of the biggest talents in Polish football right now. Watch this space.

Ilias Akhomach
– 16-04-2004 (16) – FC Barcelona
Akhomach is an offensive player with a wide array of skills, with both Spain and Morocco trying to get him to represent their nation. Spain appear to be leading though, having made 3 appearances for the U16 team.

Mimeirhel Benita
– 17-11-2003 (16) – Feyenoord
Comparable to a player like Cuadrado, Benita is young player who can play up and down the right flank, at essentially any position.

Sávio
– 10-04-2004 (16) – Atlético Mineiro
He's fast, he's rapid, and he's got pace. And a lot of other things, Sávio is a HUGE talent on his way up in Brazil. Primarily a right winger, this is likely to be the next big name from Brazil.
Forwards

Youssoufa Moukoko
– 20-11-2004 (15) – Borussia Dortmund
The perhaps biggest and most intriguing talent on this list isn't even guaranteed to feature next year, given he doesn't turn 16 until November. However, given Bundesliga rules having recently changed, this prolific teenager, scoring 34 goals in 20 U-19 matches (as a 15 year old!), is in line to receive his first team debut in the 20/21 season.

Lucianinho
– 01-03-2004 (16) – Goias
This kid was all the rage a few years ago, being linked to probably every major club on the planet, mostly Barcelona. His hype has since died down, still playing in his native Brazil. He's still just as tricky, with silky smooth dribbling, as a few years ago, and this year he'll likely feature. Probably not the same insane PA as he could have, but one to keep an eye on.

Momodou Jaiteh
– 27-11-2004 (15) – FC Basel
10 goals in 13 games, in the U18 league. As a 15 year old. I've spoken to Sports Interactive's actual Swiss researcher, and this kid is on their radar, big time, and this PA rating was suggested by him. A pacey, prolific striker, might not be in for FM21 due to his age, but absolutely for FM22.

Fernando Ovelar
– 06-01-2004 (16) – Cerro Porteño
Well, here's a name a lot of us first heard a few years ago. After making his debut in the Paraguayan top flight as a 14 year old, the young strikers hype has died down a bit. However, I like to believe he's still got it, and he'll finally have reached an age where he can be part of the game.

Emrehan Gedikli
– 25-04-2003 (17) – Bayer 04 Leverkusen
A physically imposing and cool-finishing striker, Gedikli has been tearing it up in the youth leagues this year. Many have been expecting to see his name in and around the first team squad soon, and it's probably only a matter of time at this point. A different type of striker than most young talents, keep an eye out.

Isra Salazar
– 10-05-2003 (17) – Real Madrid
I don't remember how, but I've been hearing about this kid for 2-3 years now. A very technically gifted player, and a natural finisher, he should be making his breakthrough soon enough. The next Raúl anyone?

David Pecellín
– 14-01-2004 (16) – Real Madrid
Nabbed from Real Betis' youth academy a few years, David Pecellín is one of the bright stars in Real's youth teams. Usually playing as a second striker, but can also be used alone up front, Pecellín should have a bright future ahead of him.

Iuri Moreira
– 24-03-2004 (16) – SL Benfica
A tall, but extremely rapid striker, Iuri Moreira recently signed his first professional contract with Benfica. Coming from an academy famed for producing the stars of tomorrow, he should be making his mark soon enough.

Charlie Allen
– 22-03-2003 (16) – Linfield
Making his debut in the Northern Irish top tier just after his 16th birthday, Charlie Allen is being closely monitored by many English clubs, most notably Manchester United. A natural striker with the ability to play all across the front three, is this Northern Irish starlet the next big thing?

Georgios Koutsias
– 08-02-2004 (16) – PAOK Thessaloniki
Scoring 4 goals in 3 games since his debut for the Greek national youth teams, Koutsias clearly has a lot of talent. Yet to make his first team debut, but the striker is making his mark in the U19 league, despite being just 16!

Herculano Nabian
– 25-01-2004 (16) – Vitória S.C.
A regular feature in the Portuguese national youth teams since he was just 13, it's a wonder that Nabian hasn't been snatched by one of the big three teams in Portugal yet. I suppose it's just a matter of time before this accomplished striker makes his move.

Amourricho van Axel-Dongen
– 29-09-2004 (15) – Ajax
Maybe a tad young to feature next year, but worth a mention regardless. A small player with a large name (Amourrichio Jahvairo Déshauntino Van Axel-Dongen), he can play anywhere across the front 3, being a threat from any position.

Ricardo Wagner
– 20-01-2005 (15) – Bayern Munich
This Haitian-born German can play anywhere across the front 3, and does it well. Immensely strong and fast, let's just hope he doesn't turn into one of the numerous cases where a physical strong youth player just can't cut it higher levels.

Lasse Günther
– 21-03-2003 (17) – Bayern Munich
A left footed forward, who's equally comfortable on either wing or up front, Günther has a lot of potential. Making consistent appearances for the U19 team, he's been steadily moving up the ranks at Bayern since joining them from Augsburg in 2016.

Breyton Fougeu
– 06-01-2004 (16) – Lyon
Born to Congolese parents in France, Fougeu is a promising forward coming through at Lyon's famous academy. Able to play both as a striker and on both wings, his rapid bursts of pace have been terrorizing defences in the French youth tournaments.

Nicoló Turco
– 15-01-2004 (16) – Juventus
A left-footed striker, who's also at home on the wings, Turco switched to Juventus' youth academy from Genoa in 2018. Already a prominent member of the Italian youth teams, expect to see big things from him in the future.

Aleksandr Sapovalov
– 28-02-2003 (17) – SC Freiburg
Will Estonia finally have a player to put them on the footballing world map? Maybe in a few years, Sapovalov will be the man! An either-footed striker, with especially Arsenal rumored to be taking a closer look at him, this is a name to remember.

Cade Cowell
– 14-10-2003 (16) – San Jose Earthquakes
Making his MLS debut this past season, Cowell is a talented striker currently playing for San Jose Earthquakes. Also making consistent appearances for the American youth teams, perhaps he'll get snatched up by a European club before long?

Jhon Durán
– 13-12-2003 (16) – Envigado
A physically imposing striker, he's already made 5 appearances in the top flight of Colombia, though without any goals yet. I assume FC Porto are already taking notes?

Charlie McNeill
– 09-09-2003 (16) – Free Agent
A highly talented striker who was released from his Manchester City contract due to some contractual disputes. RB Leipzig, Juventus and in-town-rivals Manchester United look like favourites to snap him up.

Diego Talaverón
– 27-02-2002 (18) – Sevilla
A slightly older player who didn't feature this year, Talaverón is youth prospect from Sevilla. A left-footed striker, he's highly rated at the club!

Fabián Luzzi
– 18-05-2004 (16) – FC Barcelona
Another wonderkid from Barcelona, but this one was signed from Rayo Vallecano this summer. One of the biggest offensive talents in Spain, will he make his mark?

Umut Tohumcu
– 11-08-2004 (16) – Hoffenheim
An either-footed player, capable of playing as either a lone striker or in a more offensive midfield role, he's been making waves in Hoffenheim and the German youth teams.

Federico Oliva
– 22-07-2004 (16) – Atlético Madrid
An American/Argentine superstar-to-be, Oliva can play all across the attack, having been snatched up by Atlético as a kid. So far he's chosen to represent his birth nation, USA.

Malamine Ekefele
– 18-07-2004 (16) – AS Monaco
If Jordan Gomes was one of Monacos brightest talents, then this is THE brightest talent. Obvious comparisions to Mbappé aside, Ekefele is a superbly talented striker in his own right.
Recommended Addons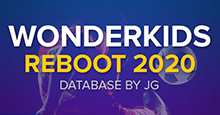 New Wonderkids for FM 2020 by JG
This database adds the wonderkids mentioned above to FM20.
If you spot any mistakes in names, clubs or nations or if you have suggestions of more players to add to this list, feel free to comment below.
Enjoy!