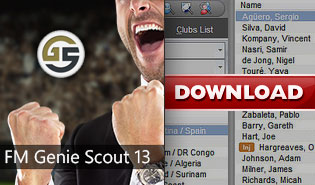 FM Genie Scout 13 is here!
As promised, we released FM Genie Scout 13 shortly after 7 December! The wait is finally over, and you can now fully enjoy your FM13.
Genie Scout 13 comes with an installer, and should work for the latest Football Manager 2013 version (13.1.3)!
Head over to our
Genie Scout 13 download
!
Eugene worked really hard for this and I'm hoping you will appreciate his effort by donating to the GS project.
At this point d like to attach a quote from Eugene about the release of this public GS13 version:
"I started to work on Genie Scout 7 years ago. I spent more than 1650 hours to give you Genie Scout as you see it today.
Times have changed and I am a family man now. I have a beautiful daughter and it's harder to find time to continue updating Genie Scout.
If you appreciate the efforts I put in every year, if you enjoy the tool, I'd be really thankful for any support from your side.
Sincerely yours,
Eugene Tarabanovsky"
If you want to donate, please use the
Donate to Eugene
page.
Enjoy!!
P.S. Our newsletter followers got the download link before everyone else. We will follow the same drill for the next versions as well, so if you want to receive your download links early next time, make sure you sign up to our newsletter - it's free!