Due to persistent bad press reports as well as allegations of corruption, the following news shook the world in December 2022:
The current Football Association was dissolved. All persons connected with this federation were fired.
Internally, great efforts were made to restore to football the values for which it stands:
Fight against racism and all other forms of discrimination.
Promoting fairness and respect
Protection of human rights
Child protection
Thus was born the World Football Association, or "WFA". This took over all the tasks of the previous organization with immediate effect.
How do you see this in the game:
- Competition names have been adapted
- Award names have been adapted
What else is planned?
Adjusted graphics
For installation please follow the steps here, it's exactly the same: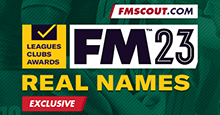 Football Manager 2023 Real Names License Fix
Fix fake name of competitions, clubs and awards with their real names in Football Manager 2023.
This file is based on the file from FM Scout, who kindly gave me permission to get this alternative version up and running. Thank you!
Cheers
Daveincid
Screenshots:
WIP