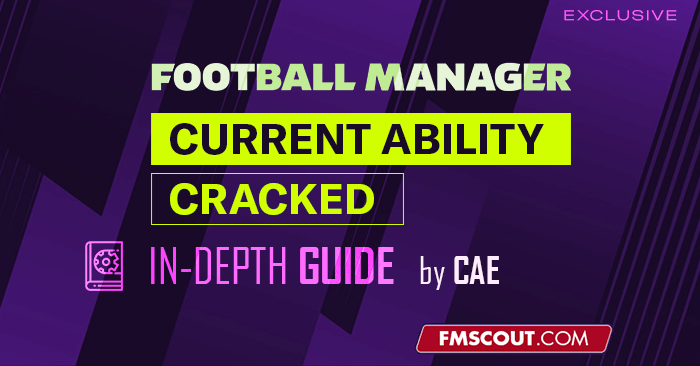 So what does all this mean for us when playing the game? Well, first and foremost it is very important to understand that attributes are the most important thing. As a player develops, their attributes will increase and this drives the increase in CA, not the other way around. So it is important to have effective training for your players and give them game time at an appropriate level. For players 18 and younger, training is the most important. Above 18 getting adequate game time at an appropriate level becomes more important than training. Of course, a player also needs a good personality and determination in order to develop. A player with a poor personality may benefit from mentoring by a more senior player with a good personality.
Remember that the PA acts as a cap on the CA and hence the attributes. The player development does not depend on PA i.e. a young player with 180 PA will not necessarily develop faster than one with 100 PA. It simply means that the 100 PA player will reach his limit sooner and hence stop developing.
Training
For training, you can look to improve any weak attributes by selecting an appropriate additional focus that covers those attributes. The player will then spend more training time on those attributes causing them to rise leading to an increase in CA. You can look at the weights to decide which attributes are important for the players position. For example, Central Defenders have high weights for Decisions and Marking so you may choose to use 'Defensive Positioning' as that focusses on Marking, Positioning and Decisions. Role training covers several attributes that are considered key for a particular role.
So, assuming you have decent training facilities and coaching staff, you should start to see your players attributes start to increase over the course of the season.
In the background, their CA will be rising to match these attribute increases. You can see their overall development progress on the Progress screen under Development.
However, do remember that higher weighted attributes will essentially use up more CA than lower weighted ones. If a player already has a decent value for a highly-weighted attribute, further development in that attribute is essentially at the expense of potential growth in other attributes. So if you have a striker with 17 for Finishing and still some room for development, it could be better spent increasing his poor heading ability rather than trying to get him to have 20 for Finishing. Basically, try and develop well-rounded players with decent values in all the relevant attributes for their position and role. Regularly check on the training progress and change focus to better spread the development across attributes.
Playing Games
In order for players to continue to develop once they reach 18, they'll need to be getting sufficient game time at an appropriate level. So you should be looking to loan out your highly-rated youngsters to get them game time at a decent level. They'll develop more playing on loan at a top-division club rather than for your reserves. It can only be assumed that as they play, the attributes related to the position and role will increase more. It would make little sense for a winger's heading to increase more than their crossing and dribbling.
Keep an eye on the position they'll be played in during the loan and the quality of training facilities at the loaning club. You may have a AML/SC wonderkid you plan to play as a winger at AML. If the loaning club say they'll use them as a striker, it may lead to attributes that are not as important for a winger to develop. You'll also need to hope that the AI manager of the loaning club sets up the player training appropriately and focusses on the relevant position, role and additional focus!
Based on posts on the SI Games forum, it seems that as well as playing games, the player also needs to play
well
in order to develop. So good performances will lead to attributes increases. So it may be better for your wonderkid winger to play on loan at an attacking team where he'll have more chance to play well and provide assists rather than at a defensive relegation candidate in which he'll be stood on the wing shivering and not being involved in the game.
On the 'Tactics' screen under Development you can keep track of the number of games played in each position as well as a breakdown of their performances.
Scouting
When scouting for players, you may choose to use a tool like
Genie Scout
. If you do, do not fall into the trap of simply looking for a striker with the highest CA! As we know, attributes are key and CA is simply the weighted sum of all the attributes. Two strikers may have identical CA's but completely different attribute profiles. Indeed, a 140 CA striker with high values in the relevant attributes for a striker will perform better than a 170 CA striker with high values in less relevant attributes. So in Genie Scout, pay more attention to the role ratings than CA. We have created a ratings file using these weights that you can use in Genie Scout. You will find the download at the end of this article.
Similarly for scouting in the game, focus on searching for the appropriate attributes. We have also created in-game filters using these weights that you can download at the end of the article.
New Positions
As shown in the weight chart on the previous page, each attribute may have a different weight for different positions. So if you train a player in a different position, the weights for his attributes will shift to reflect the new combination of positions. This may mean that some attributes could drop. For example, suppose a full-back retrains as a winger. It can be expected that his weight for crossing and dribbling will increase. This means that his RCA will increase but at that point, his CA has not increased. Therefore, some attribute values will have to drop in order to balance his new attribute weightings with his current CA. If a player still has some development left (i.e. is not at his PA) then his future development could see those attributes start to increase again, but it does mean that the new position has used up some of his potential development (in terms of attribute values).
Players Approaching the End of Their Careers
For a player approaching the end of their career, they will need to continue playing (and playing well) in order to sustain their CA. However, at some point their physical stats will invariably start to drop off (think of their pace and acceleration falling). Now, their CA may still be at the same value meaning that the lost pace and acceleration could actually lead to development in other attributes in order to balance their attribute values and CA. At this point, the player may be suitable for re-training in a different position (think of Ryan Giggs and Wayne Rooney moving to central midfield as they got into their mid-30s).
Mental Attributes
The mental attributes of players seem to increase naturally as they get older which is to be expected as they are now seasoned pro's. However, bear in mind that these increased mental attributes will lead to an increase in CA. Assuming that the player still has some development left, it will not be a problem and their CA will rise. However, if they are at their peak some technical and/or physical attributes may lower slightly to balance the increase in mental attributes.