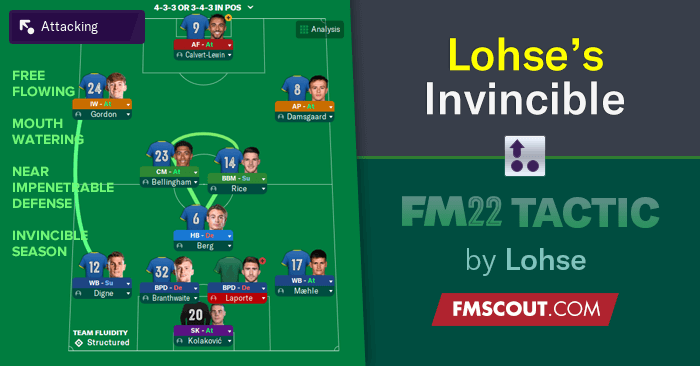 Hello and welcome to what will be my 5th tactic I have uploaded on here and I promise you this is the very best I have done to date!
The system is a 4-3-3 out of possession but in possession it plays more like a 3-4-3 and at times 2-3-4-1. The tactic has an emphasize on positional play, creating overloads in half spaces, quick short passes and a quick switch of play that catches opponents out. The Tactic got me my first ever invincible season and anyone who has managed in the Premier League can attest to how difficult that actually is. Anyway onto the tactic.
The Formation:
I know many sometimes think 4-3-3 is a tad boring and generic which is why I have tried to use some roles that I do not often utilise.
The Half-back is essential in creating the way which we would like to play by dropping in between the two Ball-playing-defenders who we ask to stay wider to ensure we have more passing options.
Centrally we have an CM on Attack duty and I have been in love with this role this year although I have not used it much in years past. The role is very Dynamic, even with the attacking duty it comes deep to give passing options when the HB drops between the defenders and he also gets into the box, creates chances and scores goals.
Next to him we have either a roaming playmaker or a box-to-box midfielder. I switched between these 2 roles because I thought the consistency of the roaming playmaker was pretty bad and when they had a poor game I switched their role to BBM. But their role in the team remain the same, they need to be dynamic and enable passing options anywhere on the field, be it wide to create overloads or further down to enable play to progress or even the last pass for an assist.
For the wings I always like to be a little bit unpredictable meaning that I don't want either side to do the exact same. So on the right side we use an Advanced Playmaker on Attack paired with a wingback on Attack. 2 attacking roles on the right side also means its necessary to have a bit of balance hence the supportive role in right central midfield. On the left we have a wingback on support and an inverted winger on attack.
Wingbacks are creating the width for the tactic allowing the wingers to tuck in and be a threat in the half-spaces which is where we want to create overloads. Lastly for the attack we have an advanced forward. We want him to be leading the line and scorings bags of goals.
Player instructions
. Everyone has mark tighter and tackle harder. CM attack has Roam From position, move into channels same for the BBM. Wingers have roam from position and sit narrower. Wingbacks have shoot less often and sit narrower. They have sit narrower to solidify the formation a little more and as we are playing short passes I don't want them too far away from their teammates.
In possession:
Because I have good dribblers and lots of creative players I allow them the freedom to express themselves. We play narrow because I found that to exploit the half spaces better and create great one-two passes through the middle. This tactic really does play some amazing attacking football. If Calvert-Lewin is not playing I usually put on low crosses but with him on I don't want to limit how we cross it into him.
In Transition:
Pretty standard high press with high lines I want to be on the front food. We do instruct our keeper to distribute to the Half-back as he drops in between the defenders and they go wide.
Out of Possession: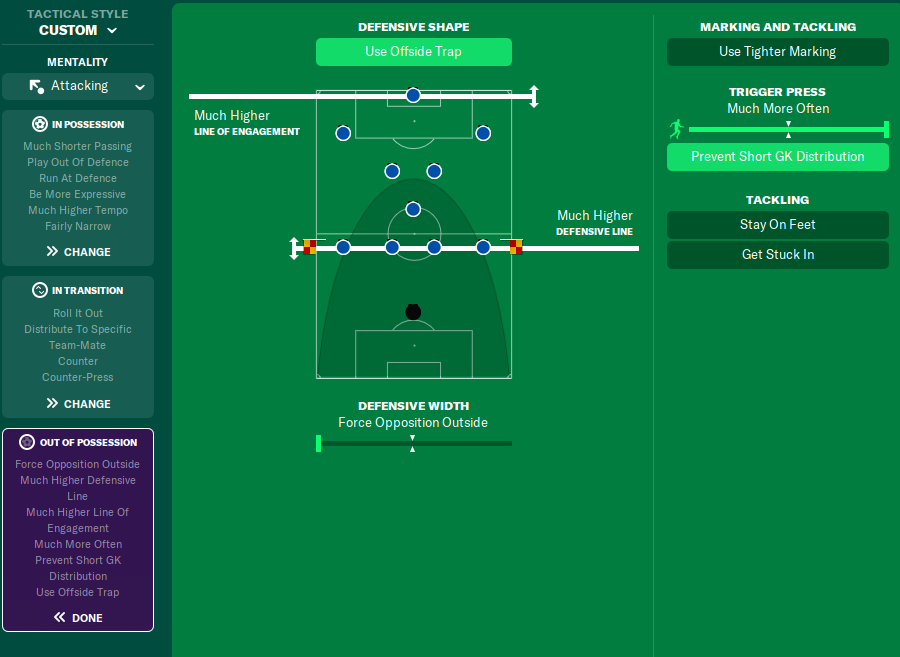 Competitions:

We actually started out really poor by drawing 3 games against Southampton, Wolves and Watford all games In theory should have won. But after that we really buckled up our ideas and dominated.
We won the FA & Carabao cup but got demolished by Liverpool 6-0 in the community shield.
Here is an overlook of the seasons Schedule:
Now I have said that this tactic behaves like a 3-4-3 or 2-3-4-1 in possession and the pass maps tells a tale
As you can see from the pass maps wingers are tucked in and the wingbacks are providing the width. You can also see how it functions with Halfback dropping deep centrally making up the 3-4-3 which is the most frequent attacking pattern.
Now atlast I have a bunch of stats to show the ones interested in it.
Firstly the competition stats where we dominated almost every bracket except possession and tackles.:
Goals:
Possession:

Although we were very attacking we still managed 54% possession coming in at 3rd for the competition.
Shots for and Against
Conceded:

Team Clear cut chances created:
We created 198 clear cut chances which is twice as many as the amount of goals we scored so I reckon we could have scored more goals than we did
Clear cut chances for/against.
A Clear cut chance evert 44 minutes of play to a chance against every 148 minutes. That really highlights how great this tactic is both defensively and offensively.
How we scored goals:
Mainly goals come from Through balls. Short pass combinations through the middle happens frequently and its beautiful to watch those combinations!
Player stats:
We didn't actually have the top goalscorer but we do have 2nd and 3rd place. Unfortunately Haaland had an unreal season at Man city.
Player Assists:
We had 3 players in the top 5 however, Mbappé for liverpool was sensational.
Key passes:
I have never had a player let alone a leftback contribute so many key passes 180?! its insane numbers.
Now lastly for the Data Hub stats.
General performance
Attack:
Crossing:
Defence:
Thanks for having a look at my tactic, let me know what you think in the comments or if you have any questions!

Credit to RDF Tactics for being a great guy and truly inspiring with some of his tactical breakdowns and talks!