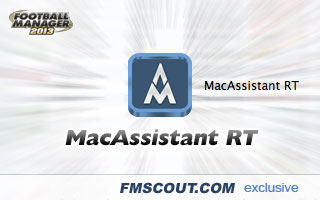 MacAssistant RT
is a real time scout tool for
Football Manager 2013
. It supports Mac OS X 10.7 and 10.8, and the latest 13.3.3 Steam version of FM2013.
Exclusively available from fmscout.com
Picking up where
MacAssistant 2012
left off, the work continues on MacAssistant RT for FM13.
Released
: 29 November 2012 - v0.4
Updated
: 29 March 2013 - v0.5.1
Redistribution Policy:
People who want to put MacAssistant RT on other sites, you may link back to this very page but you cannot host any files yourselves. Thank you!
Compatibility
Current MacAssistant RT version 0.5.1 supports:
FM13 version 13.3.3, 13.3.2, 13.3.0, 13.2.3, 13.2.2, 13.2.1, 13.2 and 13.1.3
FM13 Russian Retail 13.2.2, 13.2 and 13.1.3

Mac OS X 10.7 and 10.8
Update 0.5.1
Use MacAssistant RT's autoupdate feature to update the application. If you selected the option to be notified when a new update is out, a message will appear once you launch the application.
If this is a fresh install, simply drag the icon in your Applications folder, and then run the updates to make sure you have the latest version.
Features
After SI's decision to lock down the saved game files this year, the only solution was to get the data from the memory, and that is what I did with MacAssistant RT.
Ability to scout for players
See the player's statistics in detail, as well as their hidden statistics
Amazing predicate editor, so you can search for that awesome player you couldn't find till now
Automatic application updates keeps you up-to-date with new features
Person Statistics
Player Status icons in search results
Player Contract Details
Nation Flags
Player reputation
Fitness / Jadedness
Reset Search terms
Case-sensitive or Case-insensitive search
Player faces (megapack) support!
Detects running version of Football Manager
Search for Free Agents, Expiring and Expired Contracts
Added Ctr, Loa, and Lst Player Statuses
Estimated Asking Price (Not 100% accurate yet)
Staff Search
Staff Detail Panel
NEW!! Support for 13.3.3
BUGFIX! Fixed some minor memory leaks
A lot of exciting features and improvements are coming too, in later releases. MacAssistant RT will include shortlisting functionality, so you can save the players you find in MacAssistant RT and load them in the game, without the need to search again for them. Clubs, Nations and other game objects will be included as well, all through a constant stream of monthly updates you'll get from the application's smart auto-update system.
Screenshots
Support MacAssistant RT
Instructions for the First Run
The first time you load the app, it will ask for your password. Please fill it in because it's important that the app will run with root access, otherwise it will quit.
Also the app will try to locate your game's lang_db.dat file automatically. Please, open preferences, by clicking the MacAssistant RT menu bar and then Preferences after you've successfully loaded a game, to make sure that the file was correctly located. If it wasn't, please click on the default path and point it to the correct location. The game, however, can still load fine without it, so you can safely ignore this for now, until all the new features are added.
Bug Reports
MacAssistant RT will also need your help! Due to the fact that I had to completely rewrite the loading engine, it is to be expected that there will be some bugs to hunt down and kill. Reporting any bug you come across is vital, and this will be handled by the
new bug tracking system
.
So if you find a bug, please file a bug in
the issue tracker
, and I'll try and fix it as soon as possible.
Feature Requests
You can always request a feature that you want that will make this tool better! Just leave a message in the official
MacAssistant RT Forums
!
Any doable feature requested will make it in the next release if it's not that time consuming. But if it is, you'll probably have to wait a few releases. It's still gonna be added!
Credits
MacAssistant RT is a fully featured assistant tool created by
thanoulas
.
New app logo by
Stam
.
With MANY special thanks to everyone who donated! You are the ones who keep this project alive!