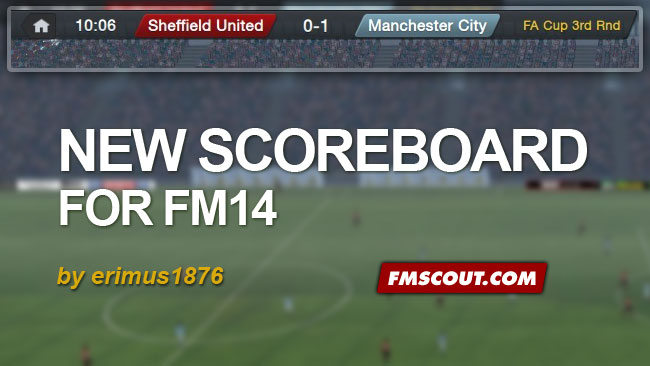 This mod improves the default scoreboard of the 3D match viewer by increasing the default font size and also displaying the competition details alongside the team names.
Released
: November 2013
Installation Instructions
ALWAYS BACKUP YOUR EXISTING FILE(S) BEFORE USING THESE MODS!
Step 1
Extract
the downloaded file
FM14 Scoreboard.rar
using
7-Zip
for Windows or
The Unarchiver
for Mac.
You'll get 3 files.
Step 2
Move
the 2 .xml files
match title bar score.xml
and
match title bar.xml
to the panels folder of the skin you're using:
\Documents\Sports Interactive\Football Manager 2014\<YourSkin>\fm2014\panels
If the folders don't already exist, create them, or download a custom skin.
Step 3
Go to FM Preferences > Interface Screen, clear your cache and tick "Reload skin".
Credits
Created by
erimus1876
.
Visit my personal blog:
http://footballvideogames.weebly.com/
Original concept for this mod is credited to
Gabrielmar Batistuta
from the
SI skins forum
.