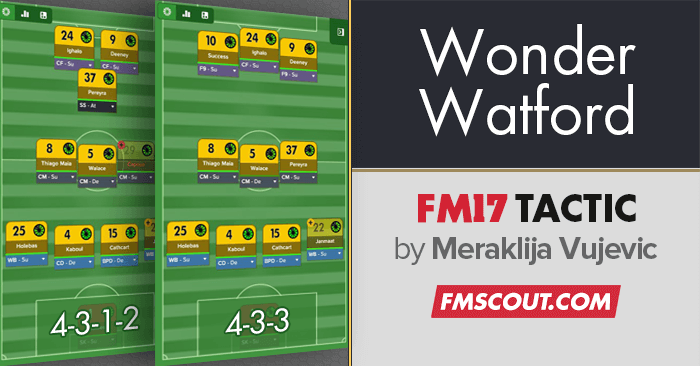 Hi guys,
My name is Meraklija Vujevic and I am the guy who thinks that in first season I can be in top 4 in every division even with worst team.
To achieve this every year I create my tactics which are a little bit different compared to what most people are using.
Here are some of my achievements in first season from FM16...
Torino won Serie A
Real Sociedad won La Liga
Leicester won Premier League
And now...
Watford won Premier League in FM17 Beta
I spent a few days observing the games during my tactical experiments with various clubs and finally I've managed to create 2 interesting tactics.
I decided to play with
Watford
so Miles can be happy.
On my YouTube channel there is a
playlist with my Watford
career and there you can see how good are these two tactics.
My 2x FM17 Tactics
First formation what I am using is
4-3-3 with 3 strikers
.
Second formation is
4-3-1-2
.
Watford Team Instructions
1st Season Transfers
My Results
Watford - Premier League Champions