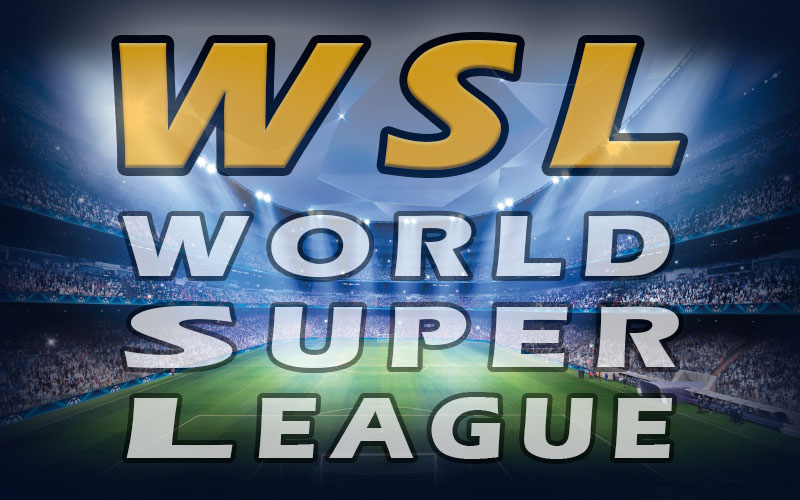 FM20 version - Updated on Feb 23
Work on the FM20 version has already begun. It will probably take 1 month to complete.
I expect the next version to be the best and most challenging I've ever created, as I've learnt a lot from this version.
The next version will include 832 clubs (160 more clubs).
There is also a revised division/league stucture, pushing more clubs to higher divisions will increase the overall challenge.
Please let me know what you enjoyed and also what you would change in the comments below.
I would like to get some feedback, especially what you enjoyed the most, it will motivate me.
Donations
It takes about 1 month of my personal free time to create this mod (every night and weekend); so if you loved playing this mod and have some money to spare, please consider supporting me, any size donation is welcome!
https://streamlabs.com/darthfurion
Introduction
As the creator of the most downloaded and highly acclaimed Super Leagues of the last 2 years (with a combined total of 18,000 downloads); I'd like to welcome you to the best Super League I've ever created!
League Structure
Yes I know it looks weird! It's `top heavy` because after many seasons, the clubs at the bottom of the league are relatively useless! They just waste processing time (even though I start my games at the bottom, by the time you get to the top you have no more contact with bottom tier clubs); So I wanted to put more clubs higher up, this increases transfer market activity for higher clubs because there are more clubs to buy/sell players that will have money, and better clubs to send players out on loan! Just try it, it will blow your mind!
Premier League
View Original Image
View Original Image
Championship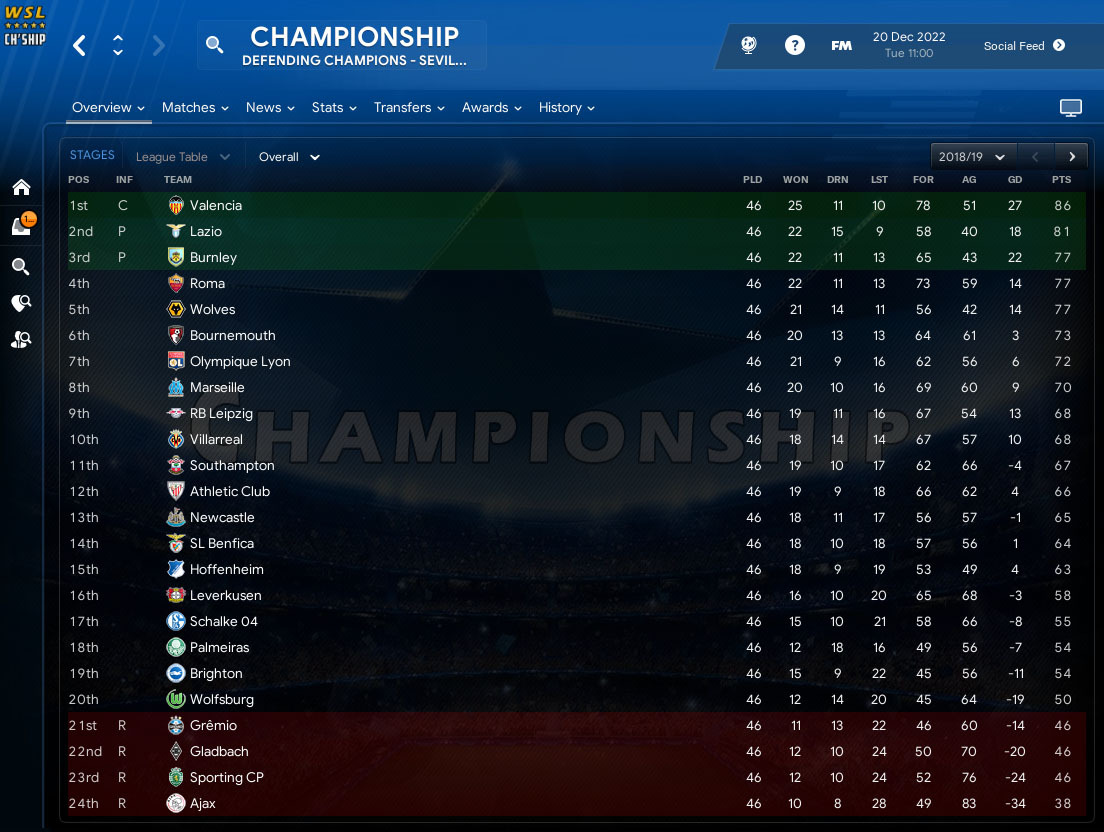 View Original Image
League 1a
View Original Image
League 1b
View Original Image
High Transfer Market activity
Note: These are relatively extreme examples, but generally there will be at least one or two players transferred for over 100M every transfer window!
Comments that inspired me:
"Your custom leagues are the best save I have ever played in all my years playing fm."
- Delboy1983
"Tried some custom leagues for the 19, but after a couple o seasons they became dull and boring. I've played yours on 18 and it was on another level. Can't wait for this and appreciate your effort in deliver it 100% and making this year a lot better. Oh my."
- halloween
"really looking forward to your release! Good work so far! :)"
- boreman
"i cant wait for the 2019 version"
- Koeleyoek11
"Can't wait for this update!"
- az
"This was my favorite database/scenario. Really looking forward to it."
- 8oh8aaron
"Hi world super league is brilliant thanks for making it available to all."
My goals for this edition:
To combine the `nation rules` of England, with `continental rules` of Europe into a new unified Super League format! England + UEFA = new World Super League
To move teams from qualifying rounds in one competition, into the rounds of another competition (like in the real world). This is an advanced technique!
Increase the variety of awards, teams, TV money, competitions and AI managers to create a rich, challenging, rewarding and immersive gameplay experience!
Enhance the existing AI managers! Mainly by increasing their `buying players` ability, squad rotation, training and overall tactical knowledge! Enhanced managers include Pep Guardiola, Jurgen Klopp, Antonio Conte, Zinedine Zidane, Carlo Anchelotti and more.
Add a few high quality Legendary Managers back into the game! Currently I have: Sir Alex Ferguson, Arsene Wenger (from early 2000's), Brian Clough, Rinus Michels, Helenio Herrero and Jock Stein. Each manager has a high quality cut-out face. I created the faces for all except Sir Alex Ferguson and Arsene Wenger!
Create the PERFECT season schedule with minimal or NO schedule conflicts or congestion; giving teams at least 2 days rest between fixtures, and reduce or eliminate schedule conflicts with international fixtures!
Improve the Youth Training and Facilities of the largest clubs, so they produce world class talent!
Features
Uses only the `Advanced Editor` mode to create the leagues, with many new techniques I taught myself through WEEKS of trial and error.
The UEFA Champions League is a TRUE continental tournament now, not based in England anymore! This is one of the best new features, because it's the ONLY Super League mod that combines continental rules (Europe) with nation rules (England) into a unified league!
668 clubs in 10 levels from 62 countries; Premier League has 20 clubs, all other leagues have 24 clubs
Completely new league structure, focused on creating an immersive and challenging gameplay experience! Packed with more clubs in higher leagues will ensure there are more clubs to send players on loan, and creates a more competitive challenge!
Custom graphics; league logos and backgrounds
Add some support staff for the `Legendary Managers`; I've created Peter Taylor for Brian Clough and Sean Fallon for Jock Stein with high-quality cut-out faces made by me!
New TV date schedules and `TV Money` distribution based on club reputation to create a more immersive experience! `TV Money` scales with club reputation!
Very high Transfer window activity. I've seen 3 players sold for over 110M each in a single season! The highest transfer fee I've seen was 167M (Dybala) Much higher activity usually starts from 3 or 4 seasons!
360 awards
5 continental competitions: Champions League, Europa League, Europa League 2, Europa League 3, Europa League 4
5 main competitions to win for the top teams in a single season; Premier League, UEFA Champions League, FA Cup, FA Super Cup and UEFA Super Cup
All playable clubs from England are included.
The top 170 clubs in the world are included (all clubs with 6300+ reputation). The remaining clubs were carefully chosen based on reputation, quality and diversity.
Every team has an Under 23 and Under 19 team; I moved all the staff and players from the original B teams into their parent club. (This took me about 2 weeks)
High quality, very well balanced (hundreds of hours of simulations to balance the leagues, teams have already undergone some rounds of promotion and relegation to find their natural league)
Re-balanced all clubs and nations Youth Ratings, Facilities; Players Wages, Transfer Values etc.
NO Brexit!
The main transfer window closes on 31 August, 25 player squads, under 21 players don't need to be registered, `3 from 7` subs etc.
All clubs are still `based` in their own native country!
ALL clubs in the WSL play in a UEFA League!
Near perfect league schedules ensure virtually NO schedule congestion. Your players should have at least 2 days rest between matches!
Legendary Managers (OPTIONAL)
By request, I've included two different versions of the mod. One WITH and one WITHOUT manager changes. Please only choose ONE of the two files when starting your game! You can have both files in the /editor data/ folder, but only choose one from the database drop-down when you start your game! Other than the manager changes, the two versions are identical!
Manchester United with Sir Alex Ferguson
View Original Image
It's just cool to see him back in charge at United! I wanted to play against the best!
OPZ Elite Skin with extra opacity
View Original Image
There are 6 new/returning managers! I took his stats from an old version of the game, and just `enhanced` him!

Believe me, this new and improved version of Sir Alex is very good!
Cut-out face was taken from a very old version of sortitoutsi facepack!
View Original Image
Some stats taken from very old versions of FM; 2006 & 2008!
Cut-out face was taken from a very old version of sortitoutsi facepack!
View Original Image
His assistant; Peter Taylor is also in the game!
I made the cut-out face!
View Original Image
His assistant; Sean Fallon is also in the game!
I made the cut-out face!
View Original Image
This is MY interpretation of his stats, and I had to adapt some stats to make him competitive with the other managers!
I made the cut-out face!
View Original Image
This is MY interpretation of his stats, and I had to adapt some stats to make him competitive with the other managers!
I made the cut-out face!
Continental Competitions
View Original Image
Just showing you that my custom UEFA Champions League is actually a continental competition, not a national one like in most Super Leagues (including last years edition)! This required me to create all the European competitions in the `Advanced Editor` mode!
Move clubs from one comp to another (advanced editor rules)
View Original Image
This club was eliminated from the Europa League 3 qualifiers, but because they made it to the Fifth Round, they qualified to enter the Europa League 4 group stage!
This technique is only available in the `Advanced Editor` mode and was very challenging to get right! I literally spent my entire holiday season figuring it out!
TV Money
View Original Image
Not all matches will be televised, the TV money is based on the reputation of the two clubs and varies greatly between matches and teams!
Update: 12 Jan 2019
I've decided to move the UEFA Champions League final to 1 week after the Premier League ends. This will solve 90% of the injury bug! This version should be good enough, even for long term games, because 1 week after your last league game is not so bad! Before this; the Champions League final was played 3 weeks after the last game, which I think is probably too much anyway, so this is a good compromise! 1 week should be more than enough for you to prepare and rest your squad! Good Luck!
How to Install WSL FM19
Extract files:
NOTE: By request, I've included two different versions; one WITH and one WITHOUT any manager changes. Only select ONE file in the database dropdown!
Copy the file: `World Super League FM19 v1.0.fmf` to:
C:\Users\[__USERNAME__]\Documents\Sports Interactive\Football Manager 2019\editor data
NOTE: .fmf files must be placed directly in the `editor data` folder without sub-folders in `editor data` folder!
Copy the `graphics` folder to:
C:\Users\[__USERNAME__]\Documents\Sports Interactive\Football Manager 2019\graphics
The custom graphics are compatible with other logo and background packs! Just make sure my pack is under /graphics/WSL/
Start new career game, select `World Super League FM19 v1.0` from the `Database` Drop down box on top right (or the version without manager changes, but only select ONE version!), then click `Advanced Setup` and select England (Division 4 should be selected by default).
NB NB NB
: Please
disable all other custom leagues
and database changes in the `Database` Drop down box! This league has been heavily edited and tested, so other custom databases might break it!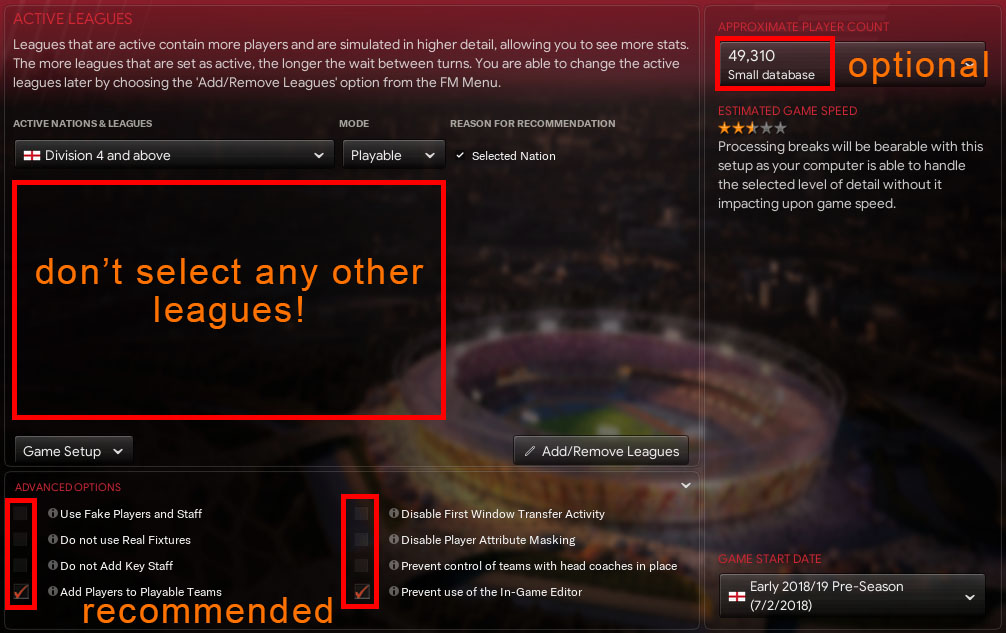 Other nations are NOT necessary, all the clubs you need are contained within England.
It's normal to see the other countries are disabled! The mod is stable and won't crash (as long as you don't have other mods running), I've been simulating games for weeks already! So the game should be should be 100% stable!
If the custom graphics don't show, check the file paths again and then go to `Preferences` -> `Interface` -> click `Clear Cache` ... then go BACK into `Preferences` and click `Reload Skin` on the bottom. This can be done anytime during a game!
Final thoughts
This custom scenario has taken hundreds of hours of my free time, so I hope you appreciate the effort and attention to detail!
Please leave a comment if you enjoyed it! I like seeing feedback, it will motivate me for next year!
Good luck, I hope you enjoy the challenge and may the football gods be with you on your journey to world domination!