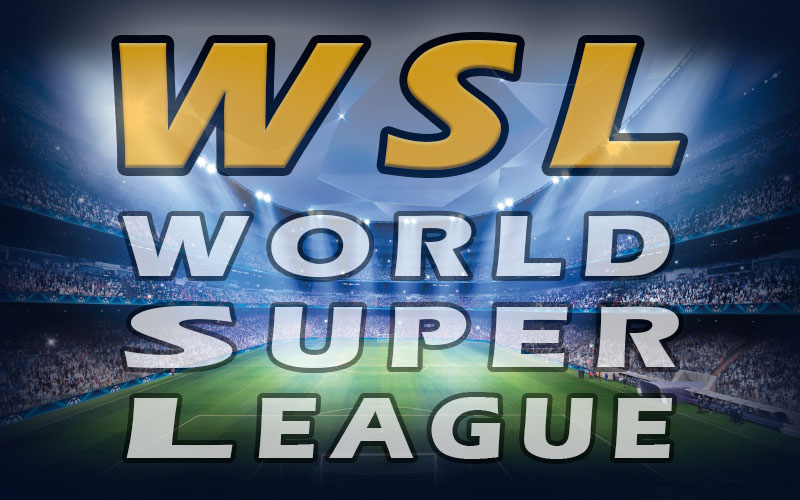 Introduction
Building on 3 years of experience (ESL17, WSL18, WSL19), with over 23,000 downloads and Steam subscriptions, welcome to the next evolution of the World Super League.
After 1 year of planning; 4 months of work (most of my free time) and over 1,000 hours of testing; this is the most ambitious FM super league I've ever created and probably the most challenging (and rewarding) FM experience you'll ever have!
What is this?
WSL is a 'Super League' that replaces all the leagues in England, with a custom league structure where clubs from all over the world play together. There are custom leagues, cups, rules, awards and graphics to keep you entertained. The top 500 clubs in the game are included, as well as all playable clubs from England.
Goals for this edition:
Create a much more challenging but rewarding Premier League.
There should be a lot more clubs fighting for promotion into the Premier League.
More divisions below the Premier League also provides very good quality loan clubs for wonderkids to develop.
Add league names from around the world so we don't have boring names like `Division 4e`.
Create an independant U19 and Reserve/B-team system (requested).
Features
828 clubs.
69 countries.
9 Divisions.
340 Awards.
50,405 DB Changes.
Completely new league structure with regional 'themed' leagues and groups.
The top 514 clubs in the world are included.
All playable clubs from England are included.
All clubs still play in England.
No Brexit, and no work permits.
No changes to the default international competitions.
All clubs keep their 'based nation', so youth players will come from the clubs original country.
Custom graphics; backgrounds, logos and trophies.
Used the editor in Advanced mode, using many advanced rules and features.
All clubs have a B-team (U23) and U19 team with their own leagues and cups.
B-team and U19 leagues have independent promotion/relegation systems.
3 of 7 subs.
League transfer windows between 9 June to 31 August and 1~31 January.
U21 players don't need to be registered.
U19 & B-teams don't require registration.
All clubs play in one of the UEFA leagues which is their continental cup.
Perfect schedules.
Highest quality with lots of testing and balancing.
Created by a software developer with a very high attention to detail.
League Structure
The league structure is designed to provide the maximum challenge and competition for the Premier League clubs. 88 clubs play in the Super League 1 divisions; Bundesliga, LaLiga, Ligue 1 and Serie A with 22 clubs each and a relegation/promotion playoff to get into the Premier League. This provides a very unique and difficult but rewarding challenge. However, it also allows Premier League clubs to find very good quality loan clubs for their wonderkids.
You'll need a virtually perfect season to get into the Premier League. But it's a privilege, not a right!
The lowest 4 leagues (SL5~SL8) are filled with lower league clubs from England. They are there for guys who want to start from the bottom and play LLM (lower league management) like me. When you get into the Premier League, you can also remove the bottom 4 leagues (SL5~SL8) because they don't really offer much advantage or challenge to the Premier League clubs. Removing the bottom 4 leagues will also help to speed up processing.
*NEW Regional Leagues and Groups
As you can see from the new league structure this year, the league consists of various 'regional' leagues in a single league structure.
For example; the Bundesliga division will have mostly German clubs, but it will also include clubs from other countries.
However, all clubs still play in England!
Note: This is not the full list of clubs!
Premier League
Super League 1
Bundesliga
LaLiga
Ligue 1
Serie A
Super League 2
Brasileirao
Bundesliga 2
Championship
LaLiga 2
Ligue 2
Serie B
Note:
The screenshots above only show 252 clubs of 828 clubs! (30%)
Screenshots of ALL leagues and clubs can be found on the Steam page!
The league names do not restrict clubs from those countries, they are just there for 'theming'. For example; Celtic, Everton, Aston Villa, Olympiakos and Sporting all play in LaLiga; with 7 Spanish clubs at that level.
Skin used:
https://www.fmscout.com/a-dark-polish-fm20-skin.html
Face pack used:
https://sortitoutsi.net/graphics/style/1/cut-out-player-faces
Logo pack used:
https://sortitoutsi.net/graphics/style/13/tcm-logos-megapack
Competition logos are based on
Footbe Logos 2019-20
UEFA Leagues & FA Cups
Also includes:
UEFA Reserve League (U23 / B-teams)
UEFA Youth League (U19)
Your feedback:


You are the best, i could speak for everyone who is using your WSL we all love you
- tounsi27


I would like to thank Darthfurion for this amazing database. The save I'm doing with this database is one of the most fun saves I've ever done. I created an account just to comment this haha, again thank you very much!
- liamvdv


any ideas on fm20 release by far favourite db of fm19 cant wait to start the next
- Deancross69


Thanks very much for the enormous effort you put into this project. It is easily the best "world league" structure I've seen.
- Legba


I sank hundreds of hours onto the FM19 version of this edit, I can't wait to get started on FM20!
- ArkAngel (Steam)


This is my fav extension to FM by far!
Thanks and keep up with your great work!
- Fresh Cake


thanks Dartfurion for your hard work in developing this for all the fans, your work is truly appreciated!
- tomydino


Thank you very much for your hard work. It's not easy to make something like this.
- Dennis05


I very appreciate your hardwork very much.
Thank alot for good hard challenge Super League.
- awopratee


"Your custom leagues are the best save I have ever played in all my years playing fm."
- Delboy1983


"Tried some custom leagues for the 19, but after a couple o seasons they became dull and boring. I've played yours on 18 and it was on another level. Can't wait for this and appreciate your effort in deliver it 100% and making this year a lot better. Oh my."
- halloween


"really looking forward to your release! Good work so far! :)"
- boreman


"i cant wait for the 2019 version"
- Koeleyoek11


"Can't wait for this update!"
- az


"This was my favorite database/scenario. Really looking forward to it."
- 8oh8aaron


"Hi world super league is brilliant thanks for making it available to all."
How challenging is this mod?
Pep Guardiola won the FA Cup, finished 3rd in the Premier League, runner-up in the UEFA Champions League, entered the European Hall of Fame, gets Manager of the Month and still gets fired.
This mod can be absolutely brutal! But it's also extremely rewarding, all the pain and suffering will be worth the victory and the glory!
Recommended & Compatible mods
* Requires FM 20.4
It
might
work on older versions, but I haven't tested it on older versions.
Warning: Long startup time
Please note that there is a long intial load time to setup the leagues.
But after setup, it will be faster to process.
Steam Workshop vs. Direct Download
The Steam Workshop allows you to 'subscribe' to the mod, and get regular real-time updates to the main .fmt file.
However, the Steam Workshop doesn't include all the additional graphics; competition logos and background images I've created.
For the best gameplay experience, I suggest you subscribe to the Steam Workshop file to get regular updates to the .fmt file,
but then download the additional .zip file here and extract the graphics into the /graphics/WSL folder !
NOTE: The Direct Download also includes the latest .fmt file for your convenience.
Updates
Major Update - 3 April 2020
Teams finishing 3rd or 4th in the group stages of all UEFA competitions will drop down to a lower competitions knockout rounds.
For example, 3rd and 4th place in UEFA Champions League joins the UEFA Europa League knockout rounds.
(Why both 3rd and 4th? Because it's easier to drop 32 teams to the lower competition to create a `Round of 64` playoff)
This change also applies to teams finishing 3rd in the Europa League group stage, and 3rd and 4th in the Europa League 2 and 3.
This gives more teams from the group stages a chance to progress in a lower competition and play more matches.
This was actually something already in last years version, I thought I would leave it out this year, but it's back by request. (Thanks `leverkuhn`)
So there are now 108 teams that compete for the Champions League and 220 teams that compete for the UEFA Europa League.
Various other balance changes to: transfer activity, Prize Money and added a lot more TV Dates and TV Money etc.
Many minor improvements (about 2000 changes overall).
The overall club and league structure remains the same.
You'll need to start a new game with the new .fmt file to use the changes! I've kept the name as v1.0 so you can overwrite this file dated 3 April 2020.
If you've subscribed to the WSL file on Steam, then you'll need to completely restart FM for it to download the new version.
Steam users must also start a new game to use the changes!
If you have already started a game from a previous version and you are happy with it, there are no critical fixes here, so this is an optional update!
Also thank you to everyone that have donated so far, it really helps keep me motivated to create this.
I put a lot of time and passion into this mod, so it's nice to know that it's appreciated!
If you can't donate anything, then just leave a shout-out in the comments section below, thanks!
Please check this page every few days for any updates!
Minor Update - 6 April 2020
Minor improvement to the FA Cup scheduling for lower tier teams, which sometimes affects scheduling for higher level teams.
Usually only affects 1 match per season, but it can affect a club that is playing a lot of matches.
Made a few other very minor tweeks. This update is also optional for anyone already playing a game!
Why do I create the WSL
I create this mod for myself every year, because I don't play the base game, it's just not challenging (or balanced) enough for me.
So I create something that I will play for 1000+ hours every year, and I share it here for others to enjoy.
For me to invest 1000+ hours of my precious free time, I require something exceptional to keep me entertained.
Therefore, this db/mod is made with the highest level of passion, love and care; and I hope others will agree and enjoy playing it as much as I do!
How to Install WSL FM20
Extract files:
Copy the file: `World Super League FM20 v1.0.fmf` to:
C:\Users\[__USERNAME__]\Documents\Sports Interactive\Football Manager 2020\editor data
NOTE: .fmf files must be placed directly in the `editor data` folder without sub-folders in `editor data` folder!
Copy the `graphics` folder to:
C:\Users\[__USERNAME__]\Documents\Sports Interactive\Football Manager 2020\graphics
The custom graphics are compatible with other logo and background packs! Just make sure my pack is under /graphics/WSL/
Start new career game, select `World Super League FM20 v1.0` from the `Database` Drop down box on top right, then click `Advanced Setup` and select England (Super League 8 should be selected by default).
NB NB NB
: Please
disable all other custom leagues
and database changes in the `Database` Drop down box! This mod has been heavily edited and tested, so other custom databases might break it!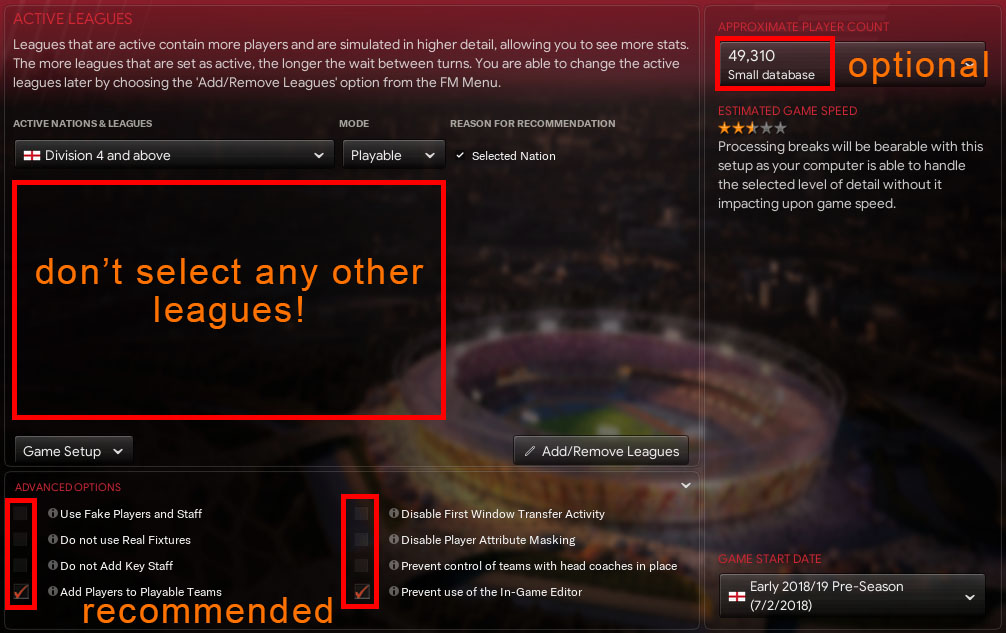 Other nations are NOT necessary, ALL the clubs you need are inside England.
It's normal to see all the other countries are disabled!
If the custom graphics don't show, check the file paths again and then go to `Preferences -> `Reset` (bottom left) -> click `Clear Cache` ... then click `Reload Skin` on the bottom. This can be done anytime during or after starting a new game!
Donations
If you love my work, then please consider a small donation.
https://www.paypal.me/therselman
https://streamlabs.com/darthfurion
Final thoughts
This mod has taken hundreds of hours of my free time, so I really hope you appreciate the effort and my attention to detail!
Please leave a comment if you enjoyed it! I like seeing feedback, it motivates me to keep doing this!
Good luck, I hope you enjoy the challenge and may the football gods be with you on your journey to world domination!