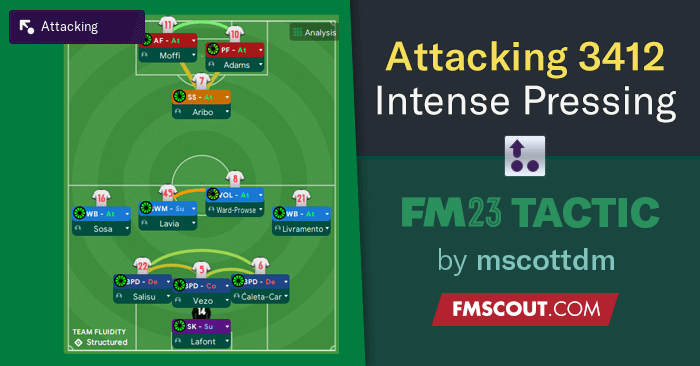 In my opinion, this is the best 3-4-1-2 tactic created so far in the game. Initially tried it out with Panathinaikos in the Greek Super League, I have enjoyed a lot of success domestically but also in Europe , reaching the Quarter Finals of the Champions League in the 3rd season.
However, I also really wanted to try the tactic with a side that wasn`t considered the top one in its own league. That is how I ended up picking Southampton from the Premier League. Expected to finish 17th, I managed to qualify for the Champions League just in my first season.
FINAL TABLE
TACTIC
IN POSSESSION
IN TRANSITION
OUT OF POSSESSION
RESULTS
Statistical Analysis
Some other stats for further comprehension of the playing style :
Average Possession : 49 %
Chances Created : 176, 1st in the PL
High Intensity Sprints : 6129 , 1st in the PL
Fouls Made : 776 , 1st in the PL
Tackles won : 941, 1st in the PL, with a 73 % tackles won ratio ( dead last in the PL in that aspect, however )
Possession Won : 4890, 1st in the PL
Crosses Completed : 223, 2nd only behind Liverpool, with a 17 % Cross Completion Ratio.
SHAPE IN GAME
With the Ball
Without the Ball
With Panathinaikos, a top team in the Greek League, I use a higher defensive line, as the level of the opponents is lower. I suggest using a standard defensive line with mid and underdog teams.
Have a good one and enjoy the game !