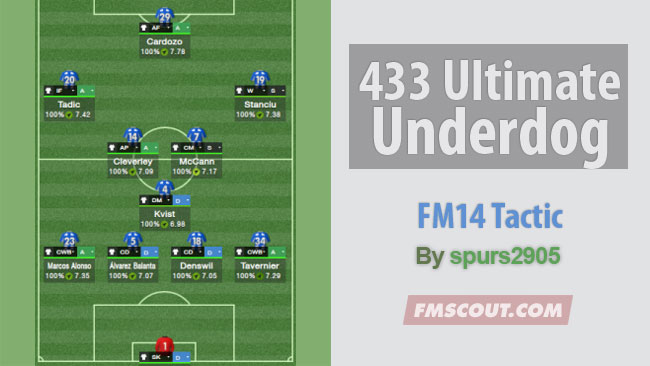 After weeks of tinkering with the different instructions, players roles, etc. I have finally created a tactic that is capable of taking down a top flight team with an underrated underdog!
I have used this tactic with Ajax, Wigan, RB Leipzig, and Brisbane Roar each with unbelievable success! Although as usual with any FM tactic, the right players will be needed to make the tactic work.
The Formation
The formation takes on a 4-3-3 or 4-1-2-2-1 shape. The mentality is on Contain, although it can be changed depending on results or if playing home or away I would always keep it on the default setting. As for fluidity, I recommend keeping it on Very Rigid unless you are one of the best teams in the league and have fantastic players at your disposal.
There are four vital players in making this tactic work:
Firstly the
left centre back
will be your main attacking outlet from corners. His aim is to attack the near post where if he is tall, strong, and has good heading, he will be sure to pick up a few goals.
The second important player is the
Advanced Playmaker
. This guy will always be the focal point of attacking moves, as he is the link between defence and attack. Almost every play comes through him.
The third player is the
Advanced Forward
. In each of my saves he is usually the one who gets on the end of everything in the box, and is always there to pounce on the defenders mistakes. He will also always be moving into channels to allow his team to keep possession and create space for the attacking midfielders.
The fourth and final most crucial player for the tactic is the
left attacking midfielder
. In contrast to the right sided winger, this man plays as an Inside Forward. He will be the most dangerous player on the pitch and should always be the man who you should look to base your team around. Grabbing countless goals and assists in my saves, you can always count on the IF to get you out of sticky situations.
Training
Throughout the pre-season I recommend training Fitness on Very High as it is the ideal time to get your players ready for the upcoming season.
The above screen is the training method I use if i'm stuck in a rough patch (if you have failed to win after 4 or 5 games). Although you could try other methods such as team meetings, talking to players, etc.
During the regular season I use this training method. Allowing your players to rest after matches is crucial in the recovery process between games, especially if you play in a league with multiple cup competitions.
In terms of individual training, train each player in the role that they will be playing on the pitch. The only exception is the striker which should be trained as a complete forward as it trains many more important attributes:
Position/Training Focus
Goalkeeper - Sweeper Keeper
Right Back - Complate Wing Back
Right CB - Central Defender
Left CB - Central Defender
Left Back - Complete Wing Back
Defensive Mid - Defensive Midfielder
Right CM - Central Midfielder
Left CM - Advanced Playmakers
Right Attacking Mid - Winger
Left Attacking Mid - Inside Forward
Striker - Complete Forward
Opposition Instructions
I highly recommend leaving this to your assistant if he has at least 15 Tactical Knowledge. If he doesn't then allow for another staff member with at least 15 Tactical Knowledge to give you advice on OI before each game. If you still don't have any staff member capable then you can either leave the OI instructions alone or tinker with them yourself. I usually just leave it with my assistant so I am unsure what instructions to give, I guess it all depends on the team you're playing against.
Results
My first season using this tactic with Wigan was very successful to say the least! We finished with the least amount of losses and second least amount of goals conceded in the league, allowing us to win promotion to the Premier League just two points behind of a rich Cardiff City side. The 72 goals scored mostly came from the Inside Forward, as my striker was only an average League 1 player at best.
My second season with Wigan saw me achieve an unbelievable 8th place in the Premier League! As compared to many other seasons it was a surprisingly low scoring one for the top flight teams, which allowed us to concede very few goals and defeat some of the stronger teams in the competition.
In my second season we were also able to win the Capital One Cup, which was an amazing achievement for a very lackluster Wigan side! I couldn't believe it when we defeated Chelsea 6-1 at Stamford Bridge! Even though they only played a young side, I was still amazed.
Currently in my third season with Wigan we have made a fantastic start to the season. Looking forward to challenging for the title, an unexpected expectation this season.
We are also having a great run in the Europa League and are apparently now strong favourites!
Recommended Players
From playing with this tactic for almost three season now, I have come up with a list of recommended players that have had great performances for me and how much I paid for them.
Nicosur Stanciu - 4.4 million from Steaua Bucharest
Eder Alvarez Balanta - 7.25 million from River Plate
Tim Wiese - Free
Tom Cleverly - 3.5 million from Manchester United
Dusan Tadic - 7.25 million from Southampton
Oscar Cardozo - 875k from Trapzonspor
Stefano Denswill - 3.2 million from Ajax
M'Baye Niang - Loaned from Ac Milan
Richmond Boakye - Loaned from Juventus
If this tactic DOES NOT work for you, than it means you either don't have the right players, or you need to tweak some of the instructions or mentality to work with your team.
Cheers
-Jamie