http://i991.photobucket.com/albums/af34/JonathanSaunders/Euro2016Banner_zps2ea2f940.png
Euro 2016 Group B Match Week 5 Review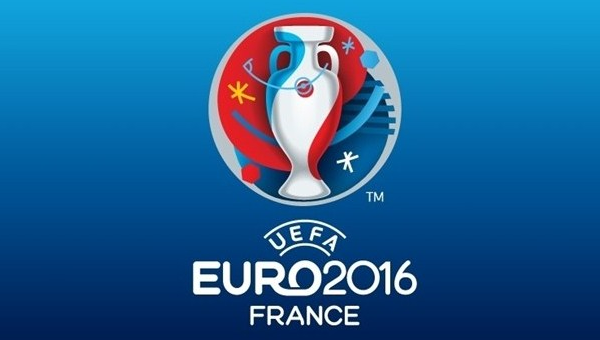 After the fifth match week of Euro 2016, there were wins for group favourites England, Slovenia and Finland.
To start the fifth match week of Euro 2016 in Group B, Group leaders England were to face San Marino, Finland were set to take on Greece and Slovenia were at home against Lithuania.
---
England 5 - 0 San Marino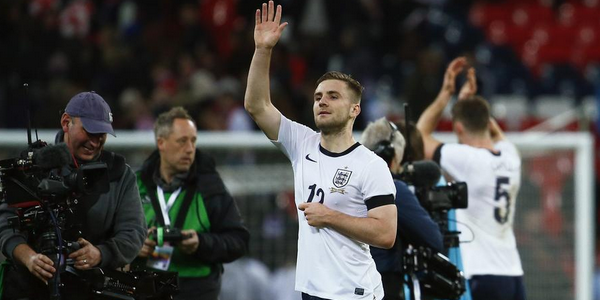 A first England goal for Luke Shaw helped England brush past bottom of the group San Marino 5-0.

England got off to a flyer as Raheem Sterling was in space and measured up his angles before firing a low and hard shot towards Simoncini's near post and beat the San Marino goalkeeper to give England a well deserved lead.
Alex Oxlade-Chamberlain made it 2-0 to England after he was played in by Phil Jones and the Arsenal winger slotted the ball with his side foot over Simoncini to double England's lead within the first 15 minutes.
Oxlade-Chamberlain got his second of the game two minutes after when he ran in from a Sterling cross and headed the ball towards the goal which eventually beat Simoncini to make it 3-0 England in a space of 17 first half minutes.
In the second half John Stones made it 4-0 as he headed the ball from a corner which bounced from the ground over Simoncini and made its way into the back of the net to make it 4-0 England just after half-time.
Then finally Luke Shaw scored a great half volley past Simoncini to score his first ever England goal and make it 5-0 England which keeps their undefeated record in the group and all but qualifies them for Euro 2016.
---
Greece 0 - 1 Finland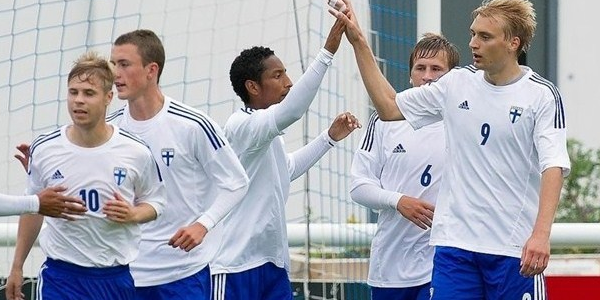 Tim Väyrynen scored the only goal of the match to help Finland beat Greece 1-0 and gain more ground of England in 1st place.
In the first half Greece dominated Finland gaining over 65% possession and having numerous shots on target, with Mitroglou coming really close to giving Greece the lead as he forced a superb save out of Hradecky in the Finland goal.
Finland took the lead just before half-time when Tim Sparv played Tim Väyrynen who calmly slotted the ball underneath Karnezis to make it 1-0 to Finland going into the second half.
Greece continued to push on for an equaliser but Finland held firm and secured a vital three points to keep their chase for 1st place alive and like England, almost secure their place in Euro 2016.
---
Lithuania 0 - 1 Slovenia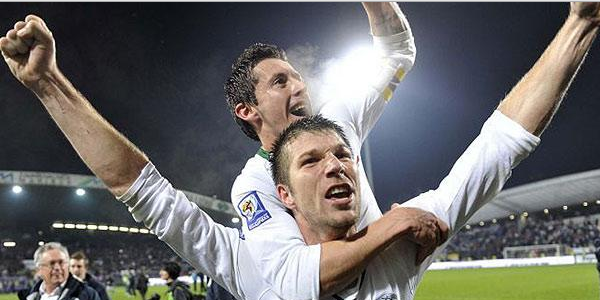 Miso Brecko aided Slovenia into beating Lithuania 1-0 and keeps their hopes of qualifying for Euro 2016 alive.
Slovenia dominated Lithuania throughout the first half but they couldn't take the lead with their biggest chance falling to Matavz but he couldn't beat Karcemarkas in-between the Lithuanian posts.
However they took the lead in the second half when Jokic sent a lovely weighted pass forward to Brecko, and the Slovenian left-back showed how good he was at finishing as he chipped the ball over Karcemarkas to give Slovenia a well deserved lead.
Lithuania tried to get an equaliser before the end of the game and almost did but Handanovic saved his side from conceding late by stopping Sirgedas's shot which looked to be going into the bottom corner but Handanovic got a fingertip to the ball to win Slovenia the game.
---
Player of Matchweek 5
Alex Oxlade-Chamberlain
The England winger scored two great goals against San Marino and contributed to another goal. He was solid throughout and that is why he gets this award. His passing was spot on and he troubled the San Marino defence time and time again.