CRAWLING CLOSER TO THE TITLE
http://media.tumblr.com/c728724da24d95acbe7619b13390276c/tumblr_inline_ne2bldc29H1ryfaxj.jpg
-Hearts claim another Edinburgh derby victory-
---
LIVINGSTON 0-0 HEARTS
(Championship)
---
HEARTS 1-4 ALLOA
(Championship)
SOW
---
HIBERNIAN 2-3 HEART
(Championship)
OZTURK, KEATINGS, GOMIS
---
HEARTS 4-2 RAITH
(Championship)
KEATINGS (x2), MCGURN og, SMITH
---
COWDENBEATH 1-0 HEARTS
(Championship)
---
Hearts are crawling closer and closer to clinching the league title despite slipping up a few times in recent months, this month was possibly the worst. Hearts' complacency in a few matches have cost them and despite following most disappointing results with 3 points, Hearts could have guaranteed their league champions status a lot sooner, and they could still slip up and lose it.
First off was an away trip to Livingston in which Hearts' attackers seemed to have an off day. Keatings and Sow had a bunch of shots in this game that went into row z and you could see the travelling Jambos' getting incredibly frustrated. Wingers, Reach and King, put in a decent enough performance but the finish was never there and Alexander was furious, at the end of the game, with the way his team played.
When the fans thought it couldn't get much worse, the team sunk to the lowest point of the season with a diabolical display against Alloa. This 4-1 defeat was made even worse by the fact that they were playing in-front off their own fans. Hearts never seemed to get into the game, which is incredibly surprising and goes against the majority of performances this season. This was not a good day and Neil Alexander blasted his teams lack of effort afterwards.
Hearts put a stop to their recent bad performances, however, by grabbing 3 points from their main rivals, which is possibly the best way of doing so. Hearts put in a better performance, despite a loose defence conceding 2 goals. James Keatings was back in-form and grabbed a goal, proving that he still has goals left in him this season. Despite the 5 goals, this game was 'ruined' by Hibs trying to injure anything that moved, resulting in them finishing the game with 9 men and slightly injuring Jason Holt and Papa Bouba Diop.
The club then stormed back to their usual self with a dominant display over Raith Rovers. Keatings continued his scoring ways with 2 goals and it was a fantastic day for 16 year-old winger Ian Smith, who grabbed his first goal in a maroon shirt. Hearts kept hold of possession well and it was more of a performance we expect from the team. This result meant that, with a win against Cowdenbeath, Hearts would be mathematical champions. Well, that was the plan anyway...
Cowdenbeath came out with enthusiasm this game and really played well. Hearts weren't given time on the ball and couldn't really string a good attack together. Despite this, Alexander demanded his team to make space, of which they did. From half-time on Hearts were the better team and they had a few good attacks, but they couldn't seem to score. The maroons were inevitably punished when Morgaro Gomis took down one of their players, inside the box and got himself sent off. Cowdenbeath then dispatched the penalty and claimed all 3 points. Alexander was furious with his whole team, not just Gomis, after the game and said that they need to book their ideas up in the last game, they can't let it slip.
League Table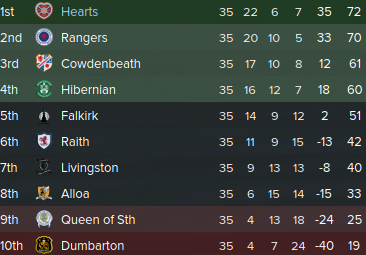 Hearts' slip means that they still haven't guaranteed the title, and with the last game of the season creeping up Hearts could still lose the title. The last game is being touted up as being their biggest game of the season. What is the last game of the season?
HEARTS v RANGERS