http://userimages.clubwebsite.co.uk/transfercentreskysportsnewsradio2881898_55a3fbb902b7d.jpgTransfer
Window OPEN!
The January transfer window is now open. It will stay open until Saturday 19.00 GMT
In this window, you do not recieve any extra funds for transfers, which means that you are all limited by your club's balance.. Any money you can bring in from player sales is added to that balance. Keep in mind, however, that there will be large TV Revenues and prize money ticking into the club at the end of the season, so unless you go completely bananas, your club's finances should be ok.
You can now start negotiating deals with other chairmen, any deal completed must be confirmed by both parts to me. Transfer fees are agreed between clubs, and player wages stay the same. You are also allowed to loan players to each other, where the loaning club has to cover all player wages.
You must also remember to send me your foreign transfer targets before the end of the transfer window. Send all your foreign targets as a list to
[email protected]
Be sure to mark your mail with your clubs name.
You are allowed 3 foreign transfers, 1 of which must be aged 21 or younger. You can also make a contract offer for 1 player whose contract expires in 6 months. The contract offer must be equal or higher than the player's current wage.
Bids for foreign players must be a minimum of 1.5x player value, unless the player is transfer listed, or has a minimum release clause.
Balances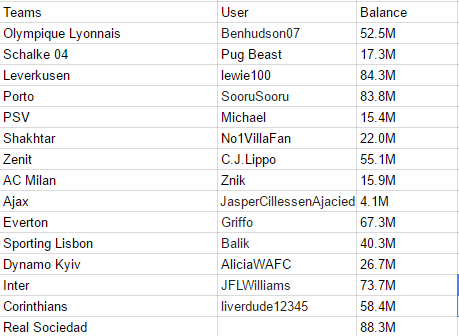 Game Save
An update game save can be found
HERE!