Introduction: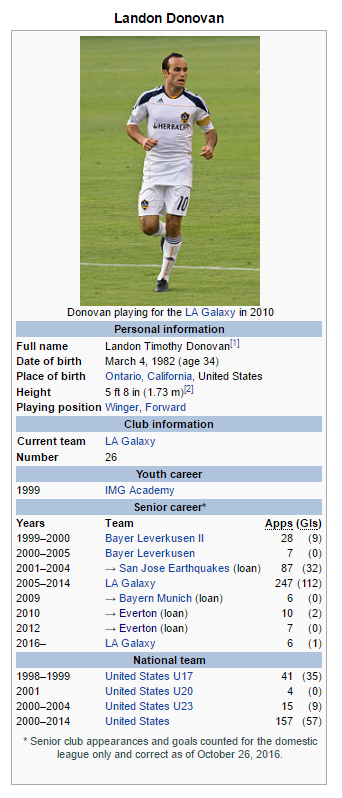 FROM WIKIPEDIA:
Landon Timothy Donovan (born March 4, 1982) is an American professional soccer player who plays as a forward for the LA Galaxy.
A member of the inaugural class of the U.S. Soccer residency program in Bradenton, Florida, Donovan was declared player of the tournament for his role in the United States U17 squad that finished fourth in the 1999 FIFA U-17 World Championship. Donovan later signed with the German team Bayer Leverkusen.
In 2005, after six years with the club, the majority of which were spent on loan at the San Jose Earthquakes, Donovan moved to the Los Angeles Galaxy. He later returned to the Bundesliga for a three-month spell at the start of 2009 on loan to Bayern Munich, and twice went on short loans to English Premier League team Everton, in 2010 and 2012. He retired from soccer in 2014, but re-joined LA Galaxy in 2016.
In Major League Soccer, Donovan won a record six MLS Cups and is both the league's all-time top scorer with 145 goals and the league's all-time assists leader with 136.
For the United States men's national team, Donovan is the all-time leader in scoring and assists, and is the second most capped player of his country.Donovan is the only American player to reach the 50 goals/50 assists mark. He is a four-time winner of the U.S. Soccer Athlete of the Year award (the only man to do so and the first man to win in consecutive years), as well as the only seven-time winner of the Honda Player of the Year award. Donovan starred in the U.S. team that reached the quarter-finals of the 2002 FIFA World Cup where he received the Best Young Player Award. His three goals in the 2010 FIFA World Cup made Donovan the highest scoring male American player in World Cup history and one of the three male American players to score in more than one World Cup (along with Brian McBride and Clint Dempsey).
The Major League Soccer MVP Award has been renamed the Landon Donovan MVP Award in honor of Donovan.
Will Landon Donovan become one of the top American Football Managers like he did as a player or will he just flop and just become a footnote in the coaching world. Read on to find out!!
Authors note: If you think I am rushing the first several post, that is exactly what I am doing as I want to get to Landon managing as quickly as possible!!