Start of the 2022/23 season - Early Season Struggles
After hugely successful year with Newcaste United, I was looking more of the same for my third year at the helm of Newcastle United.
Having won the UCL and FA Cup, I feel like winning the Premier League is the only major accomplishment I have left to achieve. Last season we finished 9 points behind the title winning Manchester United side and after a strong summer of recruitment we should be able to challenge for the title.
FIFA Club World Cup
As a UCL title holder we qualified for the FIFA Club World Cup, which doubled down as a pre-season for us. The tournament started at the first day of our pre-season and it's fair to say that the tournament totally surprised me, as I thought it would be played during the season.
Maybe they plan the change the tournament format in real life too and this is how it will played in the future. I'm not a fan of that, let's put it that way.
Well anaway, we managed to finish 3rd in the tournament.
Start of the season
The season started well with battering 4-0 and 5-0 wins over Sheffield United and Southampton. It looked like the good times were rolling on us, as team was scoring at will and new guys got flying starts to their Newcastle careers.
We then travelled to play AC MIlan at UEFA Super Cup Final in a game I didn't bothered about too much and used my 2nd sqaud at. Sloppy attitude was punished as Milan took the trophy with 3-2 win.
Premier League season continued as we faced West Ham and suffered a surprising 0-2 defeat. In the game both teams has expected goals of under 1,00, but I was really disappointed about our defensive efforts. I was especially frustrated about our centre back partnership of Onguene & Milenkovic. Both of the players have strong physical abilities, but especially Onguene's case, that's pretty much all he offers, and as I had £40M laying on my transfer kit, I decide to sign a new centre back and move Ongune.
The month ended in 0-2 loss against the Spurs and I lost my nerve.

I thought it was better to play Milenkovic as a CD (D) compared to BPD (D), so I wanted to sign a defender who is capable of moving the ball around. I went for AS Roma's Ibanez and as you can see from the picture above, he has much better technical abilities than Onguene, who moved to Arsenal for £34M.
I think it were Onguene's low Marking (13), Anticipation (13) and Composure (12) attributes that eventually prevent him from becoming a star player for us. I had previously signed him for £14,5M, so at least I made a healthy profit by selling him for almost triple the fee.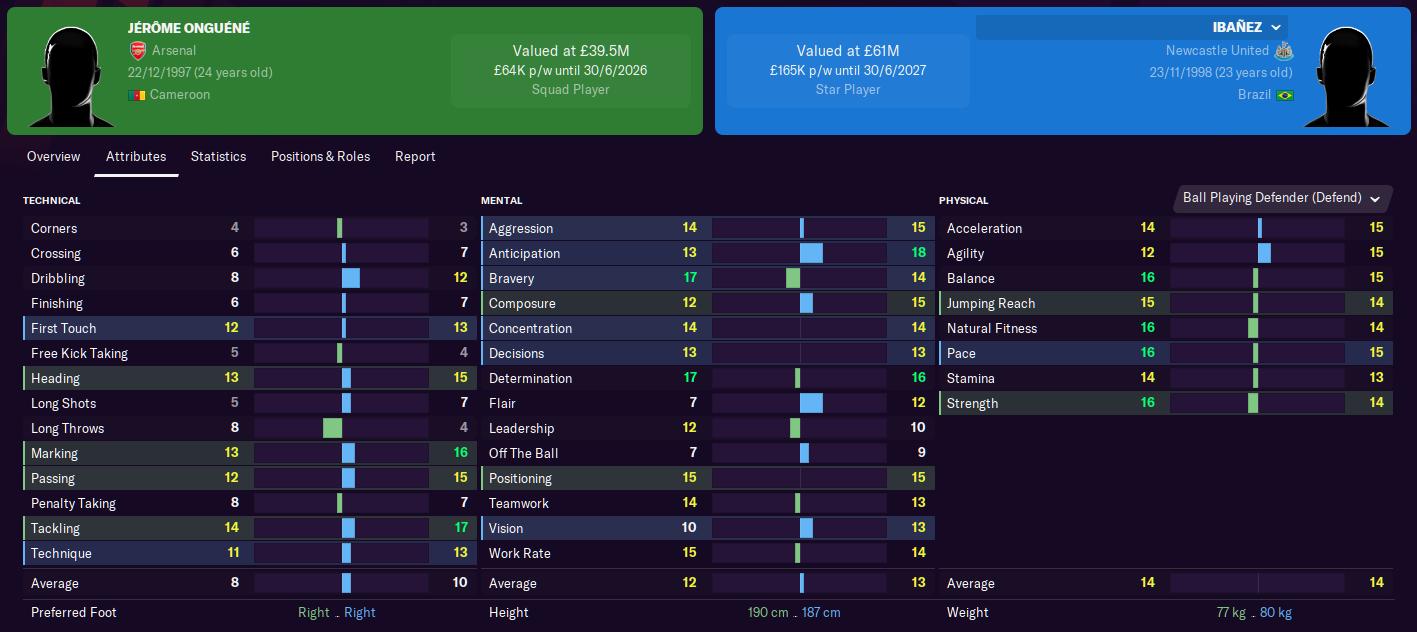 We also had the UCL Group Stage draw for the new season. We were seeded to 1st pot instead of the 4th last time around, so we had little easier group this time.
We were once again matched with FC Barcelona, other two teams in the group being Celtic and Austrian side Wolfsberger.
We should qualify to knockout phase with ease as we have significantly better squad than Celtic and the wolf boys.