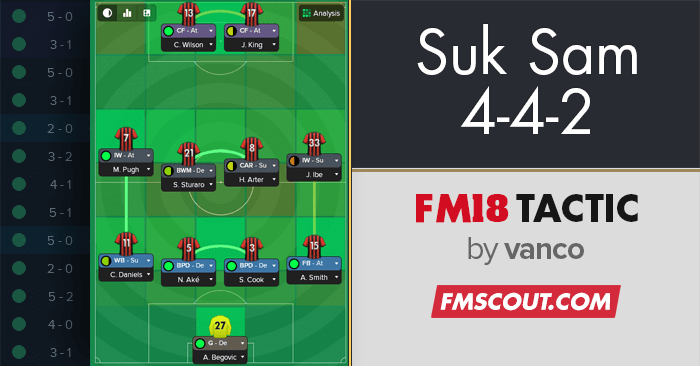 In FM2018, the 4-4-2 formation is very powerful.
Inverted winger and Carrillero are wonderful chance makers.
ML and MR switch each other.
STL and STR switch each other.
I strongly recommend that you use this against 1 striker tactics.
When you face the teams with 2 strikers tactic, I recommend using my other
FM18 tactic: Suk Sam 5-2-3
(3 strikers).
Team training : Balance-average (but adjust 'low' when there are 2 or more matches in one week)
pre-match prep. : Let your assistant handle it.
Individual trainings : adjust them by the injury susceptibility. (as same roll they do)
No OI's
Corner kicks : MCR or MCL
Changelog
v2.0
Some tweaks including 'drop deeper' 'offside trap' and individual instructions to reduce goals conceded.
v3.0 (fmf file)
It works very well with 18.1 patch.I tested this with West Brom.