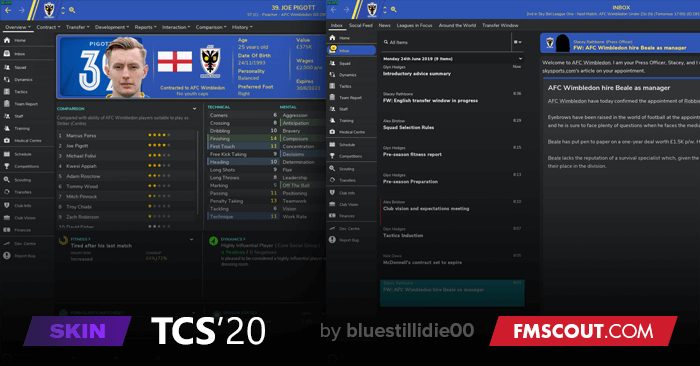 The ever popular TCS Skin returns for the fourth iteration. Building on the successful foundations set out last year.
REST OF SCREENSHOTS
v1.3 features
Fixed various bugs
New Club Overview screen
Competition screens overhauled
New Match IBH and Match review screens
New Staff Overview screens
v1.3 features
Fixed bugs introduced by FM 20.3.0 patch
[color=#EF2929][/color]
How to install the TCS 2020 skin
Please note this skin is provided as is. It has nothing to do with Sports Interactive or SEGA and won't be supported by them.
I won't be providing any support for this skin apart from major issues, don't request features as they will not be considered.
USAGE OF PANELS OR GRAPHICS FROM TCS 2020 IS PROHIBITED WITHOUT WRITTEN CONSENT FROM ME.