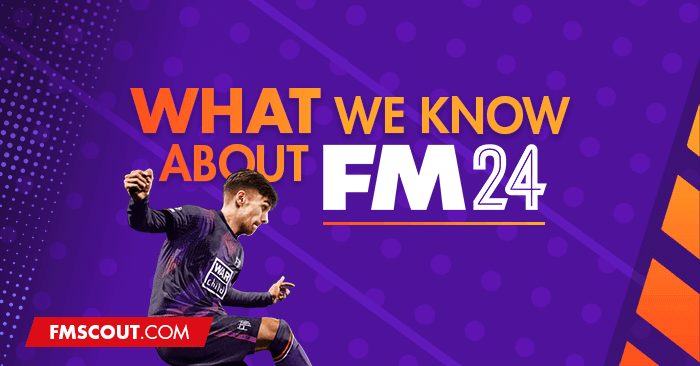 Hello everyone, it is that time of year!
Football Manager 2024 was confirmed
on June 28th, unveiling one new feature, yet we are just as excited as everyone else to get started.
The preorder started on September 12th, alongside a brief video trailer and some insight on features. Proper feature reveals are dropping between 18-24 September.
On this page, we're listing all officially confirmed facts alongside estimates of what we can expect and when in the latest instalment of the Football Manager franchise.
This way you can be easily checking everything we know about Football Manager 2024 during the pre-release period.
I'll keep this summary piece constantly updated, so check back often for new information. Without further ado; let us get started.
FM 2024 Release Dates
FM24 out on November 6th, 2023.


FM24 will be released on the following platforms: Steam, Epic, Microsoft Store and Game Pass for PC, PS5, Xbox and Switch for Touch, Netflix, iOS and Android for Mobile.


FM24 Beta version will be made available roughly two weeks prior to the official release date. For PC users only.


The free FM2024 Demo is expected on the same day as the final game release (6 November).
Timeline of official FM24 News
Sports Interactive's studio director Miles Jacobson and the official Football Manager account (both on Twitter) are the 2 sources of verified news about the game. The details below are all originally posted on these 2 Twitter accounts.
Schedule
Gameplay feature complete
early June (estimate)
UI feature complete
mid July (estimate)
Art complete
early August (estimate)
Start taking screens/videos
late August onward
Feature announce
18-24 September
Beta release
20 October (estimate)
Estimates are more of an educated guess.
FM24 Confirmed - 28 June 2023
One FM24 feature has been announced; the ability to transfer saved games from one version of FM to the next.


This won't be the only long-time requested feature update coming to FM24.


FM 2024 promises to be the most complete version in the series' history with a host of improvements, big and small, both in new features and revamps to existing areas of the game.


FM2024 will be available in every platform FM23 was also available in.
FM24 Announce - 12 September 2023
FM24 Release Date has been confirmed. The game drops on November 6th.


FM 2024 Minimum System Requirements have been revealed on Steam store. They're basically the same as FM23, except the lack of support for users on Windows 7 and 8/8.1.


The FM 24 trailer got published on YouTube. It's a one-minute video that wets the appetite.


Five FM2024 Screenshots from the PC version were shared on Steam store.


While we don't a feature reveal announcement yet, SI revealed some insight as to what we can expect in terms of Football Manager 24 New Features.


FM 24 heralds a significant milestone for the series as it marks the game's official debut in Japan and the first time Japanese language will be officially supported in FM.
FM24 Beta Info - 13 September 2023
FM23 Saves Compatibility - 15 September 2023
Miles 2nd dev blog clarifies the process behind loading saved games from FM23.


You will be able to continue that career into FM24, FM24 Console or FM24 Touch and benefit from this year's new additions. However, this won't be possible for FM24 Mobile.


There are a couple of things not possible with transferred save games. The first is FM24 achievements (trophies on PS5) and the other is replays of matches played in FM23 as these aren't carried across when converting.
FM24 Feature Drop #1 - 19 September 2023
The first feature drop deep dive is about Smarter Transfers and Finance.


The decision-making and team selection capabilities of AI managers have been significantly improved.


Brand new in FM24 is the ability to overspend your transfer budget. Should you go into red and fail to generate enough money within the agreed time period, the board will take matters into their own hands.


Improved news items regarding key financial info to provide you with greater clarity on your income and expenditure throughout the season.


Transfer histories received an upgraded user interface that enables you to filter league transfer histories by ins and outs.
Welcome to Japan - 21 September 2023
J.League is coming to Football Manager 2024, making its long-awaited debut!


Japanese language is added for the first time.


60 clubs from the top 3 divisions will be playable with official logos, kits and player photos from the 2023 season.
FM24 Console - 22 September 2023
5 new screenshots from FM24 Console have been revealed on the Xbox store.
FM24 Feature Drop #2 - 22 September 2023
The second feature drop deep dive is about Intermediaries and Offloading Players.


Agents offer a new interaction option that gives you transfer market insight.


If you want to sell one of your players but their agent isn't cooperating or the offers don't meet your expectations, you can hire an Intermediary to help facilitate a sale for a commission.


'Offer to Clubs' has been replaced by TransferRoom.


The Transfer Status screen will show you more context about interest from other clubs in the player.
FM24 Feature Drop #3 - 25 September 2023
Introducing the Player Targets System. You can now inspire your players to strive for more by setting Targets to elevate their performance levels.


Improvements to the string severity system allow each positive or negative AI response to have three different variants of severity. With over 2,000 new AI responses.


You'll witness fewer instances of uncalled-for overreactions from players. Now, positive, neutral & negative reactions of differing levels more accurately reflect their opinion.


Staff Meetings are improved, with them now being more customisable and surfacing the most relevant information you care about.
FM24 Feature Drop #4 - 27 September 2023
The fourth feature drop deep dive is about Match Engine Upgrades.


Positional play is the main focus, particularly with regards to improving player rotations on the pitch.


Inverted Full-Back is a brand-new player role. It enables you to experiment with three-at-the-back building shapes while defending in a back four.


Other roles have had their functionality refined, so there's greater fluidity and dynamism to the way they perform on matchday.


The animation engine has improved, utilising Inverse Kinematics with the brand-new Match Motion system.


Lighting, pitch textures and environments have been significantly enhanced to level up the matchday experience.


Ball physics improvements give players new ways to dribble and finish.
FM24 Feature Drop #5 - 29 September 2023
The fifth feature drop deep dive is about Set Pieces Overhaul.


It's the last headline feature drop. We'll get minor gameplay deep dives next week (Oct 2-6).


Set Piece Coach is the new addition to your backroom staff.


The Set Piece Creator has been refreshed with a brand-new Set Piece flow.


Using your set piece preferences from the flow, the Set Piece Coach creates smart Routines to match.


New concept of Set Piece Familiarity reflects the work your players do on each routine in training.


Plus revamped Throw-Ins and Set Piece Takers.
FM24 Minor Feature Drop #1 - 5 October 2023
There are now three ways to start a save – Original, Real World and Your World. When choosing the team you want to manage, the option to 'Choose a Game Mode' will appear, taking you to a section with those three options.


Introduced new functionality to the National Pool that should give you a much clearer picture when selecting your side. With brand-new views, you've now got a much-improved perspective of how players can fit into your system while keeping an eye-out for players on the cusp of their first call-up.


Refreshed Squad Planner to give you more focus on when as well as where your attention is needed and if a position needs strengthening, you re going to have a better understanding of your squad balance.
FM24 Minor Feature Drop #2 - 9 October 2023
Fixture scheduling fixes. A lot of issues relating to fixture congestion are fixed, particularly for clubs competing in continental club competitions. So, there are now fewer instances of fixture pile-ups at the end of the season for teams playing in multiple competitions.


Staff Attribute changes. The Attribute changes of non-playing staff are now shown in the Coaching tab within their profile. This ultimately allows you to have better insight into their personal progression.


A new youth system ranking has been added to show you how you're doing in relation to the Club Vision objective of becoming 'the best youth system'. Certain milestones will trigger an inbox item that will indicate where your club ranks among other academies.


Accessibility improvements, including a font description widget in the game, a notification for players that they will be taken out of the game when opening the Privacy Policy, an epilepsy warning when you first launch the game and general improvements to sliders.


Manager character creation improvements that give you more options for customisation and inclusivity. Facegen tweaks, new hairstyles, texture overhaul, new outfits, addition of face paint, label badges and ability aids.


Review your record against your rivals. You can select which team you want to see your past results against rather than just your next opponent.


Dynamic Manager Timeline is expanded with a number of new potential events. Card design is also tweaked to better showcase rare events.
FM24 Minor Feature Drop #3 - 12 October 2023
Added a new Match Preparation tab to the Training section. Before each match you'll receive a new inbox item that allows you to set one tactical focus and two set piece focuses in for your Match Focus Session.


The pre-match briefing feedback panel received a couple of visual improvements.


You can now offer your young talents out on loan via the Development Centre. To save you time, there's a button next to the players that are recommended to be loaned out.


Swap Deal enhancements. When including a player in a transfer offer, we've added a dropdown to ensure everything can be done on one screen.


Added some new inbox items that round up the teams with the most league titles in a division and deliver you the playing statistics of the team named champions.


Competition rules updates. Gibraltar is now a default playable nation, competition format changes, dynamic English youth system, new English work permit system and more.
Frequently Asked Questions
What are the new features of FM24?
Sports Interactive have only revealed one new feature so far. The ability to bring your FM23 career into FM24 across all platforms. When you first launch Football Manager 2024, you'll be given the option to continue your FM23 story, picking up exactly where you left off - powered with the new features and revamps that FM24 will introduce.
Can my computer run FM24? It runs FM23 no problem.
If your computer runs FM23 okay, you should be fine with FM24 as the system specs will likely be identical. The only difference is that FM24 no longer supports Windows 7 nor 8/8.1.
When is the Pre-Release Beta?
The pre-release Beta is out approximately two weeks before the final release and is only available for PC users. The likely date is October 20th or 23rd.
What's happening with the Nintendo Switch version?
The game will be on Nintendo Switch once again. Release details about that will drop in the coming weeks.
Will FM24 come to PlayStation?
Yes. The heavily-anticipated PlayStation 5 debut with FM23 Console was a success and SI will be looking to build on that. Football Manager 2024 Console will be returning to PlayStation 5 for a second season.
What about FM25?
There are some
groundbreaking Football Manager 2025 news
you need to read about.
Get access to the FM24 Beta for free
Buy FM24 through fmscout.com much cheaper than Steam store, earn a unique buyer badge for your member account, get a 5x chance to win a key for GS24g, and our gratitude for supporting our community financially.
If you have any questions, feel free to post in the comment section down below.