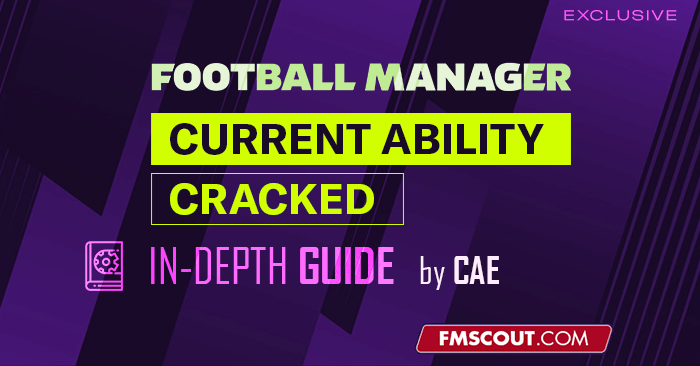 Current Ability
Players in Football Manager have current abilities (CA) in the range of 1 to 200. The CA is essentially the weighted sum of their
attributes
. The higher the attributes, the better the player and higher the CA. You can use the figures below as a rough benchmark:
130 - Decent Premier League player
140 - Good Premier League player
150 - A leading Premier League player
170 - A world-class player
The CA of a player can increase (and decrease) during the game, usually as a result of game time and training. However, not all players are able to reach a CA of 200. All players in the game are also assigned a
potential ability
(PA), also in the range of 1 to 200. This represents the upper limit of their CA. As a player develops and their attributes increase, the game keeps track of their CA and ensures that is never exceeds their PA. Players whose CA is the same as their PA could be said to have reached their maximum potential and are playing at their peak so you shouldn't expect much change to attributes at this point. Some players have a fixed PA. This means that they will be given the same PA for every save. Others have random PA's that will mean their PA is randomly assigned for each save, usually within a
particular band
.
Recommended Current Ability
Since a player's CA depends on their attributes, the Editor and in-game editor (IGE) shows the
recommended current ability
(RCA) for each player.
This is essentially what value of CA is required in order to sustain their current attributes. So if you use one of the editors to increase an attribute, you'll also need to increase the CA to the RCA. Otherwise the attribute value will quickly fall back to a level that matches the CA.
It appears that the game periodically checks the attributes/CA balance and makes any adjustments required. It seems this happens particularly at the start of the game in order to account for any discrepencies with the player data in the database. You can also see it for yourself if you use the IGE. If you give a player a CA boost but do not increase the attributes, after a period of time (can be a few days or up to a month) the attributes will rise to match the increased CA. Similarly, if you decrease the CA but do not decrease the attributes after a period of time they'll fall to balance the lowered CA.