Not a great month, although you're early season performances will hopefully make up for it.
Liverpool continues their un-impressive month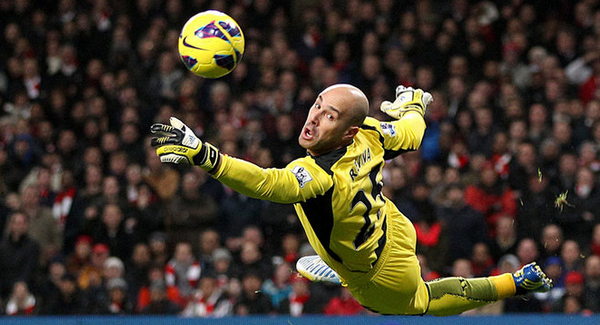 Pepe Reina with another save in a month full of superb performances by him.
---


Tottenham
1(P) - 1
Liverpool

Daniel Sturridge (50), Sandro (86)

Lucas Leiva (16), Sandro (91)

Lazar Markovic (3)

Sandro
Liverpool XI:
Pepe Reina(C), Flanagan, Agger, Sakho, Robinson, Markovic, Henderson, Lucas, Romero, Coutinho, Sturridge.
Liverpool had drawn Tottenham in Capital One Cup quarter-finals and the match occurred a week before Christmas as twenty-two players were ready to play, nearly 34,000 fans visited White Hart Lane and one Howard Webb as a referee.
Surprisngly, Spurs were much better than Hyypiä's players throughout the match but Liverpool got the lead first, only to Sandro equalise it five minutes before full-time.
Liverpool suffered a major hit as Lazar Markovic could not participate in the game anymore in the 3rd minute after a hit to his ribs during a collision with Ben Davies.
Things improved for Liverpool in the 50th minute after Sturridge powered a header in to a cross of Lallana, however Sandro brought the game to AET after he tucked in a shot after Pizarro centered the ball and found him.
None of the teams scored in AET and it went for penalty shoot-out when Tottenham's goalkeeper, Michael Vorn, saved two penalties of Liverpool and won the game for Spurs.

3'
Davies goes down and tackles Markovic who falls, he is in pain. Markovic's participation in the match is over, he cannot continue! Adam Lallana comes on for him.
50'
Adam Lallana centers the ball and Sturridge sneaks to the near post and heads it in, goooooaaaaal! 1-0 to Liverpool despite Tottehanm's dominance!
86'
Pizzaro in the box on right side, he moves it to the center where Sandro stands at...Sandro releases a shot and it is!!!!!! An equaliser so late in the game, 1-1!!!
90+4'
Howard Webb whistles and the game moves to AET after a late equaliser of Spurs.
—————————————————————————
90'
Howard Webb kicks off the first half of additional extra time in Capital One Cup quarter-final.
120'
None of the teams scored and there were no remarkable events in the first half of AET. We're going to penalties!
—————————————————————————
Penalty shoot-out
Tottenham 4 - 1 Liverpool

Soldado (Tottenham 1-0 Liverpool)

Agger (Tottenham 1-0 Liverpool)

Bentaleb (Tottenham 2-0 Liverpool)

Sturridge (Tottenham 2-0 Liverpool)

Naughton (Tottenham 3-0 Liverpool)

Henderson (Tottenham 3-1 Liverpool)

Lamela (Tottenham 4-1 Liverpool)
---


Arsenal
1 - 1
Liverpool

Rickie Lambert (14)

Glen Johnson (3)

Lukas Podolski (59)

Mathieu Flamini (35)

Olivier Giroud (45+3), Jack Wilshere (58)

Rickie Lambert
Liverpool XI:
Pepe Reina, Johnson, Agger, Sakho, Enrique, Sterling, Henderson, Lucas, Gerrard(C), Coutinho, Lambert.
Liverpool came to Emirates to face Arsenal in an away game as the stadium was full of fans, both Arsenal's and Liverpool's.
Liverpool controlled the game but an early mistake of Glen Johnson gave Arsenal the lead in the third minute but Lambert equalised eleven minutes later, the game finished 1-1 to the disappointment of Liverpool's players, staff and fans.
The game was very physical and aggressive by both teams and it was reflected as Flamini got sent off in the 35th minute after a dangerous two-footed challenge on Steven Gerrard.
Later Giroud and Wilshere were forced off injured after tackles of Lucas Leiva and Steven Gerrard, respectively.

3'
Wilshere crossed a ball to the box and Giroud shot it goalwards, Pepe Reina brilliantly saved however it hit Glen Johnson's leg and crossed the line. An own goal! 1-0 to The Gunners!
14'
Nkoulou lost the ball to Rickie Lambert who pressured him heavily, Lambert tucked the goal in as Ospina was out of the goal frame.
35'
Flamini went in two-footed on Gerrard and the referee was close enough to decide that red card is justified. Flamini is sent off and Arsenal is left in ten men against Liverpool.
45+3'
Lucas Leiva tackled Giroud who fell down and he holds his leg in pain. He's replaced by Lukas Podolski.
58'
A collision has occurred between Gerrard and Wilshere who had to go off injured, apparently his arm suffered the hit. He's replaced by Chambers.
90+4'
The referee ends the game, a disappointing draw for Liverpool against Arsenal's ten players since the 35th minute.
---


Newcastle
0 - 0
Liverpool

Steven Gerrard (28), Jack Colback (29), Mamadou Sakho (84), Jon Flanagan (86)

Tim Krul
Liverpool XI:
Pepe Reina, Johnson, Agger, Sakho, Enrique, Sterling, Gerrard(C), Lucas, Coutinho, Lambert, Sturridge.
Liverpool's performances have been awful this month and it has not improved as they took only one point against Newcastle in an away game during the 18th gameweek of Barclays Premier League at Newcastle's stadium, Saint James' Park.
Newcastle was dominating while Liverpool went on counter attacks but both could not beat the goalkeepers, Tim Krul and Pepe Reina, respectively.
Liverpool's players seemed to be frustated as they played very physical with 20 fouls and 3 yellow cards. There were no remarkable events that needs to be reported though.
---


Liverpool
2 - 0
Queens Park Rangers

Adam Lallana (29), Javi Manquillo (48)

Adel Taarabt (90+1)

Adam Lallana
Liverpool XI:
Pepe Reina, Flanagan, Can, Jones, Robinson, Manquillo, Allen, Romero, Lallana, Borini, Sturridge.
Sami Hyypiä has done an overhaul in Liverpool's line-up in a home game against Queens Park Rangers at Anfield after three away games in a row as nearly 43,500 visited the stadium.
It was not a blow-out as many expected after a bunch of bad results like the 5-1 against Aston Villa but Liverpool were clearly looking better with not less than an eight replacements in the line-up as only Pepe Reina, Lallana and Sturridge have kept their place.
Liverpool got the lead from Adam Lallana's foot as he stunned Júlio César and the fans with a fantastic free-kick from 25M. Javi Manquillo doubled the score with his first goal for Liverpool with a placed shot.

29'
Caulker fouled Sturridge twenty five meters from Q.P.R's goal and Adam Lallana took the challenge and lined the ball. He curved it goalwards and it is into the top right corner! Gooooooooaaaaaaaaaalllllassssssooo! 1-0 to Liverpool!!!
48'
Gerrard to Borini who turns and flicks it onto Manquillo, he is free of defenders and he shoots the ball on the ground to the left corner, goooooaaaaaal! 2-0 to The Reds!
90+1'
Allen slide-tackled Taarabt and dispossessed him however Taarabt fell to the ground, it looks like he twisted the ankle. He's out of the pitch now and he won't come back, his participation in the game is over.
90+3'
The game comes to an end with Liverpool winning after a tough month.
Not a good month, should be great flu for the win at QPR. That should boost confidence. A point is ideal really at the Emirates! Should have beat Newcastle IMO and as for Tottenham, you were just unlucky in penalties!
AlexTHFC: Could've done better results-wise, thanks though!

AaronHJFT96: Newcastle were much better than me on statistics, plus they are in top 4 and played great throughout the season till this point. I was more annoyed drawing Arsenal with 10 players than drawing Newcastle on a bad day of the team. Thanks for the comment, I'll do better in January!
Liverpool announces arrivals and departures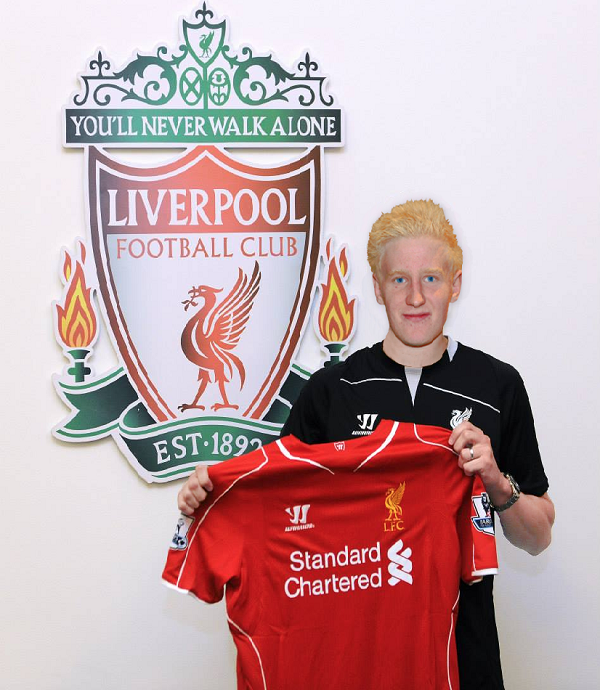 Will Hughes, one of the new signings at Melwood.
Liverpool FC have confirmed today the signings of Will Hughes and Ryan Gauld for a total fee of £25.5M. Will Hughes, an 18 years old attacking midfielder has joined Liverpool from Sky Bet Championship side, Derby for a transfer fee of £15.5M and signed a long-term contract while Ryan Gauld is an 18 years old as well however joined the Merseyside club from Sporting Lisbon for £10M. Gauld has been loaned back back to his team, Sporting Lisbon, to gain first-team football.
Will Hughes has been loaned to Scottish team who faced Liverpool in Group D of Champions League, Celtic so he, like Gauld, plays for their first team.
Sami Hyypiä released a statement to the media where he confirmed the signings, as well talking about it:
"I am very happy we have achieved our goals and landed both Will Hughes and Ryan Gauld at Melwood, both are amazing talents and I admit they stood at the top of my signings priority.

We have loaned both players, Gauld to his old-team and Hughes to Celtic, in order to have them playing first-team football and continue their development and return next season to battle for a place in our team's line-up."
The youth department under Tom Ingram have signed a talented defensive midfielder from 2. Bundesliga side, Nürnberg. The player is 18 years old, Niklas Stark and has joined for £2.9M.
The player, like Will Hughes and Ryan Gauld, was loaned back to his team, Nürnberg to ease up his move into Melwood next year.
With that being said, Liverpool have also said good bye to a player who has been reported to leave Anfield a couple of months ago, Joe Allen, who joined Queens Park Rangers for a fee of £8.75M. The player tweeted his farewell:
"I am leaving Liverpool today after lovely two seasons for Queens Park Rangers. I want to thank whoever supported me through these rough few months and I am looking forward for my time in my new club. Come on, you hoops!"
---

Will Hughes (Derby) £15.5M

Ryan Gauld (Sporting) £10M

Niklas Stark (Nürnberg) £2.9M
————————————————————————————————————————

Joe Allen (Q.P.R) £8.75M

Ryan Gauld (Sporting) LOAN

Brad Jones (Birmingham) £10K p/m LOAN

Niklas Stark (Nürnberg) LOAN

Will Hughes (Celtic) LOAN

Cameron Brannagan (Inverness CT) LOAN

Lloyd Jones (Motherwell) LOAN

Ryan Fulton (Luton) LOAN

Joe Maguire (Newport CO) LOAN

Krisoffer Peterson (Gillingham) LOAN

Jack Dunn (Walsall) LOAN
Sorry for the lack of updates recently, school is about to kick off and other responsibilities I'm committed to are preventing me from updating it daily. I'll do my best to update it more.
You are reading "Liverpool - Back to the past (Y.N.W.A)".
↑