Paris FC victorious over rival Red Star 93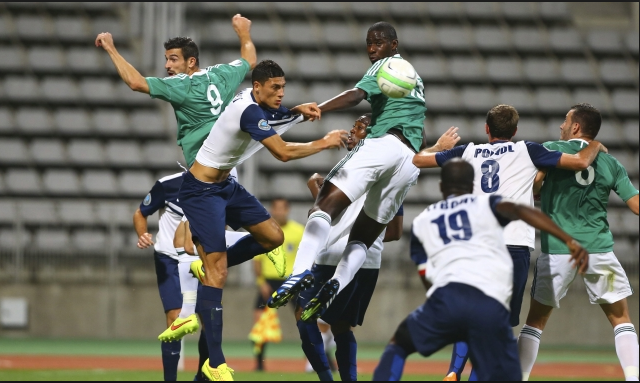 7 October 2017
7,489 supporters showed up in force at the Stade Jean-Bouin on a cool October evening as two Parisian rivals meet for the first time since the 2015/16 season. As expected the derby was hard fought and a defensive clinic for both sides. Kévin Gauthier's club would co,me out the winners in a hard fought 1-0 victory snapping a two game losing streak.
It wasn't the most exciting offensive showcase for the visitors as they continue struggling to find the net. Winger Gedson Fernandes scored the only goal of the match in the 8th minute. Throughout the match Paris could not hit the target with much success but an improvement from the previous few matches. They would go 5 for 10 on shot on target with only one clear cut chance.
A gashed head would cause striker Ryan Mmaee to struggle as he would be subbed off in the 58th minute. Thomas Martin came in for him and shifted to a central attacker role. Due to an injury of Jonathan Nanizayamo and Demba Camara on international duty there was no replacement at striker.
Gedson Fernandes put in the best effort of all players on the pitch this day with his quality play and hard work. The on-loan Benfica winger created the most chances for Paris and had the highest work rate of all players with a 8.3 match rating.
The defense was just as active for Paris. Lead by Frédéric Bong the defenders worked hard to keep a clean sheet for goalkeeper Paul Charruau. Macaulay Gillesphey was the key defender as he was everywhere the ball was and made sure he covered every inch of the pitch. Gillesphy made an incredible tackle that preserved the 1-0 lead late in the game. Paul Charruau now has over 200 minutes without conceding a goal.
After the match manager Kévin Gauthier spoke with L'Équipe about the win.
"I am very pleased to get this victory over our rivals and each player contributed to this result, I do feel we need to start improving our goal scoring but it is still early on, if I had Demba (Camara) in the starting eleven the score might have been higher."
Paris FC have been preforming way above expectations as they currently sit in 13th. The host Red Star on the other hand continue to struggle as they lose their third straight match. The next time these two will face is on 23 February at Stade Charléty.