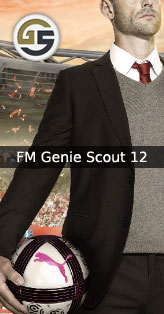 Welcome Genie Scout 12!
World's best scout utility is updated for Football Manager 2012.


Exclusively available from fmscout.com

for yet another year :)
FM Genie Scout (or Genie Scout in short) is world's most popular scouting tool for Football Manager, created to extend the possibilities of finding, sorting and shortlisting players and staff, controlling their progress, making "first 11" and tactics choice easier and observing attributes invisible in FM.
Released:
26 Nov 2011 - v1.00 beta 1 build 200
Updated:
2 Oct 2012 - v1.00 final build 207
Redistribution Policy:
People who want to put Genie Scout 12 on other sites, you may link back to this very page but you cannot host any files yourselves. Thank you!
Compatibility:
Windows XP, Vista, 7 and FM 12.2 (and lower) or FM 11
Does it work for Mac?
No, but Mac users check out
Getting Genie Scout to work with Mac
step by step guide by
dane0
which was originally written for GS11, but should apply to GS12 as well.
How to run:
Double click the fm_genie_scout_12_downloader.exe file and click Yes in the alert window.
It might ask if you want to install a free to try software, you can choose not to (simply un-tick the offer check-box) and click Next.

If you accept

though, you are supporting us.
Once you click Next, your download of Genie Scout 12 begins.
You will get a .zip archive in your Desktop. Extract it anywhere.
You'll get an installer file named genie12_setup_b207.exe. Double click to install.
Follow instructions and hit next until is finished.
Launch Genie. Load your savegame... you don't need to have FM open of course.
That's it! No frameworks required.
NEW TO GENIE SCOUT?
Our good member Miguel wrote a detailed instructional guide to Genie Scout. Check it out!
Localization:
Some languages are completely translated and updated, some others need updating, and we're always looking for new languages to be added.
LOCALIZE GS AND WIN :
People who will translate Genie Scout into a new language or update/complete currently available languages will get the "g" version without a donation.
Read more and declare your interest on this thread.
Donate to get the "g" version
Genie Scout 12 comes in two versions. One with ads and one with
no ads
(we will refer to it as the "g" version). In order to get the "no ads" one you'll have to donate to Eugene first, using the
donation form on Genie homepage
.
DELIVERY OF THE 'G' VERSION :
Eugene has automatized the process of distribution for the "g" version, so people will only have to wait up to 1 hour before they will get a download link and key this year. But only if they have sent correct contact email, correct Unique ID along with the donation. Make sure you check your Spam folder too.
If you don't send correct info, you'll most likely have to wait up to 2 days.
Apart from no ads,
the "g" version has 4 extra features
:
Probability of Development

:
A statistically based model that will show the probability of reaching theoretical maximum of players ability

Progress Rate

:
Shows the predicted speed of player's development, depending on his ambition, determination, professionalism etc

Support for Graphics

:
If you have custom facepacks and/or kitpacks added to your FM, it should show on player and team profiles on GS

Top Players Lists

:
Automatically generated lists for best players, most promising and top bargains in the world, by position

[New in GS12]
Please note that during the first run of "g" version it may take a few minutes to create the graphic packs cache. Next time it will be loaded much faster.
IMPORTANT :
FM Scout (the site) is not involved in the donations towards Eugene, neither has any responsibility delivering the ad-free version to you after donation. This is a process handled solely by Eugene himself.
Bug Reports:
This is a beta release, so it's natural that there will be some bugs we couldn't find while beta testing the scout ourselves.
Please find the corresponding version specific topic on our Genie Scout forum and post there!
Read this before submitting any bugs!
Any comment including bug report posted on this page will be removed on sight!
EXPORTING DATA :
Please understand it is forbidden by the EULA from SI and SEGA to export all the data from the results. You should be able to export only basic information such as player name, club, age, etc... the rest information belong to SI and SEGA.
Credits:
Genie Scout 12 is created by
Eugene Tarabanovsky
.
He has been producing this program for the past 6 years now, and for that he is a true legend! Thanks mate!
Genie Scout logo made by
Stam
.
Changelog:
v1.00 final build 207
* Fixed data loading errors
v1.00 final build 206
* Compatible with patch 12.2 (winter update)
* Error on staff and clubs export is fixed
* Error on search by region is fixed
* Error on screenshot of top lists (g-version)
* Donation via Paypal is available again
v1.00 final build 205
All reported loading data errors have been fixed. Also it includes the following changes:
- Error on player/club profile screen opening has been fixed (g-version)
- Error on some Top Lists screen has been fixed (g-version)
- History works properly now (g-version)
- Layouts are visible now (g-version)
- French language works again
- Error when creating screenshot of history has been fixed
- The issue with some newgens name has been resolved
v1.00 beta 2
All reported loading data errors have been fixed. Also it includes the following changes:
- Recalculated feet bonus coefficient (Rating system)
- Training Facilities bug resolved
- Bulgarian, German, Japanese, Korean and Serbian languages added
- Other minor changes