I'm happy to announce that Eugene is working on
Genie Scout 16
, the new version
for Football Manager 2016
. He has invested a lot of time during the summer in order to improve GS16, which will bring the most impressive progress of the tool after years of development.
FM Genie Scout is the world's favorite scout utility for Football Manager
.
We are honored to be
exclusively
releasing this awesome tool since 2009. We try our best to deliver Genie Scout to the world every year because your support to this project is outstanding.
FM Genie Scout 16g Changes
In-Game Scout
The highlight in Genie Scout 16g is what we like to call
IGS
.
In-Game Scout
(IGS) is a brand new feature of Genie Scout 16g that brings GS usability to a whole new level. Clicking the (i) icon next to player's name in-game normally shows up a pop-up box with his attributes and some quick details. With IGS enabled, this pop-up box is enhanced with many added insights, including potential skills and rating. You no longer need to switch to the GS window to check on hidden attributes or potential ability.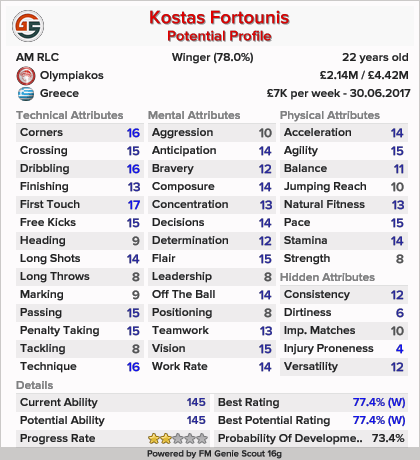 In order to use IGS you have to switch to either "Windowed" or "Maximized Borderless Windowed" mode from in-game preferences.
Rating System
Complete revamp of rating system according to recent FM tendencies. Based on deep player development history analysis using big data techniques and statistics (collected data from over 15 years of game history on over 100k players and over 54k matches from top-12 leagues), the following changes have been made:
re-assessed the influence of one-foot vs both-feet playing ability on overall rating (a player who can use both feet performs better than a player who can only use one foot with the same attributes)
skills dependency on current ability has been thoroughly investigated, which makes potential rating assessment much more accurate
peak (max possible) potential ability has been investigated (what CA can be reached depending on the current age and position)
position skill influence on player performance (inability to play on a specific position doesn't affect performance significantly now if player has high skills required for the position)
role ratings improved based on FM16 suggestions
positional ratings adjusted based on FM16 suggestions and on the statistical analysis of collected matches history
Probability Of Development
Probability of development statistical model has been updated, and it can now assess more accurately whether a player will reach his potential ability or not.
Progress Rate
Progress Rate statistical model re-developed from scratch; more stars means faster progress will be made withing the coming couple of years.
FM Genie Scout 16 Release Date
Public edition
As usual we
won't make any promises on the release date
of the public version, but most likely we'll be able to release it
during November
.
Update 27.11
: Eugene informed me we should be able to release it during the weekend or on Monday the latest.
"g" edition
The "g" edition, which is the one for people who donate, is available since 29 October (beta 1). Current version (beta 6) is compatible with the latest 16.1.0 version.
Reminder: The "g" edition is ad-free and has a few extra features compared to the public edition.
You can now donate for GS16 "g" edition.




Do not report bugs in the comments below!
How can I get Genie Scout 16 public edition?
- Update 29 November -
Once the public edition would be available, the initial plan was to email our newsletter subscribers the download link before everyone else. The problem is that we currently have a technical issue with our newsletter service and we'll be unable to send any emails for a few days. As a result, we have taken down the newsletter sign up form.
The public edition of GS16 will be directly added to fmscout.com the moment it is ready. It's expected for release on
Monday, 30 November
; no specific time has been set though.