Sports Interactive released a teaser video on September 22nd hinting at some new headline features that will make it onto Football Manager 2023. The actual feature reveal video dropped on September 29th.
More info will be dropping throughout the weeks leading to the pre-release Beta access in late October.
This article will always be updated with new info as it becomes available.
This pre-release Beta access is one of the special rewards for pre-purchasing FM 2023 from selected retailers.
In Football Manager 2023, it's not just about picking tactics or crafting a team. It's about taking on challenges and breaking new ground as you establish your own style. Delve into unrivalled depth and detail as you take charge at your club.
New tools thrust you closer to every aspect of the beautiful game in FM23. Go bigger than ever and tear up the script.
So here are some of the biggest features to expect from the latest edition of the award-winning football management series.
FM 2023 Headline New Features
✔️ New Licenses
✔️ Squad Planner
✔️ Scouting Enhancements
✔️ Supporter Confidence
✔️ Tactical Engine Improvements
✔️ Dynamic Manager Timelines
✔️ Other Refinements
NEW LICENSES
You will feel a greater sense of occasion in UEFA club competition matchdays with official branding across a number of pre, post and matchday screens.
Competition tailored backgrounds, match day props, trophy lifts like the real thing, official anthems playing before matches for deeper immersion.
A greater sense of excitement and celebration for cup draws, making it a real event.
Plus new fully licensed teams, including Manchester City and Juventus.
You can find more details about UEFA club competitions licence here.
SQUAD PLANNER
When we are building our squads and want to see how to build around a player, we are now able to directly bring a shortlisted player into this planner and see how things will work.
Squad Planner is all about helping you plan your recruitment out for the season. It's a brand new area where you'll see your whole team and based on your tactic, every single position, you're going to have all the players ranked in terms of how good they are.
This is a safe space, it's like your secret book, so your players won't get upset because they're never going to know. Your staff will know and they can start making suggestions based on what your planner looks like.
You can rank all your players, you can see how they look, you can start visualising where you're strong, where you're weak and start planning for the season. Any player on your shortlist can be brought into your planner at any time.
You can find more details about Recruitment Revamp on the official website.
SCOUTING ENHANCEMENTS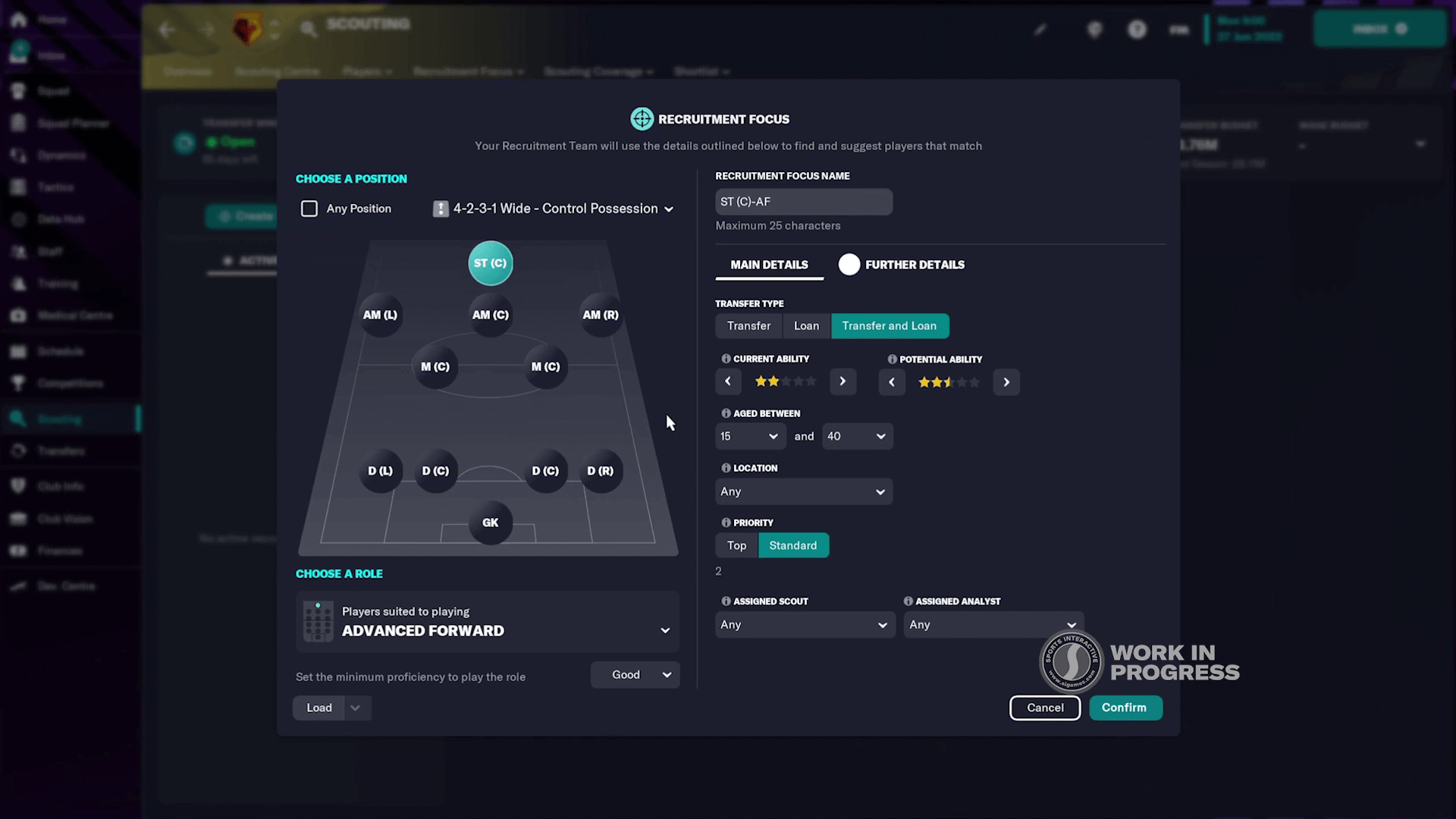 Switched from assignments to this concept of recruitment focuses, which work in a very similar way. At any time, you can come in and go 'I want this focus set up', you can set a bunch of parameters or position, role, PA, CA, height, and they will then go off and start searching for that type of player.
Agents, love them or loathe them, have become a huge part of football. Any deal to do with a top player, any contract, transfer, that agent is the first point of contact. Now added a step where you can bat back a little bit to get some sort of an initial understanding. Nothing is officially locked in there, it's just a light touch.
Recruitment meetings debuted in FM21, now they're going to be bespoke for the stage of the season you're in. With the brand new squad planner, the recruitment focuses and the also new review meeting, you'll be able to hit everything you need to hit.
SUPPORTER CONFIDENCE
Fans make football and in FM23 their voices are being represented by the new supporter confidence feature. Fans are a big part of football, but they haven't been really a big part of the game until now. Fans will now directly impact the gameplay and your choices.
You can now see the breakdown of that fanbase directly on screen; what's the proportion of Casual, Hardcore, Fair Weather type of fans in terms of percentages and breakdown, and how it impacts your gameplay. That representation captures the essence of clubs, of leagues, and of nations as well.
How much of an influence do your fans have on the board, how much of an influence do they have on your job security, how patient are they with your choices, how passionate are they with them. The fans will have a big say about your job security.
It's your ability to keep your job and to keep managing the club that you like, and essentially if you're ignoring the fans where they have a huge influence on the board – yes, that might put you in trouble.
You can find more details about Supporter Confidence on the official website.
TACTICAL ENGINE IMPROVEMENTS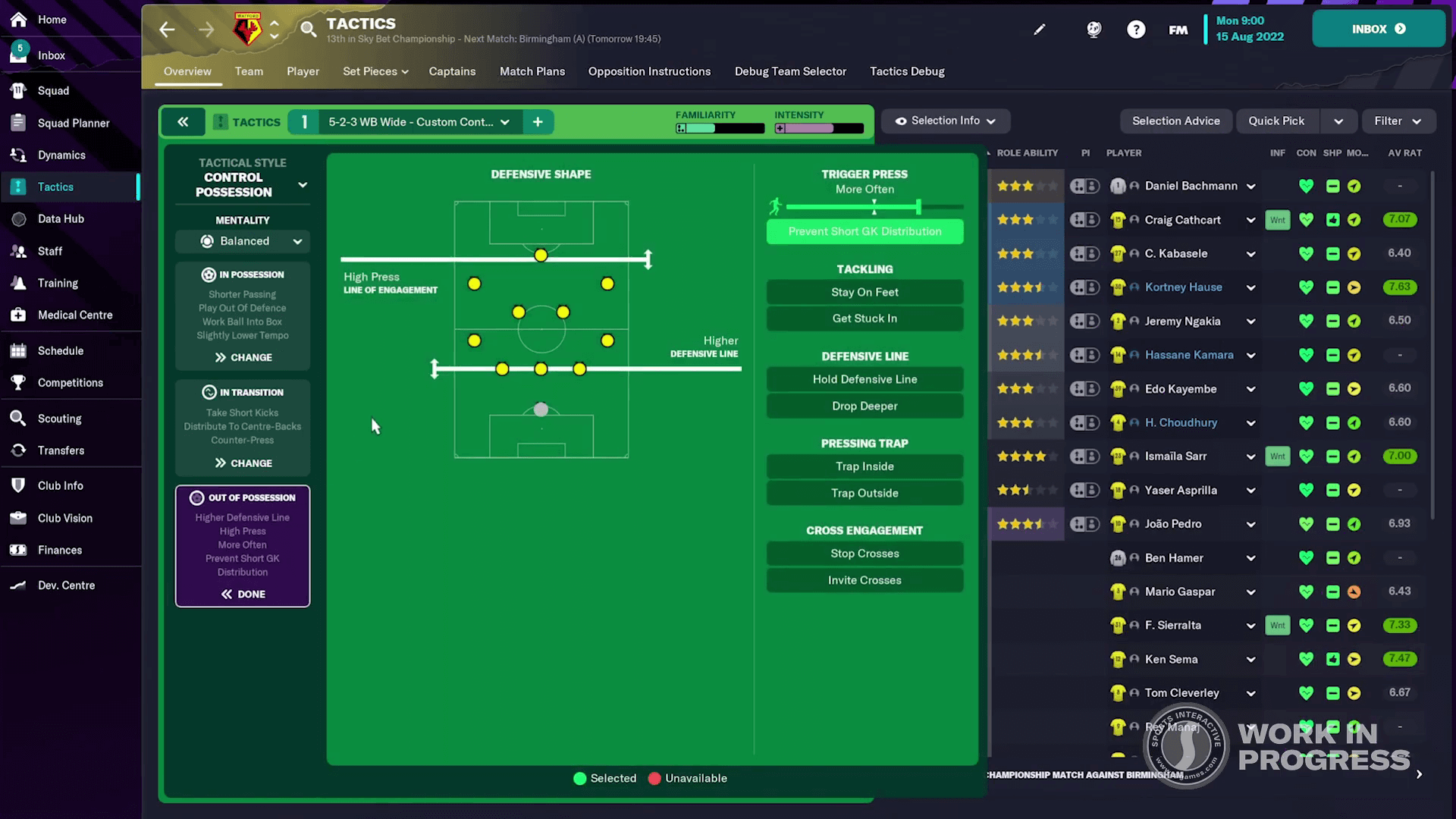 For FM23, the developers spent the majority of the cycle working on AI managers. Their tactical styles will be better reflected in the match engine and in the AI simulation. They can select the right formation and the right tactical instructions to go into that tactical battle with you and the other AI managers.
One of the main things that got improved is the defensive side of the football. As much as everyone loves to go forward and press high and attack, you need to be able to kind of sit in a low block and soak pressure and counter attack as well.
A lot more instructions have been added to the defensive side, while the line of engagement and the terminology used have been simplified. The effort was to replicate the chaos of football and make the engine feel believable. Plus overhauled all the on-ball actions to enhance the animation engine further.
Goalkeepers now be more intimidating in those one-on-one situations. Though the biggest improvement that people will see is how well defenders deal with the ball aerially. In previous FMs the midfielders or the attackers didn't really feel that pressure behind them as much and it feels now that the pressing angles have really improved.
You can find more details about Match AI and Animation on the official website.
DYNAMIC MANAGER TIMELINES
One of the most visual additions to FM23 is the Dynamic Manager Timeline. It's about reframing what are considered milestones and achievements in FM. Things like winning the league, winning manager of the month, all those kind of objective lists, but also subjective elements that really define your story.
It comes in the end of season review and will now include all of our favourite things in the game. Signing a bargain player or integrating a Newgen from the youth team. These are the things that really excite us and will now have a physical representation of that.
This is a kind of new way of evoking some nostalgia. It's not about just how many times you've won the league, it's always about these special players that you've grown affection for, or the time you've beaten your rival 5-0 after four years of not doing so.
Those kind of special, unique moments in your save that you kind of don't really see much in the game but it means so much to you when you do it. A moment to step back and see what you have achieved along the way.
You can find more details about the Dynamic Manager Timeline on the official website.
OTHER IMPROVEMENTS
DATA HUB
- It's elevated this year by adding a raft of new statistics and visuals to give you more information on the performances of your team and players, and where you stand in comparison to your rivals. The standout new addition to the Data Hub is Expected Assists (xA).
MATCH ANALYTICS
- The data shown to you in matches and in inbox items is more informative and actionable. On Matchdays, you'll see some data visualisations incorporated into the Touchline Tablet display; one of these is the Match Momentum graph, the other is Pass Maps.
ONLINE MODES
- Versus mode is levelled up to make those battles for bragging rights more engaging. Within Versus mode and Fantasy Draft, you can now set the number of subs and choose what to do in extra time. It's also easier for you to join a friend's game when your fixture is complete.
MANAGER CREATION
- There are more ways than ever to customise your managerial look in every career. New hairstyles, more attire options, and for the first time, a range of manager accessories for you to incorporate.
MLS
- A host of tweaks have been made to improve the experience of managing in North America and reflect real-life rule changes; from the new Under-22 initiative to rules updates in the USA and Canada.
PRE-MATCH BRIEFINGS
- These received a shake-up to improve both the content featured during them, but also how this information is displayed to you as manager, allowing you to see the player reactions more visibly.
Pre-purchase FM23 from fmscout.com to enjoy early access to the Beta version by late October, a unique buyer badge on our site, and our gratitude for supporting our community financially.