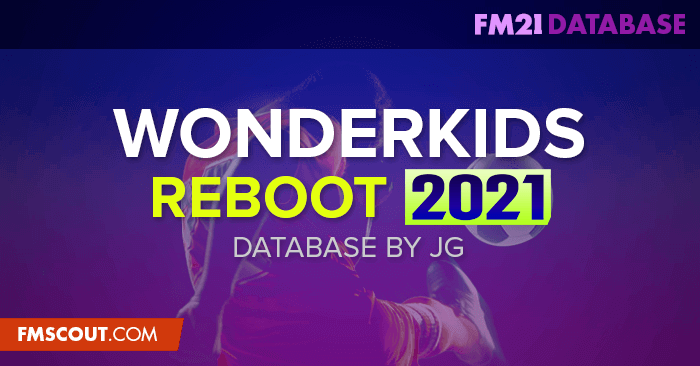 Hello and welcome!
As promised, here is an FM21 version of my popular Wonderkids 2020 database from last year!
Hey, alright, so it's official - I will be discontinuing this database. As mentioned, SirTAVARES Data Tweaks has more or less the same wonderkids that I do, and arguably of a higher quality, at least in some areas. Plus, he has like, 500+ new players, I simply don't have the time to compete with that, plus all the other corrections his file makes. I will be contributing to the wonderkid aspect of his file with my time and energy, and I will leave this one up, but don't expect further updates.
It's been a fun time nonetheless, thank you to all who have supported this file, it's been fun!
About the database
This database will be a file simply adding young players into the game. Most will be U16 players, but the occasional player up to 23 may find their way in, if I feel they were unfairly left out of the base game. In the download, a facepack, and an excel sheet are also included, but more on that a little later
As you might imagine, it can be quite hard to find data on young players, especially in England. Therefore, while all players are recreated to the best of my abilities, there will almost certainly be errors here and there. However, if you're more knowledgeable than I, do feel free to leave a comment, and I'll correct it in the next update!
How to install
Put the "FM21 - New Wonderkids V1.1" file in: "Sports Interactive\Football Manager 2021\editor data"
Put the "Faces" folder in: "Sports Interactive\Football Manager 2021\graphics\faces"
In order to see every single added player, you need to be sure to load the league they play in when you create your save game. For example, to load Marcel Mendes-Dudzinski, who plays in the Polish league, you need to be sure to load this league, either as playable, or manually through the custom database settings.
If/When the faces don't match the players
For the faces provided, I have named them so that ideally, they should load in like they have to. However, if you're like me, and play with a ton of database mods, they're almost definitly not going to match, as the other databases also add players, so the Unique ID's no longer match. So in order to fix this, you need to rename the files so they match the new Unique ID's. Luckily, a tool called
Bulk Rename Utility
exsist to make this easy. To determine what to name the files, find
Luka Romero
in your game. His ID will be something like 2000086547. So to rename them, just follow it down, as such:
2000086547 (old id) Luka Romero => 2000089678 (new id)
2000086548 (old id) Momodou Jaiteh => 2000089679 (+1)
2000086549 (old id) Amourrichio Van Axel Dongen => 2000089680 (+2)
The order of the ID's will never change, so the order they're in now, is also the order they will be in afterwards. After renaming everything, use the
fmXML tool
to create a new config file. Then reload your skin in-game, and enjoy your new faces!
If the above instructions weren't enough,
here is a video showing how to do it.
If you still can't figure it out... I'm sorry mate, but I don't think I can help you anymore then.
This video is for FM20, but the process is EXACTLY the same, only the UID values change, and the starting player is no longer Shane Kluivert, it is Luka Romero
Requesting new Wonderkids!
Requests by you guys will be the lifeblood of this database update, so please do! However, I want to maintain a certain quality, so if I can't find an at least halfway-decent image of the players face, he will not be added. Therefore, when requesting, I want at least a name, club and position, and ideally a picture as well! Well, ideally as much info as you can possibly find really, but I'll take what I can get!