The Warrington Way
January 2026
1st January
Winger
Pietro Simoni
joins from Leverkusen for a fee of 5.25m. He'll be rejoining them on loan until the end of the season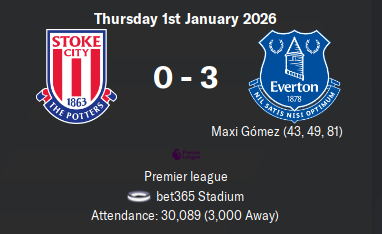 Click here for Match Stats
Maxi Gomez was on fire as we eased to a 3-0 win away at Stoke, who languish in 19th in the table.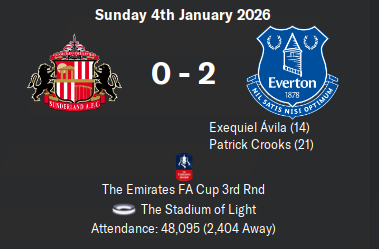 Click here for Match Stats
As we were playing a lower league side, I rotated the team quite a bit. What followed was a routine win and a place in the 4th round of the FA Cup.
5th January
Everton to play either West Ham or Derby away in the FA Cup 4th Round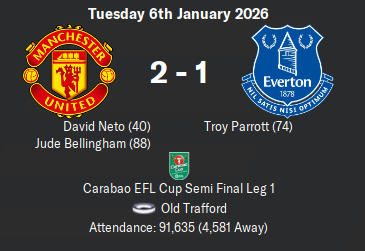 Click here for Match Stats
We'll go into the Carabao Cup semi-final second leg needing a win after losing at Old Trafford. Man United probably deserved the result in the end but I'm proud of the way the lads fought to make sure we went back to Goodison Park with a chance of going through.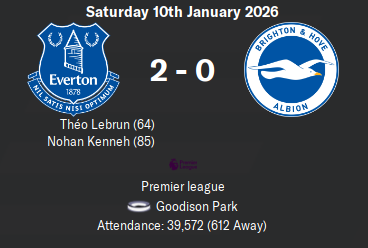 Click here for Match Stats
Relief would be the word I'd use. We absolutely bossed the entire game but we couldn't get the ball in the back of the net for quite a while. Fortunately, Theo Lebrun opened the scoring just after the hour and we eased to a 2-0 win.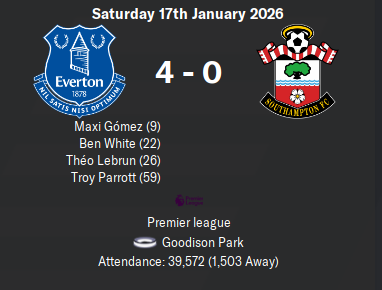 Click here for Match Stats
Absolutely dominant. There was only ever going to be one winner of this one.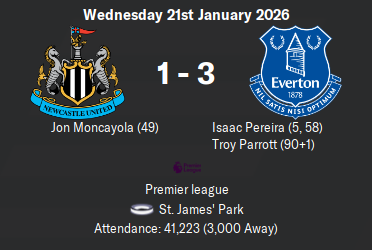 Click here for Match Stats
We took all three points away from St. James' Park with a great performance that never gave the hosts a chance of getting back into the game.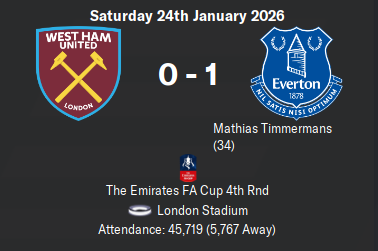 Click here for Match Stats
Another good win away from home but we really had to work hard to progress to the next round. Thankfully, a goal from Mathias Timmermans gave us the win we needed.
26th January
Everton to play away at Tottenham in the FA Cup 5th Round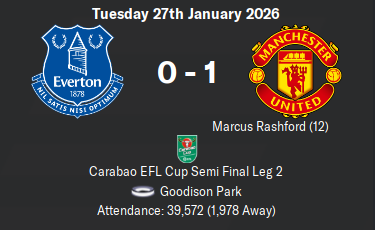 Click here for Match Stats
Gutted, absolutely gutted. We had enough chances to overturn the first-leg deficit and we didn't take them meaning we're out of the Carabao Cup.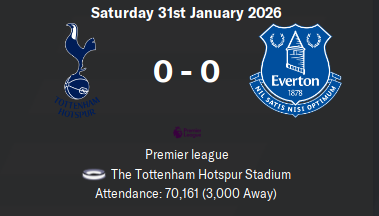 Click here for Match Stats
Disappointed to draw but drawing away at a team like Tottenham isn't too bad I guess. Worrying that we drew a blank for the second game in a row.
Team Stats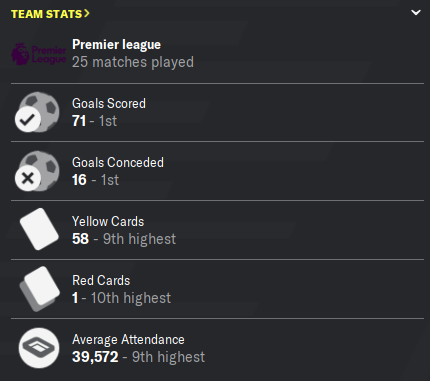 Player Stats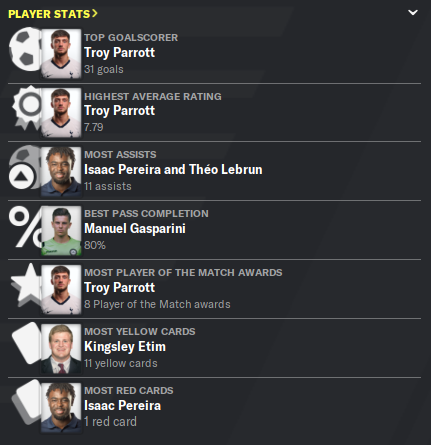 League Table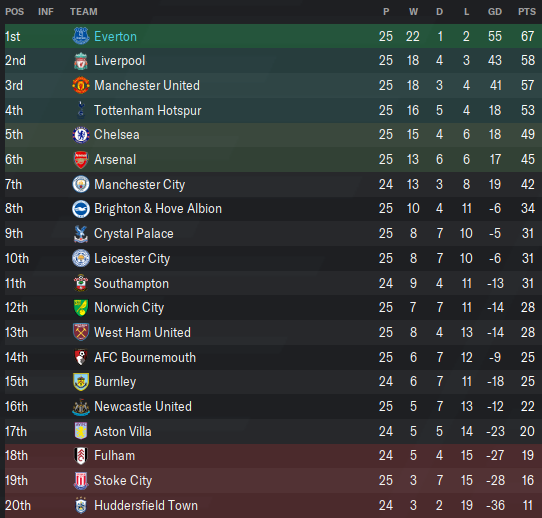 A great month for us in the Premier League. Our main rivals all dropped points so we now have a nine-point lead at the top of the Premier League table. The pundits are comparing us to that Leicester side that won the title but I firmly believe we'd challenge again if we won it.
Next Month's Fixtures