SEASON 7 | CAN WE PUSH FOR A EUROPEAN POSITION?
After a fairly successful first half of the season, I was feeling quietly confident that we could push on and secure a position for European qualification. We are still eyeing a quality striker to support Guttierez, as Colombo hasn't quite been good enough for us. We drew too many games in the first half of the season, so I am looking to play more attacking in the remainder of our games. I have been reading all your comments too and taking them into consideration when I make decisions in this save. I agree that we have been very reliant on loan players. I believe now is the time to start developing our youth academy players, and focus on looking for permanent transfers moving forward. So I will look to start Marino and Migliaccio in as many games as I can, as well as playing Meile in our midfield where there is a lot of competition for places.
We played Napoli, at home. They have a very strong team, the centre back partnership of Armini and Koulibaliy is frigthening!
They beat us in a very tough game 3-0. Although, we had more shot's on target, possibly we could have done better, in a game that on paper looks worse than it was.
During the transfer window I wanted to clear out a few more player's who haven't quite been important this season, and increase our transfer budget.
Schiro was sold to Torino for £3.8 million. He has been okay for us in the past few seasons, but we have a lot of midfielders and I would rather give game time to young Meile, than Schiro.
Another close game against a tough team Fiorentina, resulted in a loss. 3-1 defeat, but the bright spark was Meile who scored a quality goal from distance, his first goal for the club.
The next player out the door was Goudmijn. He could have been a good player for us, but his terrible injury last season meant that he has never really had a chance to contribute this season, and I decided to cash in on him now, still looking to increase our transfer budget. He went back to the Eredivese for £5.75 million that could rise to £7 million. Not bad for a player we signed for free.
We finally found our goal scoring form, only against bottom of the table Verona. A good all round performance, Maldini was the star of the show.
Arsenal came in with a big offer for our young right back Marino! £10 million and he is only valued at £300k! That showed me that he is a quality young prospect and even though the offer was nice, I rejected it. I want to develop him into a world class right back for Palermo, from our youth academy. I am envisioning him being the first choice right back from now on.
After searching the transfer market extensively for a striker, I ended up deciding on this man. Brian Brobbey is a name that a lot of people know and can develop into a beast in FM. My scout's don't rate him all that highly, but I like the way he looks. I have never actually used him on FM and always wanted to try him. So we splashed out £10 million on him which we will pay in installments over 3 years. My plan is for Brobbey and Gutierrez to start up front together as we employ a more attacking 4-2-4 formation for the remainder of the season. He cost us a lot of money and is now Palermo's record signing, so the pressure is on him to succeed.
Brobbey's debut was a crazy game against Roma. 5-4 we lost! We scored an equalizer in the 94th minute through our centre back Pirola, only for Roma to score the winner in the 95th minute! Brobbey got on the scoresheet and a draw would have been a great result.
Maldini will miss the next 5-6 weeks after he picked up an injury against Roma. The classy winger has been an important player for us this season and will be hard to replace. Joel Riberio steps into his position, the man who signed for free from Juve hasn't had a lot of game time and will now get his chance to impress.
We received another big offer for Marino! This time Liverpool offered £12.5 million. Again, I rejected... this man is a hot talent that everyone wants. We will do everything to keep him at Palermo, a big pay rise and a new contract is in sight for our young full back.
Schiro returns only a week after we sold him. We wanted to make a statement against the lad we just sold.
And oh boy did we make a statement. A comfortable 4-1 win. Gutierrez with a brace, and Meile on the scoresheet again. At just 19 years old Meile is really making a name for himself starting a good run of games in Serie A and playing very well.
We played Napoli away. Brobbey picked up a knock in training so we went back to our 4-3-3 tactic with Gutierrez leading the line on his own. Napoli's front 2 looks dangerous though; Jovic and Jota will be hard to stop.
We put in a great performance and drew the game 3-3! Pol Joensen was a different class, scoring a brace against a very tough defence.
We then had a good 2-0 away win against Sampdoria. Gutierrez scores yet again.
This was followed by a tough loss to Cagliari who are 4th in the league this season! They are certainly over achieving and we hope to be taking their position in the very near future.
We were 2-0 down against Udinese at home, and luckily for us they got a red card in the first half. Everything completely changed then and we went on to score 5 and win the game 5-2! Brobbey and Gutierrez with a double each, that is what I want to see from my dynamic duo up top!
We lost to Juventus 2-1 in a close game. 2 early goals were cancelled out by Mane late in the game.
We then had a tough result to take against SPAL. We were 2-0 up, Brobbey had scored again, to go on to concede two goals in the second half and drop 2 points. These are the sort of games we must win if we want to qualify for a European spot.
Our annual youth intake was the worst we have had in 7 seasons..
A narrow 1-0 victory over Brescia put's us 11th in the league.
The board are delighted with our progress as a club. Although we are 11th in the league and I would like to be higher, the board help me to realize that we are already exceeding expectations. We have certainly made Palermo a secure team in Serie A, and can safely say now that we are an 'established Serie A' club.
We had a tough away game against Atalanta, but came away with all three points. A solid 2-0 win.
After our poor youth intake this season I have requested the board to improve the youth facilities which to my delight they accepted. Hopefully we can have more players like Meile and Marino come through in the coming seasons.
Our next game was against Lazio, top of the league and with the leagues top goal scorer - Esposito.
And it was a masterclass from that man. We could not stop him. Gutierrez showed the world what he can do scoring a brace. Although it meant that we wouldn't move any further up the league as we picked up another loss.
Sadly Gutierrez is injured again. He will miss the remainder of the season. I really hope that he and Brobbey can stay fit next season and build a great partnership together.
Our penultimate game of the season was a good victory over Parma. That man Brobbey scored again.
The last game in the league was against Inter Milan. We had nothing to lose so we went all out attack and took the game to them!
And it payed off! A great way to end the season with a victory against Inter Milan. Maldini scored in his last game for the club as his loan ends. A very warm positive note to finish year 7 with Palermo!
In other news, our Under-18s won the league! I was very happy to see this as I really am keen to bring more youth academy players into the first team. I am always looking to give players a chance no matter how old they are.
At the end of the season, it was Esposito who won the golden boot, but our man Gutierrez was 3rd top scorer in the league, even with his injury troubles holding him back. I really see him lifting the golden boot at some stage in his Palermo career.
And I thought this was hilarious. We won the 'Fair Play Award'. The least amount of bookings in the league this season. What a change! My fine system must have worked. Discipline was a big problem last season, and I have stamped that right out of the club.
Our results in the second half of the season were not as good as I was hoping. Although looking back, most of the games we lost we were the underdog and favourites to lose. We still picked up a good number of wins. We have to be fairly happy with how the season ended.
The final league table saw us finish in 11th place. We beat the media and board expectations, and will look to improve once again next season. Inter and Lazio were clearly the best teams in the league. There is still a decent gap for us to close to qualify for Europe in future seasons.
The board have given us even more money than we have ever had to spend next season. I am going to invest in permanent signings and try not to rely on loans. I do have one player coming in on a pre-contract who I am very excited about... I will let you take a guess who: He has played for PSG and Italy and will be the perfect mentor for Meile...
The End of Season Awards saw Maldini crowned as the Fans Player of the Season as well as Young Player of the Season. Gutierrez was Signing of the Season. Kingsley scored Goal of the Season. Kingsley was decent for us this year. He didn't ever amaze me, but he was consistent for sure.
Goal of the Season:
Michael Kingsley v Torino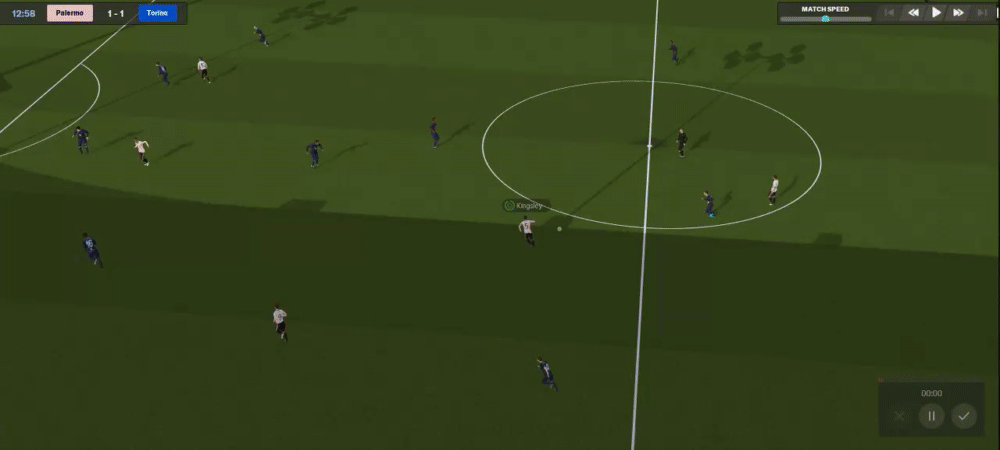 Key Performers
Daniel Maldini
He will be missed next season. He played very well for us and had the second most assists in the league this year. 6 goals and 11 assists in 34 apps. Not bad at all.
Juan Manuel Gutierrez
He is probably my favourite player in the team at the moment. I just want him to stay fit! 17 goals and 5 assists in just 31 apps. He is quickly becoming a world class player and will continue to lead the line for us next season.
Lorenzo Pirola
This man was a rock as the heart of our defence this season. The fact we signed him for free too is incredible as his attributes are very good and he is still developing. He will be our number one defender next season and continue to make a big impact at the club.
Antonio D'Emanuele
The youth academy prospect has developed into an important first team player. Orlando came in on loan and was supposed to start alongside Pirola but D'Emanuele's performances solidified his spot. 7.03 average rating in 12 games is very good, he may have the chance to be the first choice center-back next season alongside Pirola unless we find anyone else better in January
Brian Brobbey
The big money signing! I can't be too hard on him.. he came in with a lot of pressure on him, picked up a couple of knocks and still scored 5 goals in 12 games. Not too bad at all. I will continue to help him grow and support him into hopefully becoming a world class striker for the boys in pink.
Overall, this was another successful season. 11th in the Serie A is no easy feat and the team is slowly developing into a very good Serie A side. The young players this season will only get better next year. We have a lot of players coming in next season also on permanent transfers which will strengthen the team. Next season I will certainly be aiming for a top 10 finish.
Review of Seasons Past:
Season 1: Won Serie D (Unbeaten Season)
Season 2: Won Serie C
Season 3: Relegated from Serie B
Season 4: Won Serie C
Season 5: Won Serie B
Season 6: 16th in Serie A
Season 7: 11th in Serie A
Thanks again for all your support, keep the comments and feedback coming, I love to hear from all of you.
As always, thanks for reading!