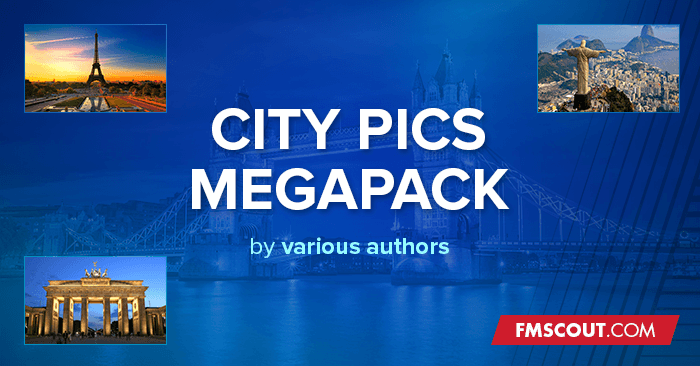 This is the continuation of the cities MEGAPACK, originally made for FlutSkin but also applies to other custom skins that support city pics.
Made for the small city pictures on flut skins.
With the collaboration of other FM fans it was possible to do the most part of the city pics from clubs all over the world.
In FM 2016, FlutSkin introduced a new Club Overview Panel and a new Club General Overview including the pictures of club cities.
Enjoy!
City Pics Preview
How to add pics of cities in club overview on FM 2020
1, Hit the download button
2, Unpack the RAR file (use 7-zip freeware app) to your desktop (or elsewhere)
3, Place the unpacked "City Pics" folder in the "backgrounds" folder which needs to be at the following location:
Documents > Sports Interactive > Football Manager 2020 > graphics > pictures > backgrounds
Please create the folder structure if you need to.
I recommend installing this pack with the game turned off.
4. When you start game, go to Preferences > Advanced > Interface >
Tick "Reload skin when confirming changes in Preferences" and press the "Reload Skin" button.
Here is my graphics folder layout.....I highly recommend you create this setup....
(right click on image and then open image in new tab to enlarge)
You need to have a custom skin that supports city pics for this to work.
Credits
arturm, bigboss96, carsty, fcdm3357, flut, ilham, kruj, asket, lucianno vietto, petercrouch, pmark, v-toll, wolverine78, zzpiggy, dazs8, Asket, CopyWriter
Pmpou1, guinjon , Hjs
-----------------------------------------------------------------------------------------------------------------------
ALTERNATE DOWNLOAD LINK
MEDIAFIRE
------------------------------------------------------------------------------------------------------------------------
UPDATE PACKS
EUROPEAN UPDATE 15/12/19
UPDATE 2 10/1/2020
UPDATE 3 16/04.2020
UPDATE 4 08/05/2020
-------------------------------------------------------------------------------------------------------------------------
OTHER ASSOCIATED DOWNLOADS
FLUT SKIN STADIUMS PACK
FLUT DARK SKIN
FLUT LIGHT SKIN
2D KITS FOR FLUT SKIN
FMT STADIUMS PACK (SMALL IMAGES)