FM 2019 Other Files
Football Manager 2019 audio commentary, FM 19 save-games from the future and other cool stuff that don't fit within the rest of FM 2019 download categories.
---
---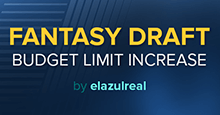 11226 1426 1
This addon increases squad budget limit of fantasy draft to maximum level of € 2,38 B.
15782 5826 5
Simulated 20 years into the future, to enable you to play with 100% newgens and the current pros are now staff members/managers.
23419 5681 7
Set up a game with Europe's top leagues. Holidayed to 2028. Use it to see what happened during those 10 years, or even add yourself as a manager then.
↑