FM 2022 Other Files
Football Manager 2022 audio commentary, FM 22 save-games from the future and other cool stuff that don't fit within the rest of FM 2022 download categories.
---
---
72172 16250 209
Years and years or reworked sound files, taken from multiple sound files from multiple Sources and also real life action featuring Peter Drury. Re-written to work with FM 2022. Updated as of May 4th.
6003 398
A fix to get rid of missing player shirt names that lead to long 'Common Names' being displayed in the Tactics and Match Screens.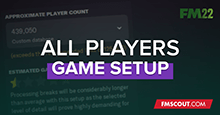 29350 3693 5
Files to create your FM22 save with all available players in the Football Manager 2022 database.
↑