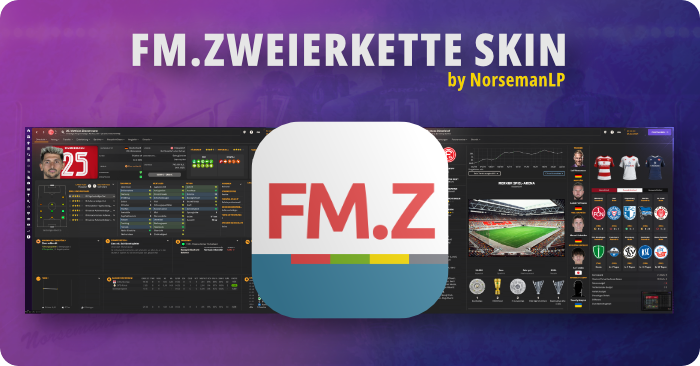 I'm happy to present you my skin, which I'm creating in collaboration with the greatest German FM-Streamer and Blogger
FM.Zweierkette
.
Feedback and questions regarding the skin can best be answered by me on the Discord of FM.Zweierkette. There is a thread "FMZ Skin (by Norseman)" in the download channel. I would therefore be very pleased if you would join the Discord Server.

The skin is a dark version and characterised by its small improvements, paired with the colours and features of FM.Zweierkette, without being far away from the original FM user interface.
It is important to us not to change the FM user interface too drastically, but to expand it in a meaningful way.
Please note that with this skin I am leaving my usual environment of pure graphics editing and entering new territory with skinning. Therefore, not everything will run smoothly right away and there will still be some minor bugs here and there. But I'm having a lot of fun with it and I'm trying to acquire the knowledge quickly in order to get better at it.
That's why I'd like to thank the skin creators, who have been doing a great job for years, inspiring me to create my own skin and from whose work I can learn and understand a lot.
Credits and Thanks
-
Flut Skin
-
MichaelMurrayUK
-
FMEnhanced
-
AlexMorak
-
TCS Skin
-
Tato Skin
-
Kojuro
Skin Features:
- New Player Profile and Popup
Update
- New Club Page
- Tactic Screen with Player Faces
- 3D-Match Screen Update
- Teamtalk with Player Faces
- Instant Result Button
- Extended weekly processing
- Position colours changed in the tactics screen
- Scouting Card with more informations
NEW
- More improvements will follow...
Bugfixes
- Fitness status during the 3D match is now displayed correctly
NEW
- Pass maps during the 3D match are now displayed correctly
NEW
- Foot strength in the player profile is now displayed in the correct colours
NEW
Known Bugs
- None are currently known
Please note that the skin requires a minimum resolution of 1920x1080 to be displayed correctly. I will work on covering all resolutions, but this will take time.
FM.Zweierkette Skin Preview
How to use the FMZ-Skin on FM24
1. Move the downloaded .fmf file to your skins folders, by default located at:
> Documents > Sports Interactive > Football Manager 2024 > skins >
2. Go to preferences in-game, select the skin and hit Confirm.
Feedback and bug reports are welcome, so feel free to write me if you notice any bugs.
Donation