Hi and welcome to my list of great Football Manager 2019 content you should either install or read.
I realize you might not agree with all of my picks, and that's fine. Even though I'm making an effort to avoid any biased picks, it's impossible not to include certain things I really like that may be controversial to some. So please, take my word with a pinch of salt and do some research of your own before choosing a specific addon to download.
And now, without further ado, let's get to it

#1 Essential Hack / Addon
Football Manager 2019 Real Names License Fix
Fix fake name of competitions, clubs and awards with their real names in Football Manager 2019.
---
Best Logo Packs
FM 2019 Standard Logo Pack
Largest logos megapack with over 44,000 club and competition badges in original state (no effects).
Footbe Logos 2018-19
Most unique, uniform & great looking logo style ever. A small pack but with all the top leagues covered.

All FM19 Logo Packs
---
Best Facepacks
FM 2019 Scope Facepack
Over 109,300 faces of players, staff and refs for all playable leagues in the classy scope style.
DF11 Faces 2018-2019
Over 110,000 DF11 style faces in large size, covering 78 leagues.

All FM2019 Facepacks
---
Best Kit Styles
SS English Leagues Kits 2018/19
Real kits of English clubs from all playable leagues for the 2018-19 season in SS style.
3D English Leagues Kits 2018/19
Real kits of English clubs for the 2018-19 season for the 3D match viewer.
FC12 Premier League Kits 2018/19
Real kits of England Premier League clubs for the 2018/19 season in FC'12 style.

All Kit Packs 2018-19
---
Misc Graphics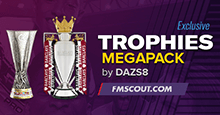 Trophies Megapack 2019
More than 1000 real trophies to add in Football Manager 2019 with this pack by DazS8.
---
Huge Time Savers
Jamie's FM 2019 Search Filters
A collection of filters for all player & staff roles to save you time when searching for your next transfer targets in FM 2019.
Jamie's FM 2019 Custom Views
A collection of views for 4 different areas in FM 2019, including squad, fixtures, scouting & staff search.
---
Database Insights
Football Manager 2019 Wonderkids
The ultimate guide to discovering all Football Manager 2019 wonderkids with personal recommendation ratings.
Football Manager 2019 Top Bargains
Top quality players you can get for a relatively cheap price in FM19 on the first summer transfer window.
FM 2019 Best Free Transfers
Top 350 most notable free agents when starting Football Manager 2019.
FM19 PA -85 -9 -95 -10
The full list of young talents with the highest negative potential ability in FM 2019.
Clubs Starting Budgets
Initial transfer and wage budgets for a dozen of popular leagues.
---
Best Tools
FMS Editor 19
Fully-featured real-time editor with a scouting edge for Football Manager 2019.
FM Genie Scout 19g
Extend the possibilities of finding, sorting & shortlisting players & staff on Football Manager 2019.
MacAssistant RT19
Fully featured real-time scout utility and editor for Football Manager 2019 and Mac.