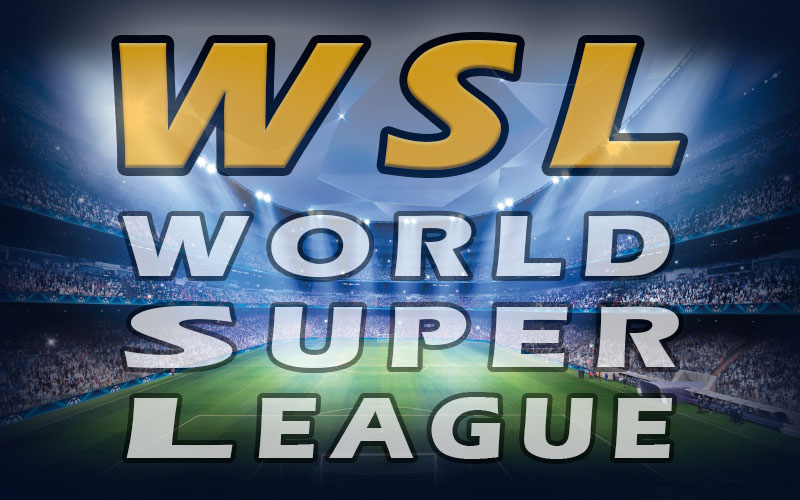 Introducing the new Ultimate Edition (2nd version released on 26 April 2021)
Please read below for details on the new version.
Introduction
Welcome to the World Super League (WSL) for FM21, the most downloaded and highly acclaimed Super League mod of the last 4 years (with over 50,000 downloads and subscriptions).
WSL is a total conversion 'Super League' where over 1000 clubs from 73 countries have all come together to play in England.
If you find the base game too easy, or you just want a new challenge, then this it the ultimate test of your management and tactical skills.
This is also one of the highest quality and most advanced Super League mods available; written by a software developer with many years experience; (
ESL17
,
WSL18
,
WSL19
,
WSL20
,
WSL20 XE
) and
WSL FM21
), this is the largest and most ambitious version yet.
This mod features high quality custom leagues, cups, rules, awards and custom graphics (custom made logos and backgrounds). Over 800 clubs from around the world are included, as well as all 160 playable clubs from England and more. 140 clubs compete in a the UEFA Champion League and over 300 clubs compete in the UEFA Europa League; as well as many other leagues, cups, reserve and youth cups etc.
It's a true labour of love that takes several weeks to complete, but provides me with some of the most memorable moments of my life.
Not only do I create this mod every year for others to enjoy, but I also play it myself; last year I played the WSL for over 3,300 hours.
---
League Structure
Overall the league structure is designed to provide the maximum challenge for clubs in the Premier League.
Unlike normal leagues and other super leagues, the WSL league structure is "wider" and not "deeper". There are a few reasons for this:
You can climb the ladder a lot faster.
There is a lot of competition to get into the Premier League, it's very difficult but also very rewarding.
The Premier League clubs can send players on loan to good quality clubs below them
The top 2 tiers (PL + SL1) feature 140 clubs, that include the best clubs in the world, which are all "Premier League Quality" clubs; and they all play in a custom (but familiar) UEFA Champions League.
This structure is based on the WSL Extreme Edition for FM20 from last year which worked very well for me, but with the addition of 96 new clubs.
Premier League - 20 clubs
Super League 1 - 6 Divisions - 120 clubs
Super League 2 - 12 Divisions - 288 clubs
Super League 3 - 8 Divisions - 192 clubs
Super League 4 - 8 Divisions - 192 clubs
Super League 5 - 4 Divisions - 96 clubs
Super League 6 - 4 Divisions - 96 clubs
UEFA Leagues & FA Cups
UEFA Champions League - 140 clubs
UEFA Europa League - 288 clubs
UEFA Europa League 2 - 384 clubs
FA Cup - All 1004 clubs
Super League Cup - 140 clubs
Super League 2 Cup - 288 clubs
Super League 3 Cup - 192 clubs
Super League 4 Cup - 192 clubs
Super League 5 Cup - 96 clubs
Super League 6 Cup - 96 clubs
TV Money
Money received by all clubs in the league.
| | |
| --- | --- |
| Premier League | 96,531,070 (£) |
| Super League 1 | 57,918,642 (£) |
| Super League 2 | 23,167,457 (£) |
| Super League 3 | 6,950,237 (£) |
| Super League 4 | 1,390,047 (£) |
| Super League 5 | 278,009 (£) |
| Super League 6 | 55,602 (£) |
League Winners
| | |
| --- | --- |
| Premier League | 98,654,182 (£) |
| Super League 1 | 61,273,582 (£) |
| Super League 2 | 44,695,932 (£) |
| Super League 3 | 13,408,780 (£) |
| Super League 4 | 3,352,195 (£) |
| Super League 5 | 670,439 (£) |
| Super League 6 | 134,088 (£) |
Cup Winners
| | | |
| --- | --- | --- |
| | Winner | 2nd Place |
| UEFA Champions League | 30,737,332 (£) | 21,516,132 (£) |
| UEFA Europa League | 9,221,200 (£) | 6,454,840 (£) |
| UEFA Europa League 2 | 2,200,000 (£) | 1,600,000 (£) |
| FA Cup | 27,427,457 (£) | 8,815,968 (£) |
| Super League Cup | 5,600,000 (£) | 4,800,000 (£) |
| Super League 2 Cup | 3,600,000 (£) | 2,800,000 (£) |
| Super League 3 Cup | 2,600,000 (£) | 2,200,000 (£) |
| Super League 4 Cup | 1,600,000 (£) | 1,360,000 (£) |
| Super League 5 Cup | 600,000 (£) | 510,000 (£) |
| Super League 6 Cup | 180,000 (£) | 150,000 (£) |
In the lower leagues, winning a "Super League 6 Cup" round will give you a huge financial boost. And winning the Super League 6 Cup is more valuable than winning the league. But the league cups value starts to decrease as you progress higher up the leagues. In higher leagues the Europa and Champions League money is much higher than the league cups.
There are many other bonuses, for example, getting into the UEFA Champions League group stage gets you 20,000,000 (£). There are other round bonuses, and every league position in all leagues has some value.
Clubs in the Premier League should get around £200M ~ £300M, for league, cup and TV bonuses. But this is offset by higher transfer fees (if you include the transfer fee addon), as I've seen Harry Kane being sold for over £200M.
---
Features
1004 clubs. (96 new clubs)
73 countries.
7 tier league structure.
400+ Awards.
32,000 DB Changes.
League structure with regional leagues and groups.
The top 800 clubs in the world are included.
All 160+ playable clubs from England are included.
All clubs play in England.
No Brexit, and no work permits.
No changes to the default international competitions.
All clubs keep their 'based nation', so youth players will come from their original country.
Custom graphics; backgrounds, logos and trophies.
Used the editor in Advanced mode, using many advanced rules and features.
All clubs have a Reserve and U18 team with their own leagues and cups.
3 of 9 subs. (Changed from 3 of 7 subs)
5 of 9 subs in Super League Cup games.
28 player squads, up from 25 last year. Because there are more games.
League transfer windows between 9 June to 31 August and 1~31 January.
U21 players don't need to be registered.
All clubs play in one of the Super League Cups.
Top 140 clubs play in the UEFA Champions League.
Perfect schedules.
Travel grant money should provide some subsidy for clubs travelling from oversees.
Highest quality with lots of testing and balancing.
Created by a software developer with a very high attention to detail.
What's new?
From previous FM21 version:
Nothing has changed much except that it is made for the FM21.4 database
There is a new DB inside, called the "Ultimate Edition" which I've been working on for several months, which includes 1024 clubs and a 64 team Premier League. This has been a dream for a few years, to increase the teams in the Premier League and keep it competitive. This version is only available with a donation. The normal version is available for free. Please read more about it below.
From previous FM20 version:
Major changes:
New "Super League Cups" for all clubs and levels
Expanded the Europa League 2 and removed the Europa League 3 & 4
B-Teams and U19 are replaced by Reserve and U18 teams
Minor changes:
96 new clubs (increased from 908 to 1004).
Improve the depth and quality of the league structure
Rebalance income and prize money.
League depth has increased from 6 levels to 7 levels.
Removed the Europa Leagues from the lower divisions.
New Super League Cups
The main differences from the FM20 version is that I've removed the lower "Europa Leagues", and replaced them with "Super League Cup".
My feeling is that the "Europa Leagues" for lower division are not really necessary, because they usually just take time away from the league, which is the most important and they add a lot of processing.
The "Super League Cup" is much faster to process because it doesn't have a group stage, just a simple knockout.
The Champions League and Europa League remains for the higher divisions.
B-Teams & U19 teams replaced by Reserve and U18 teams
I noticed that the AI didn't have many 19 year old players in the U19 squads. They were just filled with mostly U18 players.
So I want to try and see what the difference will be if I switch to U18 teams instead.
The B-Team to Reserve team switch is mainly because the Editor has some limitations with the "simple reserve team" rules and B-Teams.
The Reserve team system doesn't have a promotion/relegation, they are just based on the 1st team's league.
When I started a new game, it was fun and interesting to also manage the B-Teams, but eventually it becomes too much effort to manage both teams properly.
I might go back to B-Teams with promotion/relegation in the next version.
---
What's next?
Next version?
I might create an expanded version with maybe 100 or 200 more clubs, but this will also be available for people that donate. Because it will take me even more time.
---
Optional Rebalance "addon" Files included
Due to popular demand, I've separated some of the changes I usually make, into small "addon" files, included in the download.
When creating your new game, you will need to add / select these in addition to the core file.
I personally play with all these addons enabled.
Some of these are highly recommended, because some of the ratings of the base game are only balanced between clubs in their country / league, and they are not balanced globally, so they don't translate well in the context of a Super League. Some of them are controversial, like the Nation Youth Ratings and Youth Recruitment files, which together should increase the number of wonderkids created. I personally enjoy having a lot of wonderkids, because the league structure, the number of clubs and all the prize money available still makes it very challenging to sign them because there is a lot of competition between the clubs.
Rebalance Nation Youth Ratings
Rebalances all the nations Youth Ratings, based on a sliding scale derived from the nations average position in the official FIFA World Rankings.
You are welcome to test/simulate the game to determine the effect this has on the overall youth production and distribution.
Rebalance Transfer Values
Because there is more money for the top clubs in the game world, there is also higher demand for top class players.
This increased demand pushes up the global transfer value of the elite players.
171-180 - 70,000,000 (£) -> 80,000,000 (£)
181-190 - 80,000,000 (£) -> 105,000,000 (£)
191-200 - 90,000,000 (£) -> 140,000,000 (£)
AI Managers Boost
12 managers get a minor boost to their stats, including Jurgen Klopp and Pep Guardiola. This is just a minor boost, to make them a little more competitive.
The scenario is actually very difficult for AI Managers, as even the slightest slip up and they get sacked. It's just a few tweeks, usually about 5 changes.
Boost Training Facilities
This gives a boost to most of the training facilities of the other clubs. I just don't understand how Club Brugge and Benfica have level 20 training facilities, but Real Madrid and Barcelona have level 18. The issue is that the AI managers will almost never upgrade their facilities. So it's a bit unfair when you can take a lower league club, and have world class facilities better than Real Madrid and Barcelona within a few years. I would prefer to be on equal terms with those clubs. This update just gives the AI managers and clubs a better chance to develop players.
Boost Youth Recruitment to 20
This is one of the most controvertial updates I usually include.
It will max-out the Youth Recruitment of almost all clubs. There are HUGE imbalances in the base game with-regards-to Youth Recruitment between the countries. Each country's clubs are just balanced between the clubs in that country and not globally (I think each country has editors that have different opinions and ideas). It's a huge issue when you create a super league, because now all the clubs compete together, and they have not been properly balanced against each other. And, because I like to have a lot of "wonderkids" in my game, if you don't like that, then just don't include this file when you start a new save!
For example, Beşiktaş and Galatasaray have a Youth Recruitment of 6 and 8 respectively. These are the top 2 clubs in Turkey with a reputation over 7000.
Then you have 155 clubs with a 20 Youth Rating in the base game, some of those clubs I've never even heard of. Only 6 clubs of the 155 clubs have a reputation better than Beşiktaş and Galatasaray. 97 of those clubs have a reputation below 4000, which is League Two level. If you look at how the clubs in Turkey have been rated, they are completely under-rated and imbalanced.
Because there are other factors involved when generating Youth players, I just prefer to set this to 20 for all the clubs over 4000 reputation.
Here is a table to show the difference in the number of youth players generated in the first year.
| Rating | Default game | With my addons |
| --- | --- | --- |
| PA > 190 | 2 | 4 |
| PA > 180 | 7 | 33 |
| PA > 170 | 29 | 71 |
| PA > 160 | 70 | 137 |
| PA > 150 | 185 | 327 |
Please note that these numbers
decrease
significantly the following year. (There are a lot of newgens created in the first year, but this number decreases significantly with time).
Also take into account how many clubs there are. There are A LOT more clubs than your typical game, and a lot more competition for young talent.
And just because the game generates a high PA player, doesn't mean that player will be any good.
For instance, the default game generated a full-back player with 199 PA, but he had high injury rate, low concentration, low consistency and very slow.
I would rather have more wonderkids generated, so some of them might actually be good. A high PA doesn't mean the player will actually be any good!
What most people don't realize is that the way that "humans" manually optimize players (in the editor), is actually very different to how the game generates and trains newgen / regen players. For example, you could play the game for 1000 years, and you would NEVER create a player like Messi or Ronaldo. Their stats have been so heavily optimized, and carefully fine tuned, that the game itself will never be able to create a player like that, even if you had a million players with 200 PA and 200 CA, the game's player generation algorithm and the way it trains players just cannot create another Messi or Ronaldo.
There are some stats that just don't develop properly. So I would rather have a larger pool of players, so that a few of them actually generate a player worth buying.
---
Please check this page regularly for any further updates!
---
Countries & Clubs Included
---
The Ultimate Edition v2
This is a very special edition of the WSL which is only available for a small $10/€10 donation.
The Ultimate Edition includes a new 1040 team league structure with 80 clubs in the Premier League (4x "Premier Leagues"); and a new and extremely difficult Champions League. The structure of the league will feel similar to the real Premier League, but it will also be more challanging, and more fun, especially for long term saves.
This league structure has been on my mind for many years. To increase the total number of clubs in the Premier League and keep it extremely competitive at the same time.
The Premier League clubs are divided into 4 groups of 20 clubs each (similar to the real Premier League). The clubs in each group are randomly generated and re-balanced each season, so there is a fresh / new set of league clubs to play every season. But don't worry about this too much, the structure of the Premier League is very similar, and the way the Champions League works will also feel very familar to you.
Each "group" of 20 Premier League clubs has their own "Premier League Champion", the 4x Premier League champions will play each other at the end of the season to determine the "real" / ultimate / final champion.
What makes this challenge really special is that I found in previous versions that some of the best clubs in the world were getting relegated from the Premier League. I've seen almost every Premier League level club getting relegated, which is not fun when you see clubs like PSG, Chelsea, Arsenal, Man United, Barcelona or Real Madrid getting relegated, because then the Premier League is weaker. And it causes some economic imbalance in the game as well.
There are at least 30 or 40 "elite" level clubs in the world. Probably 12~15 of those clubs are from England. There are a lot of issues if you limit yourself to only 20 clubs in the Premier League (like the original) for such a huge World Super League structure.
That's why having the top 80 clubs in the world at the highest level in a bigger Premier League structure, is much more fun, rewarding, balanced and more competitive.
By increasing the number of clubs in the Premier League, there is less chance that a "big club" will be relegated, and it also increases the stability and overall competitive strength of the Premier League clubs, and there is also stronger competition in the Champions League.
Another problem with only having 20 clubs in the Premier League; in a Super League structure is that the managers get fired too often, because they are all expected to WIN the Premier League which is impossible. You can't have 20 winners, so now you will usually have 5~10 really strong clubs in your group, but it's more stable, and you will play the other clubs in the Champions League, Europa League, FA Cups and Super League cups anyway. So this version makes the manager jobs more stable, so they can develop good relationships with players in their clubs.
There are also significant changes to the Champions League and Europa League structure to increase the overall competitive strength, to make the Champions League even more difficult and challenging. This is also the first time in the WSL that clubs in the Premier League also need to "qualify" for the Champions League, by finishing in the top 8 positions. This creates a Champions League group stage of 32 clubs, which is much smaller than before, but it's also much more difficult and challenging. I've seen ALL major clubs finish at the bottom of their group stage because the group stage is so difficult.
Another change to this version, is that there are now 12 divisions in the Super League 1 level, just below the Premier League. Only the winners of the Super League 1 division gets into the Premier League. One of the main reasons to increase the number of divisions at this level, was to provide the Premier League clubs with a lot more options to send young players on loan, and increase the overall quality of players at the highest levels. I also think it will be very rewarding once you finally get into the Premier League. So there are 80 clubs in the top level (Premier League), and 288 clubs at the Super League 1 level, just below the Premier League. So 288 clubs that want to join the Premier League, make it very challenging.
I have worked on this version for many months, leading up to the January update. This is the second version of the Ultimate Edition which took over 1 month to create and test since the first version. I wanted to improve many things and I had many new ideas. This is the best version I've ever created.
I wanted to do something like this for a long time, but I never had a good idea about how to implement it correctly; until now. This is also the version that I will play personally. Because I think it will be an extremely good and competitive challenge.
This version is only available with a $10 / €10 or equivalent PayPal donation.
Due to the fact that I literally spend hundreds of hours on this mod, and I didn't get any donations for the original FM21 version, I wanted to create an incentive and bonus to those that donate, and create something special.
Make a donation with a reference, then send me a PM and I will send you the password to unlock the Ultimate Edition file.

Here are the 80 clubs that start in the Premier League of the Ultimate Edition.
Please note that the clubs could start in random groups.
And the groups randomly re-order and re-balance each season, so you will have fresh teams and fresh challenges every season in the Premier League.
You can see how hard the league is, because PSG had the same points as Man City but only lost the league on Goal Difference, and the difference between the top club and 2nd place was always less than 5 points. These leagues are extremely challenging, but amazing fun.
The top 8 clubs in each group qualify for the Champions League for the next season.
The next 8 clubs in each group qualify for the Europa League for the next season.
Some clubs from the Champions League will also drop down into the Europa League, so you can still have Barcelona or PSG winning it.
At the end of each season, the top 4 Premier League champions play each other to become the ultimate Premier League champion.
You can actually see how hard this is, because only Athletic Madrid actually won a match.
Custom Changes
With your donation, I can also make small custom changes to the Ultimate Edition for you if you want, like change the subs rules, or add a different club into the structure for you.
Just send me a private message with your donation, and instructions about what you want to add/change, and I'll send you a custom .fmf file.
Please don't ask me to add 1000 more clubs, just small simple changes, like rule changes or adding a single club for you to play.
---
Credits
I would like to credit the following graphics packs:
Recommended & Compatible mods
---
How to Install WSL FM21
---
Donations
This mod was made possible by those that donated to last years version.
Thank you to everyone that donated, your kindness and generosity made this possible. (Nobody actually donated to my last version!)
So now, when you make a $10/€10 (or more) donation, I will send you the password to unlock the special Ultimate Edition, which includes a special 80 team Premier League which took many months to make perfect.
Please leave a reference in the donation and send me a direct/private message, and I will send you the password!
Please give me at least 24 hours to send your password. I usually send them within 2 or 3 hours if I'm not too busy.
https://www.paypal.me/therselman
Final thoughts
This mod has taken hundreds of hours of my free time, so I really hope you appreciate the effort and my attention to detail!
Please leave a comment if you enjoyed it! I like seeing feedback, it motivates me to keep doing this!
Please remember to visit this page regularly over the next few weeks to see if there are any updates; and please leave a comment if you enjoyed the mod, and also if you found any issues.
Good luck, I hope you enjoy the challenge and may the football gods be with you on your journey to world domination!