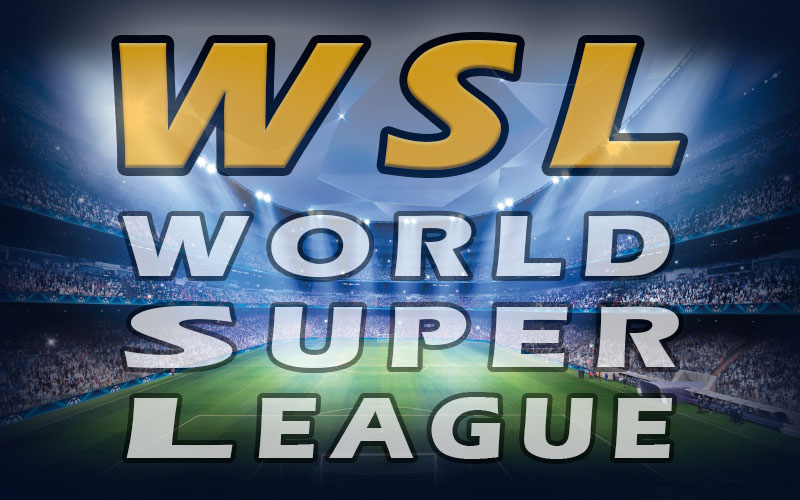 I've created a Discord channel for the WSL.
https://discord.gg/HFTdeVpP
Introduction
Welcome to the World Super League (WSL) for FM23! The most downloaded, most highly anticipated and acclaimed Super League mod in FM history.
WSL is a total conversion 'Super League' where the best clubs in the world all play together in England. The default league system in England is completely replaced with custom leagues and cups; featuring modified versions of the Premier League, FA Cup, UEFA Champions League, Europa League etc., as well as several other youth and league cups. All 164 playable clubs from the original English league are still included.
There are two "editions" of the WSL; a free "Public Edition" and the "Ultimate Edition". For the first time ever, the "Public Edition" is a modified and stripped down (but fully playable) version of the "Ultimate Edition". The Public Edition features 1,088 clubs, but doesn't include all the advanced features of the Ultimate Edition; such as an advanced Youth (U19) and B League system including U19 and U23 cups, additional playoff places for promotion to the Premier League, extra addons, additional TV money, travel subsidies for lower league clubs etc. Even without these features, the "Public Edition" is probably still the best free super league mod available because of all the other features it has!
There are two versions of the Ultimate Edition this year, a Premier League with 32 clubs (32 club PL) and a Premier League with 48 clubs (48 club PL).
The difference is not only in the number of clubs in the Premier League, the 32 club PL has 1,088 clubs in total, and the 48 club PL has 1,152. They also feature a slightly different, but mostly similar league structure. There is also a difference in the way the Premier League works between them. The 32 club PL has ALL clubs in the same group, but the 48 club PL has 2 groups of 24 clubs each.
Every year, I try to make the WSL more challenging in any way I possibly can; and this year is no exception. I have no doubt that even the most hard-core fans will find this years version, fair, but also the most exhilarating challenge you've ever had playing FM! With a totally new and unique 32 club Premier League, I'm sure you'll find the 40 matches required to win it; fair and fun, but also extremely demanding! Or choose to play the 48 club PL, there the last 15 matches of the season will be against only the best of the best clubs in the world!
This year I believe I've trully created something special and unique for you (and me)! So it doesn't matter if you've played the base game to death, or any other mods including any previous versions of the WSL; because this year's version will stand alone as probably the greatest FM mod you've ever played! Because you've never really played anything like this before!
So if you find the base game too easy, or you just want a new challenge, then this is the ultimate test of your management and tactical skills.
Featuring high quality custom leagues, cups, rules, awards and many custom designed league and cup logos with backgrounds; all adding to the immersion factor.
Written by a software developer with many years of experience and a very high attention to detail, this is one of the highest quality and most advanced FM mods available of any kind!
Previous versions in this series include: (
ESL17
,
WSL18
,
WSL19
,
WSL20
,
WSL20 XE
,
WSL FM21
,
WSL FM21.4
) and
WSL FM22
.
Goals for this year
This mod is a true labour of love for me. I don't just create this mod for others to play; I actually create it for my own enjoyment. I do this because I personally don't find the base game enjoyable or challenging at all. If I spend around 2,000 hours of my life every year on a game, I want to have a "world dominating" experience! I want to know that when I've finished it, I've conquered the most difficult challenges I could imagine; by beating ALL the best clubs in the world and win the most demanding competitions the game has to offer! So this mod is my attempt at creating a much more fun challenge for myself and it's the only thing I personally enjoy playing on FM. I literally buy FM every year, just to create this mod and then spend about 2,000 hours playing it myself! So because I spend so much time editing and perfecting the mod before I play it, I thought others would enjoy the time and effort I put into it as well; so a few years ago I started distributing it online for others to enjoy with me. In fact, I actually spend 2x~3x more time creating this mod than I spend playing it.
Previous versions of this mod have given me some of the most enjoyable and memorable moments of my life, and last year was no exception!
I spent about 2,000 hours in the 64 club Ultimate Edition from last year, and it was honestly one of the best FM experiences I've ever had in my life!
And even though after 7 seasons I eventually won everything I could possibly win, all 6 major titles in my final season; the Premier League, UEFA Champions League, FA Cup, Super League Cup, UEFA Super Cup and the FA Super Cup; ALL in the same season; it was honestly an experience I'll never forget. I had so many battles, challenges, injuries, extra time and penalty shootout wins, won awards, promotion on goal differences on the last day of the season. It was just an amazing exerperience for me.
There has honestly been nothing more rewarding for me in gaming than winning all this with a team of players that I scouted, bought and trained myself.
It was trully and honestly the most challenging and enjoyable experience I've ever had playing FM!
So this year, I wanted to at least keep what made last years edition so enjoyable for me, but also try to find ways to make that experience even more challenging, rewarding and as memorable if possible!
Two things stood out as goals for this year:
1) Add more clubs. Lets go big!
2) Make the Premier League harder if possible!
1. Adding more clubs
The first goal was simple, just add more clubs. However, it came at such a HUGE performance cost that after many days and weeks of running simulations, trying different strategies to improve performance, and much consideration, I ultimately decided that quality is still better than quantity!
With over 2,000 clubs, it took 30 minutes just to verify the database after any changes in the editor, and it took 14 hours to simulate just the first season with just 1,400 playable clubs. To give you a comparison, the first season with the current 1,088 clubs takes about 6 hours to simulate, which is less than half the time it was taking. Not only this, but every save file will be much bigger, and it only got MUCH worse after the first season. I think the game would be unplayable after a few seasons with such a large league size!
The processing time for such a large league was just not worth it. So I was forced back to around 1,000 clubs from last year.
2. A new Premier League format
For the second goal; my Ultimate Edition from last year with 64 clubs was extremely challenging; so don't get me wrong, but it had some areas that I could possibly improve!
1. With 64 clubs in the Premier League, you still play a lot of "lower tier" clubs, so can we try reduce that number?
2. Because the 64 clubs are divided into groups, you don't play all the clubs in the other groups.
3. So how do I reduce the number of PL clubs, to make it more challenging, but still competitive.
Why not use a 20 club Premier League?
The main problem with a 20 club PL in a Super League format, is "manager volatility". The clubs and managers are under so much pressure to win or place high in the table, that just a short run of bad results and they are sacked; and because the league is so small, you also have some very big clubs getting relegated. This creates a lot of volatility, and not enough stability in the Premier League which is needed so managers can produce their best results!
I've seen Pep get fired from Man City and Man United get relegated in the same first season with a 20 club PL.
Now this might sound great for some people, but I would like to be challenged and play against the best managers and biggest clubs in the game!
So how do we strike a balance between having enough clubs in the PL to be both challenging and rewarding? Not too many clubs so it feels "watered down", but not too few clubs that is creates too much volatility in the league.
The 32 club PL
A 32 club PL is the largest (reasonably) sized Premier League I can make with only 1 group of clubs. After 1 round of matches (31 matches), the clubs are split into 3 groups depending on their position. The top 10 clubs play the final 9 matches for the Premier League title. 40 matches in total.
You still play all the clubs in the PL at least once, and the league is much more stable compared to a 20 club (super) Premier League!
This will be a much harder challenge than last year's 64 club PL, because you play 2 extra matches in the season, and you are only playing the top 32 clubs instead of the top 64 clubs.
Summary
The 32 club PL solves many problems I wanted to address:
1) Keep ALL the Premier League clubs in 1 group, so they all play each other at least once.
2) Have more than 20 clubs, because 20 is too small for a super Premier League!
3) But don't have TOO many clubs in the Premier League, because that dilutes it.
4) Make it even more challenging than ever before!
So after literally months of testing, I settled on the 32 club PL, as a near perfect balance between having just enough clubs in the Premier League to provide some stability, but not too many clubs, only the best of the best clubs!
The 48 club PL
To be honest, the 48 club PL was actually originally going to be the version of the Ultimate Edition I released this year. However, at some point I switched to a 28 club PL (long story), then slightly increased that to 32 clubs, which became the main version I released and promoted at the beginning of release.
The "size" of the Premier League, is actually a very important consideration for me, not only for the sake of the Premier League, but also for various other reasons (FA Cup structure and schedule is the main factor).
The 32 club PL came along, and it seemed awesome. You get to play ALL the clubs in the Premier League, similar to the original/real 20 club PL, but it's expanded with 12 extra clubs. However, after a LOT of testing, it was still a lot more volatile than a 48 club PL. But MUCH better than a 20 club PL, but it was still very challenging for the AI managers and clubs, because they put too high expectations on the AI managers, so even the best managers still get sacked too regularly.
So literally days before release, I decided to convert the 32 club PL back to a 48 club PL and release both at the same time. I personally was also going to play the 32 club PL version as well. However, while testing more, literally hundreds of gigs of save games while simulating; I still noticed a LOT more manager volatility in the 32 club PL as compared to the 48 club PL.
So about 5 days after the original release, I decided to revert my attention back to the 48 club version; do a league expansion; because of various reasons, a 48 club PL allows a different league structure with 6 divisions in the Super League 1 level, which is the level below the Premier League; and add another 64 clubs.
Right now, I've released the 1.5 version with all these changes, and my current intention is to play the 48 club PL this year. Because I play a long term save from the bottom of the league, there is only really enough free time for me to play one long term save each year.
What's new?
Public Edition
A new Premier League with 32 clubs.
1,088 clubs in total.
The same league structure as the 32 club PL Ultimate Edition.
Some of the advanced rules from the Ultimate Edition have been removed or replaced.
Ultimate Edition
Choose between either a Premier League with 32 clubs or 48 clubs.
The 32 club PL has 1,088 clubs and the 48 club PL has 1,152 clubs.
New overall league structure, but should still feel familiar.
3 new addons - +20 CA to all players; +20 CA/PA to all staff.
Revamped B Leagues and U19 League systems
FM24 Compatible (best effort)
| | | |
| --- | --- | --- |
| Ultimate Edition version | 32 club PL | 48 club PL |
| Premier League size: | 32 | 48 |
| Total clubs | 1,088 | 1,152 |
| Round 1 groups | 1 | 2 |
| Round 2 groups | 3 (10+10+12 clubs) | 3 (3x 16 clubs) |
| First round of matches | 31 | 23 |
| Second round of matches | 9 | 15 |
| Total matches | 40 | 38 |
| End of 1st round | 31 March | 31 January |
32 club PL
Pros:
You play ALL the clubs in the Premier League at least once.
ALL clubs are in 1 group.
Cons:
Still slightly more challenging for AI managers. But much better than a 20 club PL. But the 48 club PL is a bit more stable for AI managers.
You only play 9 matches against the top 10 clubs. But it's still going to be extremely challenging!
48 club PL
Pros:
A bit easier for top AI managers. So less AI manager sackings.
You play 15 matches against the top 16 teams instead of 9 matches in the 32 club PL version.
Cons:
Clubs are not all in 1 group (like the 32 club version), there are 2 groups of 24 clubs, so there are 16 clubs in the PL you won't play against.
---
League Structure
32 club PL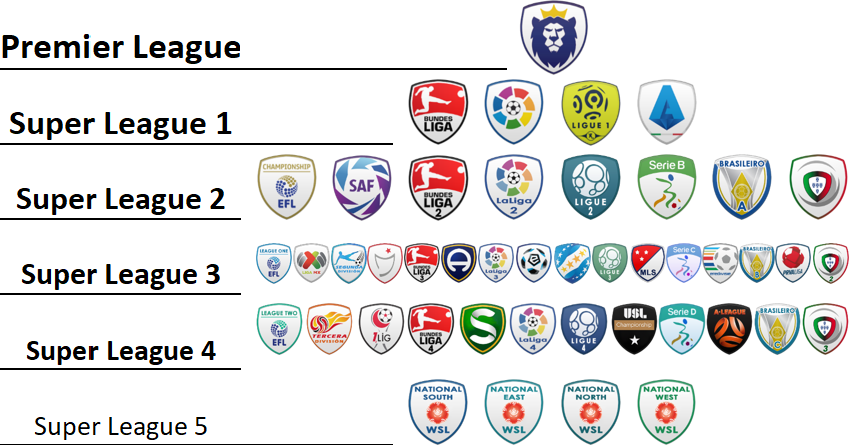 48 club PL
| | | | |
| --- | --- | --- | --- |
| | Public Edition | Ultimate | Edition |
| Premier League | 32 | 32 | 48 |
| Super League 1 | 96 | 96 | 144 |
| Super League 2 | 192 | 192 | 288 |
| Super League 3 | 384 | 384 | 384 |
| Super League 4 | 288 | 288 | 192 |
| Super League 5 | 96 | 96 | 96 |
| Total clubs | 1,088 | 1,088 | 1,152 |
| | | | |
| FA Cup | * | * | * |
| UEFA Champions League | * | * | * |
| UEFA Europa League | * | * | * |
| UEFA Conference League | | * | * |
| Super League Cups | 2 | 5 | 5 |
| Reserve Leagues | basic | advanced | advanced |
| Youth Leagues | basic | advanced | advanced |
| Reserve Cups | | * | * |
| Youth Cups | | * | * |
| Youth migration & cleanup * | | * | * |
| Addons | | * | * |
| Travel grant money * | | * | * |
* Youth migration is where I spend a lot of time each year moving youth playing and staff from their B teams in their local region, over to their parent club and into the Youth system in the WSL. The "Public Edition" doesn't include this very time consuming work. So clubs like Real Madrid still have their Castille team playing in Spain. Real Madrid in the Ultimate Edition has a B Team playing in the new WSL League system and cups. There are NO other mods that feature this very time consuming work of migrating staff and players from all their youth and reserve teams into their super league!
* Travel grants is money for travelling. This helps lower league clubs playing clubs in other continents.
Main cup:
FA Cup
League Cups:
Super League Cup (128 Premier League + Super League 1 teams)
Super League 2 Cup
Super League 3 Cup
Super League 4 Cup
Super League 5 Cup
"UEFA" style continental competitions:
UEFA Champions League
UEFA Europa League
UEFA Conference League
Youth leagues (Ultimate Edition only):
Premier League 2
B League 1~7
U19 Premier League
U19 Division 1~7
FA U23 Cup
FA U19 Cup
UEFA Youth League
Super Cups:
FA Super Cup
UEFA Super Cup
Description:
All clubs play in England, no brexit and no work permits.
All 164 playable clubs from England are included.
5 of 12 subs. 35 registered players.
There are 6 division levels in total from bottom of the league (SL5) to the Premier League (PL).
There is an FA Cup played by ALL teams.
There are "Super League Cups" which is a "league cup" specific to each division level.
The main "Super League Cup" is played by the top 2 tiers, the Premier League and Super League 1 level clubs.
ALL International competitions remain the same, FIFA World Cup, European Championship etc. No changes to them. To remove the FIFA 22 World Cup, there are other mods online I recommend!
The UEFA Champions League, Europa League and Conference League are completely new custom competitions played by any team in the top tiers of the WSL, regardless of what continent they come from.
---
TV Money
Money received by all clubs in the league (TV Money).
| | |
| --- | --- |
| Premier League | 80,422,558 (£) |
| Super League 1 | 30,560,572 (£) |
| Super League 2 | 10,084,989 (£) |
| Super League 3 | 2,521,247 (£) |
| Super League 4 | 504,249 (£) |
| Super League 5 | 40,340 (£) |
League Winners
| | |
| --- | --- |
| Premier League | 150,638,904 (£) |
| Super League 1 | 50,212,968 (£) |
| Super League 2 | 20,772,343 (£) |
| Super League 3 | 6,205,175 (£) |
| Super League 4 | 1,191,274 (£) |
| Super League 5 | 228,702 (£) |
Cup Winners
| | | |
| --- | --- | --- |
| | Winner | 2nd Place |
| UEFA Champions League | 17,000,000 (£) | 13,500,000 (£) |
| UEFA Europa League | 8,600,000 (£) | 4,600,000 (£) |
| UEFA Conference League | 5,000,000 (£) | 3,000,000 (£) |
| FA Cup | 12,000,000 (£) | 8,400,000 (£) |
| Super League Cup | 8,000,000 (£) | 6,000,000 (£) |
| Super League 2 Cup | 4,800,000 (£) | 3,600,000 (£) |
| Super League 3 Cup | 1,920,000 (£) | 1,440,000 (£) |
| Super League 4 Cup | 576,000 (£) | 432,000 (£) |
| Super League 5 Cup | 172,800 (£) | 129,600 (£) |
---
Features
Choose between a 32 club PL with 1,088 clubs, or 48 club PL with 1,152 clubs (Ultimate Edition only).
A free Public Edition or full featured Ultimate Edition
68,270 players.
77 countries.
6 tier league structure.
Over 1,100 Awards.
The top +800 clubs in the world are included.
All clubs play in England.
No Brexit and no work permits.
No changes to the default international competitions.
All clubs keep their 'based nation', so youth players will come from their original country.
Custom graphics; backgrounds, logos, awards and trophies.
Used the editor in Advanced mode, using many advanced rules and features.
All clubs have a B team and U19 team with their own leagues and cups.
5-of-12 subs.
35 player squads.
U21 players don't need to be registered.
League transfer windows between 9 June to 31 August and 1~31 January.
All clubs play in one of the Super League Cups.
Top 32 clubs play in the UEFA Champions League.
Perfect league schedules.
Travel grant money should provide some subsidy for clubs travelling from oversees (Ultimate Edition).
Highest quality with lots of testing and balancing.
Created by a software developer with a very high attention to detail.
---
Optional "addon" files included in the Ultimate Edition
As with last years edition, I've separated some of the changes I usually make into small "addon" files, included in the Ultimate Edition.
When creating your new game, you will need to add / select these in addition to the core file.
I personally play with all these addons enabled.
Some of these are highly recommended, because some of the ratings of the base game are only balanced between clubs in their country / league, and they are not balanced globally, so they don't translate well in the context of a Super League. Some of them are very subjective, like the Nation Youth Ratings and Youth Recruitment files, which together should increase the overall quality of newgens created. I personally enjoy having a lot of wonderkids or high quality newgens to choose from, because the league structure and number of clubs in the mod with all the prize money available still makes it very challenging to sign them because there is a lot of competition from other clubs.
Boost all players PA by +20
This is probably my favorite addon. I like to play games with a lot of "wonderkids". This just makes the game a lot more fun for me. Also, because clubs generally get much higher income, they can afford players that are 2 levels higher in terms of transfer fees. Obviously, this doesn't really affect "older" players that much, because "older" players don't tend to actually increase in CA (Current Ability) up to the level of their PA (Potential Ability). This change just affects their PA (Potential Ability), NOT the Current Ability! This affects "younger" players the most, to allow them to reach higher levels. This change is also not really evident in the beginning of the game. It takes a few seasons to really kick in, when the younger generation gets older, like Mbappé, Haaland etc.
There are 16 notable players that get a 200 PA rating. They include Mbappé, Halland, Frenkie de Jong, Kai Havertz, Martin Ødegaard, Donnarumma, de Light, Adeyemi, Greenwood (?) (He might be taken out?), Yusuf Demir, Ilaix Moriba, Eduardo Camavinga, Jamal Musiala, Ansu Fati, Jude Bellingham and Youssoufa Moukoko.
Even if you think you might not like playing with a lot of wonderkids, I think you'll enjoy this. Just give it a try!
Boost all players CA by +20
NEW! This will increase the CA of every player in the world by +20. In general, +20 will usually only add +1 to a core stat. For example, a striker will get +1 to finishing. They won't get +1 to everything, just a few stats. I actually created this file for myself last year after I released the mod, and thought maybe others would enjoy it as well. +20 is really not as much as people think, but makes transfers and the overall game much better. This mod actually takes many hours to make, somewhere around 4~6 hours, and the PA +20 mod also takes 4~6 hours.
Boost all staff CA/PA by +20
Sames as for the players. Just increases all the staff CA/PA abilities by +20. Just gives you (and the world) a lot more skilled staff to choose from!
Rebalance Nation Youth Ratings
Rebalances all the nations Youth Ratings, based on a sliding scale derived from the nations average position in the official FIFA World Rankings.
You are welcome to test/simulate the game to determine the effect this has on the overall youth production and distribution.
I personally think that the total number of clubs in the game has a much bigger effect on the newgens generated than this change does.
But it's still a nice rebalance to have.
Rebalance Transfer Values
Because there is more money for the top clubs in the game world, there is also higher demand for top class players.
This increased demand pushes up the global transfer value of the elite players.
171-180 - 70,000,000 (£) -> 80,000,000 (£)
181-190 - 80,000,000 (£) -> 100,000,000 (£)
191-200 - 90,000,000 (£) -> 120,000,000 (£)
Rebalance Training Facilities
This is an attempt to rebalance the training facilities of all the clubs. I just don't understand how Club Brugge, Benfica, Sporting, Aston Villa, Burton Albion in League One have level 20 training facilities, no offense to those clubs, but Real Madrid has level 18, and Barcelona and Bayern have 19? The issue is that the AI managers will almost never upgrade their facilities. So it's a bit unfair when you can take a lower league club, and have world class facilities better than Real Madrid, Barca and Bayern within a few years. I would prefer to be on equal terms with those clubs. This update just gives the AI managers and clubs a better chance to develop players.
Rebalance Youth Recruitment
This is an attempt to rebalance the Youth Recruitment for all clubs of similar level and stature, to similar recruitment values. There are a lot of discrepancies with these values in the base game between all the leagues. It seems each league editor has a different idea about youth recruitment. This is just my attempt to rebalance them accross all the leagues and clubs. It's a huge issue when you create a super league, because now all the clubs compete together, and they have not been properly balanced against each other.
"Youth Recruitment" from my understanding, is used during the youth intake for clubs. I don't necessarily think it increases the youth players values, I think it acts like a "net" to see how far reaching the clubs appeal is, to attract good players from the nation. But I could be wrong on this. In general, you should see a small increase to the youth intake quality in the league.
Rebalance Youth Coaching (NEW) & Youth Facilities (NEW)
Just rebalances the Youth Coaching & Facilities of all the clubs. This might be one of the most significant things that affect newgen generation in the game.
Boost all clubs repuration by +1000 (NEW)
Basically just what it says, all the clubs have +1000 points added to their reputation. The top 4 clubs, Real Madrid (9150), Bayern (9100), Man City (9100) and Liverpool (9000) are set to 10,000 which is the maximum. Barcelona (8950) is now set to 9950 for example.
In general it gives some clubs a higher balance and transfer budget but I don't really know what other effects this has.
It might improve the quality of regens/newgens, but it's very difficult to determine.
---
Please check this page regularly for any further updates!
---
Countries & Clubs Included
Country
Clubs
Top Clubs
Albania

2

Tirana
Partizani
Algeria

3

ES Sétifienne
...
Andorra (NEW)

1

FC Andorra
Argentina

49

Boca Juniors
River Plate
Racing Club
Independiente
San Lorenzo
Club Atlético Lanús
Estudiantes
Rosario Central
Newell's Old Boys
...
Armenia (NEW)

1

Pyunik
Australia

11

Melbourne Victory
Sydney FC
Melbourne City
Western Sydney Wanderers
Austria

15

Red Bull Salzburg
LASK Linz
Rapid Wien
Austria Wien
...
Azerbaijan

3

Qarabag FK
Belarus (sanctioned)

-

Belgium

23

Club Brugge
RSC Anderlecht
Royal Antwerp
KRC Genk
Standard Liège
KAA Gent
...
Bolivia

5

Club Bolívar
The Strongest
...
Bosnia & Herzegovina

5

FK Sarajevo
Zrinjski Mostar
Željeznicar Sarajevo
Brazil

45

Flamengo
Palmeiras
Corinthians
Grêmio
Santos
Internacional
São Paulo
Athletico Paranaense
Atlético Mineiro
Botafogo
...
Bulgaria

8

Ludogorets Razgrad
CSKA-Sofia
Levski Sofia
Botev Plovdiv
...
Cameroon

1

Coton Sport
Canada

5

Toronto FC
CF Montréal
Vancouver Whitecaps
Chile

14

Colo-Colo
Universidad Católica
Universidad de Chile
...
China

5

Guangzhou
Shanghai Port
Beijing Guoan
...
Colombia

24

Atlético Nacional
Junior FC
Independiente Santa Fe
América de Cali
Millonarios
...
Costa Rica

3

Saprissa
Alajuelense
Croatia

11

Dinamo Zagreb
Hajduk Split
HNK Rijeka
NK Osijek
NK Lokomotiva Zagreb
Cyprus

8

APOEL
Apollon Limassol
AEK Larnacas
Czech Republic

14

Slavia Praha
Viktoria Plzen
Sparta Praha
...
Denmark

16

FC København
FC Midtjylland
Brøndby IF
Aalborg Boldspilklub
...
DR Congo

1

TP Mazembe
Ecuador

14

Liga de Quito
Club Sport Emelec
Barcelona SC
...
Egypt

10

Al-Ahly Sporting Club
Zamalek Sporting Club
Pyramids FC
...
England

173

Man City
Liverpool
Chelsea
Man Utd
Tottenham
Arsenal
Newcastle United
West Ham United
Aston Villa
Everton


All 162 playable clubs in England



Finland

5

HJK
SJK
France

48

Paris Saint-Germain (PSG)
Olympique Lyonnais (OL)
AS Monaco
Olympique Marseille (OM)
Lille OSC
Stade Rennais
OGC Nice
AS Saint-Étienne
Bordeaux
...
Germany

53

Bayern Munich
Borussia Dortmund
Schalke 04
Bayer Leverkusen
Borussia M'gladbach
VfL Wolfsburg
Eintracht Frankfurt
RB Leipzig
...
Ghana

3

Hearts of Oak
Asante Kotoko
Greece

13

PAOK
Olympiakos
AEK Athens
Panathinaikos
...
Guatemala (NEW)

1

CSD Municipal
Honduras

2

CD Olimpia
Hungary

14

Ferencvárosi Torna Club
Videoton FC
Újpest FC
Budapest Honvéd
...
Iceland

3

Valur Reykjavík
Knattspyrnudeild KR
India (NEW)

1

Iran (sanctioned)

-

Ireland

8

Dundalk FC
Cork City FC
Shamrock Rovers FC
Israel

7

Maccabi Tel Aviv
Hapoel Be'er Sheva
Maccabi Haifa
Beitar Jerusalem
...
Italy

57

Juventus
Inter Milan
AC Milan
Napoli
Roma
Lazio
Fiorentina
Atalanta
Torino
Sampdoria
Genoa
...
Ivory Coast (Côte d'Ivoire)

1

ASEC Mimosas
Japan

11

Yokohama F. Marinos
Kawasaki Frontale
Sanfrecce Hiroshima
Kashima Antlers
Urawa Red Diamonds
...
Kazakhstan

1

Futbol Klub Astana
Liechtenstein (NEW)

1

FC Vaduz
Mexico

20

Club América
Deportivo Guadalajara
Cruz Azul
Pumas de la UNAM
...
Morocco

7

Wydad Athletic Club
Raja Club Athletic
Netherlands (Holland)

27

AFC Ajax
PSV Eindhoven
Feyenoord Rotterdam
AZ Alkmaar
SBV Vitesse
FC Utrecht
sc Heerenveen
...
New Zealand (NEW)

1

Wellington Phoenix FC
Nigeria

2

Enyimba
Rivers United
Northern Ireland

8

Linfield FC
Norway

17

Rosenborg BK
Molde FK
SK Brann
...
Paraguay

8

Club Olimpia
Club Libertad
Club Cerro Porteño
...
Peru

15

Club Alianza Lima
Sporting Cristal
Universitario de Deportes
...
Poland

14

Legia Warszawa
Lech Poznan
Lechia Gdansk
...
Portugal

27

FC Porto
SL Benfica
Sporting CP
SC Braga
Vitória Sport Clube
Rio Ave
CS Marítimo
...
Qatar

6

Al-Duhail Sports Club
Al-Sadd Sports Club
Romania

10

Fotbal Club FCSB (Steaua Bucure?ti)
CFR Cluj
CS Craiova
Astra Giurgiu
...
Russia (sanctioned)

-

Saudi Arabia

7

Al-Hilal Saudi Football Club
Al-Ahli Saudi Sport Club
Al-Ittihad
Al-Nassr
...
Scotland

29

Celtic
Rangers
Aberdeen
Hearts
Hibernian
Motherwell
Kilmarnock
...
Serbia

5

Red Star Belgrade
FK Partizan
FK Vojvodina
...
Slovakia

6

Slovan Bratislava
MŠK Zilina
Dunajská Streda
...
Slovenia

4

NK Maribor
Olimpija Lublana
NK Domzale
South Africa

6

Mamelodi Sundowns
Orlando Pirates
Cape Town City
Kaizer Chiefs
...
South Korea

10

Jeonbuk Hyundai Motors
Ulsan Hyundai
FC Seoul
Daegu FC
...
Spain

55

Barcelona
Real Madrid
Atlético Madrid
Sevilla
Valencia
Athletic Club
Villarreal
Real Sociedad
...
Sweden

18

Malmö FF
AIK
Hammarby IF
Djurgårdens IF
...
Switzerland

14

FC Basel
Young Boys
FC de Sion
Zürich
Luzern
...
Tanzania (NEW)

1

Simba Sports Club
Thailand (NEW)

1

Buriram United
Tunisia

3

ES Tunis
ES Sahel
Club Africain
Turkey

14

Galatasaray
Besiktas
Fenerbahçe
Trabzonspor
...
U.A.E.

7

Shabab Al-Ahli
Al-Ain
Al-Jazira
U.S.A.

27

LA Galaxy
New York City
Seattle Sounders
LAFC
New York Red Bulls
...
Ukraine

4

Shakhtar
Dynamo Kyiv
Zorya
Vorskla
...
Uruguay

11

Nacional
Peñarol
Defensor Sporting
Danubio
...
Uzbekistan (NEW)

1

Paxtakor Toshkent
Venezuela (sanctioned)

-

Wales

4

Swansea
Cardiff
Newport County
Wrexham
Total

1,088
---
Ultimate Edition
This is the full version of the WSL which is only available for a small $10/€10 donation. This mod has taken me literally hundreds (maybe even thousands) of hours to create, test/simulate and rebalance. And I believe this small donation is well worth the effort and quality of my work. There is no other mod in the world like this! If you try and create something like this, then you will understand just how much work goes into it and how hard it really is to make.
---
Updates:
v1.1
An issue with loans was found by user nickrufc.
When you try to LOAN a player, it says "cannot loan this player in as doing so will break one or more of the loan rules. There is a limit of -1 loan transfers per season. (Currently 0)"
-1 in the editor is for NO LIMIT. And it's exactly the same rule I used last year. I honestly think this is a bug in the game, because it wasn't like this last year, and -1 is for NO limits! Anyways, this is just one of so many bugs and issues I've found in FM this year.
So I've set the loan rules to "100" which is the maximum value.
v1.2
Minor rebalance for 48 club PL league prize money. Does NOT appy to the 32 club PL (i.e. no changes to 32 club PL)!
v1.3 - 3 September 2023
MAJOR bugfix!
A game crashing bug was discovered by several players.
The "bug" was a setting in the Super League Cup - called "Odds Announcement Date" and set to 14 days.
This setting is actually used in several leagues and cups, like ALL the league divisions, and ALL UEFA competitions.
But for some reason, it was crashing the League Cups.
I confirmed that it was this setting in many ways, disabled it, test 3 times no crashes, enabled it crashed immediately.
The bug would crash the game on the 13 August (for most clubs), which is exactly 14 days before the Super League Cup starts on 27th August.
I removed the setting from all the league cups.
This bug was also the first bug I've ever seen where you HAD to be an active manager of the club, and click "Next day" on the 12th August to see it crash.
So the bug didn't show up in any testing that I did, both as an unemployed OR employed manager and running simulations; or by simply verifying the DB in the editor.
99% of bugs I've ever had were caught running simulations like this or just the editor verification process, but this is the first time where I literally had to be an active employed manager, and click "Next day" manually on a specific date. So it was always going to be impossible for me to detect during the normal simulations and testing I do.
Special thanks to all those guys that submitted feedback and helped to debug and diagnose the issue! You guys are incredible!
Sorry for any inconvenience caused!
v1.4 - 3 September 2023
MINOR bugfix!
This ONLY applies to the 48 club PL Ultimate Edition version. If you use the 32 club PL, this DOES NOT affect you!
I found a minor issue in the U19 Division 2, where I forgot to expand the division for the expanded 48 club PL.
So U19 Division 2 had a maximum of 64 clubs in 4 groups of 16, but should have been 80 clubs in 5 groups!
So, if you hit the Super League 1 level (Just under the Premier League), there is a small (11%) chance that your U19 club might not be playing in any U19 leagues!
It's an 11% chance because the total size of the top 3 U19 divisions is 144. So 16 / 144 = 11%.
This should mainly affect the 16 lower ranked Super League 1 clubs.
Again, this does NOT affect the 32 club PL version at all! It was introduced when the Premier League was expanded from 32 to 48 clubs!
v1.5 - 7 September 2023
MAJOR update!
Fixed the +20 PA addon, was not complete.
Minor graphics pack update.
32 club PL (both Public & Ultimate Edition)
Fixed award names for SL5 leagues and Super League Cups
48 club PL (Ultimate Edition only)
Fixed award names for SL5 leagues and Super League Cups
Updated league structure, added 2 divisions below the Premier League, total 6 divisions
Added 64 more clubs to fill the new league structure
Expanded the B Leagues and U19 Divisions for the new clubs.
Many other Cup and League changes to accomodate the changed structure.
48 club PL now has 1,152 total clubs compared to 1,088 in the 32 club PL version.
I will be running tests and doing final QA of the new 48 club PL league structure over the next few days.
This should be my last major update, as I will consider the leagues stable and ready for long term play (after further QA testing), unless I find something in QA testing.
So unless there are any other issues after testing the leagues over the next few days, I will begin playing my own long term save soon.
Please check the forums regularly for any further updates, as I might find something new during final QA testing!
v1.6 - 10 September 2023
semi-MAJOR update!
An issue was found by 'Fwied', where only 4 of the 6 Super League 1 second placed teams enter promotion/lelegation playoffs for the Premier League.
---
Credits
I would like to credit the following graphics packs:
Recommended & Compatible mods
---
How to Install WSL FM23
---
Donations
This mod was made possible by all those that donated money for the Ultimate Edition last year.
Thank you to everyone that donated, your kindness and generosity made this possible!
When you make a $10/€10 donation, please send me a message that you want the FM23 Ultimate Edition, please also include your PayPal name and I will send you the password to unlock the special Ultimate Edition zip file.
Please leave a reference and remember the message that you want the "FM23 Ultimate Edition" in the donation, then send me a direct/private message here on FM Scout that you've donated and you want the "FM23 Ultimate Edition" version!
Please give me at least 24 hours to send your password. I usually send them within 2 or 3 hours if I'm not too busy or sleeping.
Final thoughts
This mod has taken me hundreds of hours of my free time, so I really hope you appreciate the effort and my attention to detail!
Please leave a comment if you enjoyed it! I like seeing feedback, it motivates me to keep doing this!
Please remember to visit this page regularly over the next few weeks to see if there are any updates; and please leave a comment if you enjoyed the mod, and also if you found any issues!
Good luck, I hope you enjoy the challenge and may the football gods be with you on your journey to world domination!