Some of you must have noticed a certain trend in the tactics we have been published on FM Scout since last year.
I'm talking about tactic replications. Real life football tactics by real life football managers, converted to Football Manager tactics.
It's an aspect of the game I personally find intriguing, but it's not easy to create this type of tactics.
It requires deeper knowledge of real tactics and proper effort with research.
This is a selection of such tactics made for Football Manager 2021. Most of them are created by
Boroboy
and
RDF
. Thanks guys!
Now let's get to the list.
Real Football Tactics converted to Football Manager 2021 Tactics
Imanol Alguacil 4-1-4-1 R. Sociedad Tactics
RDF
Attractive football controlling possession and forward risky passes.
Ralph Hasenhüttl 4-4-2 Southampton Tactics
Boroboy
Progressive attacking football, relying on heavy pressing and quick chance creation.
Jurgen Klopp 4-3-3 LFC Tactics
RDF
Gegenpressing is still vital, but the pressing approach has become more proactive.
Roberto De Zerbi 4-2-3-1 Sassuolo Tactics
RDF
Adventurous football with a focus on passing and movement.
Nuno Espírito Santo 3-4-3 Wolves Tactics
RDF
The wing-backs are vital to the play. A counter attacking system.
Neil Warnock 3-1-4-2 Middlesbrough Tactics
Boroboy
Hard work and commitment are a must. Get the ball forward as quickly as possible using the flanks.
Gennaro Gattuso 4-3-3 Napoli Tactics
Boroboy
Solid in defence with a short passing style; emphasis on ball retention.
Márton Bukovi 4-2-4 Strikerless Tactics
NuFcPRO
Enticing football with more dynamism, fast passing, and off the ball runs.
Antonio Conte 3-5-2 Juventus Tactics
Airox-jjHD
Score and continue to attack looking for more goals, but at the same time defend compactly.
Ruben Amorim 3-4-3 Sporting CP Tactics
Maurordf92
Build from behind with vertical passes. Attack very closely with a lot of liberty.
Ruben Amorim 3-4-3 Braga Tactics
RDF
Stretch the play, getting the ball forward and to the key attacking players.
Pep Guardiola 4-3-3 Barcelona Tactics
Boroboy
All-conquering tiki-taka. Highly accurate short passes with emphasis on retaining possession.
Otto Rehhagel Greece Euro 2004 Tactics
CBP
Frustrate the opponents, recover the ball and break with speed and direct play.
Ralf Rangnick 4-2-2-2 RB Leipzig Tactics
Boroboy
High octane football, extremely demanding on players.
Steven Gerrard 4-3-3 Rangers Tactics
RDF
Win the ball back and attack at speed, with lots of crosses coming in from the wider spaces.
Rinus Michels 3-4-3 Ajax Tactics
SpeakingOfNirvana
Total football. Lots of possession, high pressing and also plenty of goals.
Ottmar Hitzfeld 5-2-1-2 Dortmund Tactics
SpeakingOfNirvana
Hit teams on devastating counter attacks whilst being defensively sound and compact.
Claudio Ranieri 4-4-2 Leicester Tactics
Boroboy
Guerilla warfare. Drawing opponents out before countering with devastating effect.
Jose Mourinho 4-3-1-2 Porto Tactics
msuatgunerli
A balanced, defensively sound 4-3-1-2 with the added threat of long balls from deep.
Jurgen Klopp 4-2-3-1 Dortmund Tactics
Boroboy
Quick counters and ultra-aggressive yet effective counter-pressing.
Carlo Ancelotti 4-3-2-1 AC Milan Tactics
Rashidi
Direct fluid attacking with aggressive wingbacks on the underlap.
Jurgen Klopp 4-3-3 Liverpool Tactics
murderball
Heavy metal football. Very good defensively as well as offensively.
Antonio Conte 3-5-2 Inter Tactics
Boroboy
Direct aggressive style, overloading the opposition's penalty area.
Marius Șumudică 5-3-2 Gaziantep Tactics
Phantom25867
Do not give the opponent free space and to get out of the wings quickly.
Jorge Jesus 4-4-2 Flamengo Tactics
Broto
Control possession, work hard, solid defence and a dynamic and paced attack.
Brendan Rodgers Swansea 4-2-3-1 Tactics
Boroboy
It's all about the ball. Dominating it, looking to win it back quickly, owning it.
José Bordalás 4-4-2 Getafe Tactics
Virgil-Fan-Dijk
High energy, high tempo pressing. Disrupt the opposition and counter at a rapid pace.
Marcelo Bielsa 4-1-4-1 Leeds Tactics
Virgil-Fan-Dijk
Aggressive pressing, vertical possession, maximum width. Loads of chances and lots of goals.
Ralf Rangnick 4-4-2 Tactics
themaiden83
High pressure and constant aggression on the second balls. Very direct.
Frank Lampard 4-2-3-1 Chelsea Tactics
Lewiskent101
High possession with high tempo passing and high pressing. Wings backs are important.
Ole Gunnar Solskjær 4-2-3-1 Manchester United Tactics
RDF
Play the ball forward and attempt risky passes.
Jose Mourinho 4-2-3-1 Tottenham Tactics
RDF
Noticeable changes to his system that he adapted over the years.
Fabio Capello 3-4-1-2 Roma Tactics
Boroboy
Solid in defence with creativity provided by trequartista and right wing-back.
Johan Cruyff Total Football Tactics
Boroboy
Dominate possession, score beautiful goals and defend as one to overwhelm opponents.
Ralph Hasenhüttl 4-4-2 Tactics
RDF
Narrow attacking shape that works well in attack but also helps if you lose the ball in attacking areas.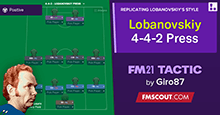 Valeriy Lobanovskiy 4-4-2 Tactics
Giro87
Very high pace of play, pounding pressing, ball often played low to the ground, very fast attacking.
Louis Van Gaal 3-4-3 Ajax 3-4-3 Tactics
Boroboy
Dominate possession, score goals for fun and strangle teams in defence like Ajax did in the '90s.
Maurizio Sarri 4-3-3 Tactics
Boroboy
Dominate possession, score beautiful goals whilst remaining strong in defence.
Pep Guardiola 4-3-3 Manchester City Tactics
RDF
Create overloads in central areas, while simultaneously stretching the field wider.
Hansi Flick 4-2-3-1 Bayern Munich Tactics
Boroboy
Dominate the ball, press opponents into the ground and score bags of goals.
Arsene Wenger 2003-04 Arsenal Tactics
RDF
Break down sides as players operate in lines and spaces difficult for opponents to defend.
I will keep updating this list from time to time to ensure it includes all the tactic replications created for Football Manager 2021.
If there's a replication we haven't covered (here on the site) that you'd like to see, let me know in the comments.
Enjoy!